We're having a good time this week cheering in Prague, on a computer in Slough, whizzing around on a multidirectional lift and China's biggest rollercoaster. It's a tube poster that got our subs giggling, though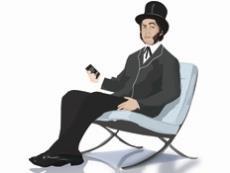 The other Euro 2016
To Prague, for an awards ceremony, as you do. My hack was a happy guest at Saint Gobain's International Trophy Awards earlier this month, which slaps contractors on the back who make best use of the materials giant's products. It was a lot like Eurovision, apparently, with over 90 firms from 35 countries present. As the evening wore on, the French, Germans and Dutch became increasingly rowdy as they competed for who could make the most noise when their projects were mentioned. The French had the last word, with the controversial Philharmonie de Paris project picking up the overall Grand Prix, greeted with an almighty din (perhaps all the France-based Saint Gobain personnel joined in?).
Silicon Slough
Could Slough be the next Silicon Valley? I am not so sure, but Galliard Homes has claimed as much in a press release to launch a new development. The housebuilder has launched the Skyline - a collection of 90 homes - based over 11 floors in the former Fujitsu office building in the city centre. Slough is undergoing £1bn worth of investment but is the M4 town really the next tech hotspot or is that just wishful thinking? It is close to Heathrow, though, so you can quickly get to the airport if you want to visit the real deal.
TfL and the Great Glass Travelator
The daily trudge through labyrinthine tube stations could become a thing of the past by 2025. A Willy Wonka-inspired lift has been unveiled as a possible way to whisk Londoners through the stations at Future London Underground. The 360-degree lift by Thyssenkrupp, named Multi, uses multiple motor-powered cabins to move the shafts vertically and horizontally, and is able to turn on corners. The cabins would be on constant loops with one arriving every 15 to 30 seconds. Is this a revolutionary way to ease congestion or just another step along the 21st-century path to a more sedentary lifestyle. Well, as long as we can still tut at people for standing on the wrong side …
A singular error
It seems TfL could use the services of Building's sub-editors. The London transport body spent £94,000 on a three-year poster campaign that was (steel yourselves) grammatically incorrect. The posters' slogan "TfL doesn't make a profit because we reinvest all our income to run and improve your services" reveals that the organisation cannot decide whether it is singular or plural and have seen TfL subjected to ridicule by passengers. A spokesperson for TfL has said that the adverts are to be replaced in the short term.
Mickey Mouse scheme
Not content with taking on the London development market, the Chinese firm behind One Nine Elms - Dalian Wanda - is squaring up to the entertainment behemoth that is Disney. Dalian Wanda chairman Wang Jianlin has opened China's latest attraction in Nanchang, the $3.4bn Wanda City theme park, which appears to have upset those at The Walt Disney Company - planning to open a $5.5bn Disney theme park in Shanghai later this month. Wanda City has 50 restaurants, nine hotels and a 200-acre park claiming to have the highest and longest roller coaster in China. But Disney seems to be most upset by reports that characters such as Mickey Mouse and Captain America have been spotted strolling around Wanda City, which Disney execs feel is an attempt to undermine their business.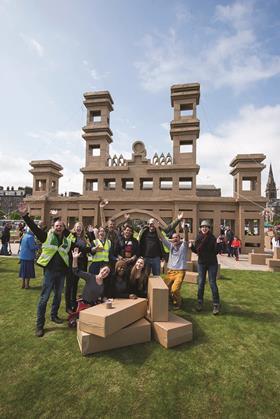 Box clever
Dundee's famous Royal Arch has been recreated out of cardboard boxes. The original arch was erected to commemorate a visit to the city by Queen Victoria and Prince Albert in 1844, but was demolished in the 1960s to make way for a slip-road. Bam helped organise the rebuild stunt to raise the profile of £200m of developments now planned for Dundee's waterfront, including an offshoot of the Victoria & Albert Museum, V&A Dundee, that the contractor will build. The structure was assembled out of 1,200 cardboard boxes by volunteers, who then had the joy of promptly demolishing it.