Hello, children … Were you naughty or nice this year? Let me rummage in my sack and produce some Lego, a load of bikes, a massive train set, and a bottle of whisky. Plus, finally, a policy document that makes sense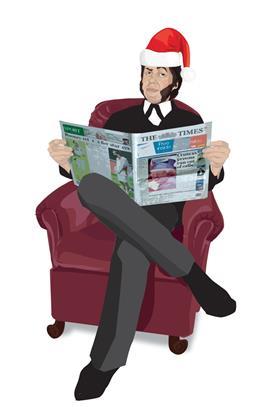 Bricking it
Building proved that Lego isn't just for kids this Christmas (pages 26-30), as we set various professional construction teams the challenge of "building the recovery" out of the ubiquitous plastic bricks. The Lego company itself has also been busy building during the festive season. Punters can see Santa and his sleigh pulled by nine Lego reindeer in London's Covent Garden, while at Legoland Windsor there is a 26ft Christmas tree made out of 300,000 bricks. The tree took six modelling experts four weeks to construct, with the final sections having to be manoeuvred into place using a cherry picker crane. Just imagine what our teams could have created had we given them four weeks and the right equipment.
Planning in a winter wonderland
Thank you to all those who have sent us Christmas cards this year. A particularly big shout out to Liz Male of PR firm Liz Male Consulting, who, as per tradition, has sent the most inspired construction-related card of the festive season. With the election ominously close next year, Liz has sent a tongue-in cheek "Christmas Manifesto". Pledges include HS3, a fast rail link from Leeds to Lapland, and the rebranding of Crossrail to "Not Cross At Christmas Rail". The card also recommends a radical new housebuilding programme – HHH4H or "Ho, Ho, Ho for Homes" – whereby all housing construction is outsourced to elves. It gets my vote! Get building, my pointy eared minions!
Blazing saddles
Cycle to Mapic, little sister to the annual Cycle to Cannes, which is done in time for the Mipim property conference, involves a number of the industry's cycling nuts biking to the Mapic retail property conference, also held in Cannes. This year's ride was held over three days and 450km from Milan to Cannes between 16-18 November and took in thunderstorms, road closures and detours. The organisers achieved a final sponsorship total of £20,000 for a number of charities, including children's charity Coram. Huzzah! Congratulations to all involved.
Absent friends & a really big train set
Spare a thought over the festive season this year for the 11,000 engineers who are being mobilised to upgrade parts of the rail network on Christmas Day and Boxing Day. An army of engineers take advantage of this sleepy period to build station facilities, platforms, flyovers, junctions and thousands of pieces of equipment. This year is Network Rail's biggest ever end-of-year investment programme and includes major works at London Bridge and Reading stations. Santa hats off to all of those involved.
Virtual reality
Boffins at contractor Costain have found a way for Google to help them upgrade the A556 dual carriageway in Cheshire. The firm's BIM technician James Heaton has devised a method of exporting the road scheme's 3D model to Google Earth, allowing members of the project team to view and share information that is overlaid over the 3D map. Whether or not this will help Google calculate better directions for people travelling in the area once the road upgrade is complete is unclear - we can but hope, my friends.
Festive spirits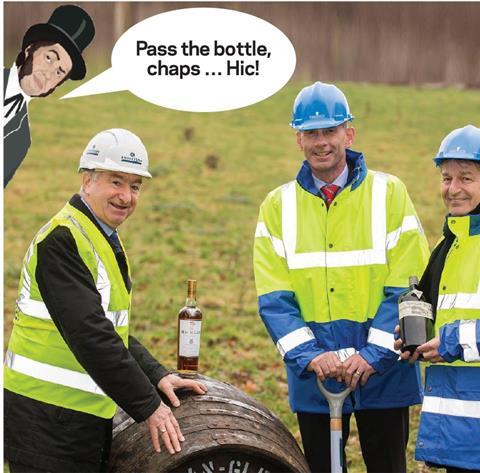 It's Christmas and high time for a drink, wouldn't you say? I personally hit the whisky a good fortnight before Christmas Day (don't tell the editor). Now, word reaches me that work has begun on a whisky distillery and visitor centre designed by Rogers Stirk Harbour + Partners in Speyside for The Macallan single malt. Here's a picture of RSHP partner Graham Stirk (right) having a tipple with other members of the project team, including client Ian Curle (centre) and Bill Robertson of contractor Robertson (left). Just the kind of project you want to be involved in at this time of year. Now pass me the scotch!
Send any juicy industry gossip to hansom@ubm.com