Visit parliament, nuke the Welsh, or kick back on the London Eye with a can of Coca-ColaTM. But don't expect to visit the Garden Bridge with more than seven chums. Plus, can you understand what our architectural writer is saying?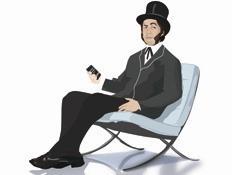 Scouting for boys
Just when you thought opponents of HS2 had used up all their weapons, a new force to be reckoned with is unleashed. Nine-year-old cub scout Alex Rukin became one of the youngest people ever to speak in parliament when he gave evidence against the project to the HS2 Bill Committee last week. It is probably no coincidence that the Warwickshire lad's dad, Joe, is campaign co-ordinater of the Stop HS2 campaign. However, Alex earned the right to give evidence because he drew up a petition to parliament outlining his concerns about the project - which include noise, cost and the effect on local cycle routes. There's got to be a badge for that.
Guided tours
The RICS Property in Politics event, held in the House of Commons last week in partnership with policy intelligence organisation Dods, was a lively affair, with MPs debating policy reform with industry leaders. Order was kept by four chair people, including Building editor Sarah Richardson, who was grateful MPs didn't get the opportunity to avenge their curtailed opinions during the tour that followed the event, as Dods had enlisted professional guides instead. One of the hosts said this was for the best, having witnessed an unnamed MP try to give a tour before, with dates he confidently ascribed to parts of the building missing the mark by centuries.
Always the wheel thing
The London Eye ferris wheel became the latest landmark to be graced with corporate sponsorship last weekend, relaunching after its annual closure for maintenance as Coca-Cola London Eye. Now, each pod features Coca-Cola branding inside, staff wear red tops with Coca-Cola emblazoned across the back, security staff wear Coca-Cola beanie hats, cafes in the ticket office are branded with large Coca-Cola posters, and the wheel is illuminated "Coca-Cola red" at night. The risk is that the structure will corrode and topple over now that it has been soaked in Coca-Cola.
Nuclear reaction
What could be more fun on a winter night than leafing through just-published responses to government consultations on the next generation of nuclear power stations? Probably quite a lot, but the occasional gem can result. Such was the case with energy secretary Ed Davey's recent consultation on Horizon Nuclear Power's plans to introduce Advanced Boiling Water Reactors. One correspondent went nuclear - as it were - at the prospect that shipments of doubly enriched uranium passing through north Wales could be targeted by "grenade-launcher" wielding terrorists, transforming any given lorry into a dirty nuclear weapon. Davey clearly wasn't swayed by this - he has since approved the technology.
Talking the talk
I'm pleased to share with you that our architecture critic Ike Ijeh has adapted one of his extremely popular Building articles for a book, Architecture Beyond Criticism, published last month. The piece in question, How to speak architect, published in December 2013, lampooned the highfalutin and vacuous language used by architects to describe their own projects. The article, widely shared online at the time, featured extracts from architects Bjake Ingels, Daniel Libeskind, Bernard Tschumi, Jean Nouvel, Zaha Hadid, Peter Eisenman and Ike himself, alongside plain English descriptions. The article has been adapted for the epilogue of the book, which examines architecture criticism and building performance evaluation, published by Routledge.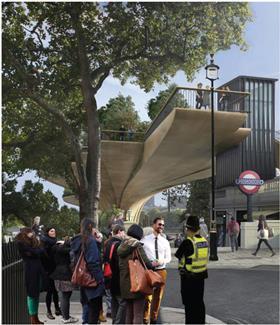 Visit the garden bridge. Alone
Those in the industry will be familiar with the photo -realistic folk who occupy architects' visualisation pictures. Originally included to give a sense of scale, they now help set the mood and suggest the target clientele of the potential scheme represented. So it was that a recent tweet by Thames Central Open Space, a pressure group campaigning against London's Garden Bridge, modified a visualisation of the project to show a group of eager virtual tourists, their way barred by a police officer. What did the tweet say? "How a group of 8 or more will be greeted trying to visit the Garden Bridge" - a reference to the fact, revealed last November, that groups of eight or more must apply to Lambeth council for permission to visit the attraction.

Send any juicy industry gossip to hansom@ubm.com