A Maggie's Centre wins approval from an unexpected source, we reminisce about the old days before tall towers blighted the country, a luxury Japanese train takes a bow, and Slough targets those looking for happiness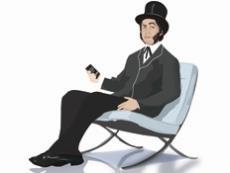 Rich pickings
Russian-born billionaire oligarch Len Blavatnik has managed to get his name plastered across another British institution, after a £50m donation secured him naming rights to the Tate Modern's extension Switch House, which has been renamed the Blavatnik Building. It comes hot on the heels of the Blavatnik School of Government in Oxford, which was shortlisted for last year's Stirling prize. We couldn't help but notice both schemes were designed by Swiss star architect Herzog & de Meuron, so perhaps Blavatnik could make it a hat-trick with a Blavatnik stand at fellow Russian oligarch Roman Abramovich's planned gothic-style rebuild of Stamford Bridge? Don't hold your breath: Blavatnik reportedly outbid Abramovich on a £200m Kensington manor four years ago so he could still be smarting.
They're history
"Since the 1950s our cities have been blighted by modernism … modernism is not sustainable and does not satisfy modern residents." Thus speaks a short film made by UKIP, bewailing the rise – literally – of what it calls "modern eyesores". UKIP is the only political outfit so far to come out with an explicit architecture policy. With gloomy images of tall buildings, both erect and being demolished, the video promises the party will "discourage the construction of tower blocks". Instead it will promote the building of "more sensible 'community' housing, like Poundbury", the urban extension on the outskirts of Dorchester backed by the Prince of Wales. Sure, not everyone likes tower blocks, but UKIP's stance is another example of how it would like us to live in the past. I'm all for buildings that reflect history (I'm from the past myself, after all …), but even I find Poundbury a little too traditional.
Just the ticket
As a user of the UK's maligned rail network, I often view the train travelling experiences of international acquaintances with considerable envy. Thus my jaundiced eye was recently drawn towards Japan, where a super-luxurious train, the Shiki-Shima, made its debut on 1 May. Running between Tokyo and the northern island of Hokkaido, the train – designed by Ken Kiyoyuki Okuyama – features viewing carriages, top of the range sleeping compartments, Michelin-starred chefs in the dining car, and a stunning lounge complete with open fire. Ticket prices range from £2,220 and £9,000 for a two or four-day trip, and while it can carry a mere 34 passengers, such has been the demand to let this particular train take the strain that journeys are sold out until March 2018. Southern Rail it most definitely isn't.
All's well that ends Well
Slough does not conjure up images of happy workers. If anything the Berkshire town is synonymous with Ricky Gervais' BBC TV send-up of the drudgery of working life, The Office. But developers Landid and Brockton Capital are determined to change this with construction of office block the Porter Building – which is apparently targeting being the healthiest and happiest workplace in the UK under US wellbeing standard, Well Building. The PR puff declared the TP Bennett-designed scheme will "set the standard for future developments". Come friendly love bombs and fall on Slough?
Sign of the times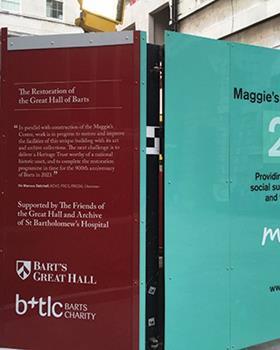 You may remember the hoo-ha that erupted in 2014 over proposals for a Maggie's cancer centre at Bart's Hospital in London. The striking contemporary design by US architect Steven Holl incurred the wrath of Sir Marcus Setchell, the queen's surgeon. He said the translucent zig-zag building was an unsuitable neighbour for James Gibbs' 18th-century Great Hall and threatened a judicial review. He even brought in rival architect Michael Hopkins to advise. In the end a peace deal was brokered and work is now well under way. But given all that controversy, I was surprised to find on a recent visit to the hospital that an endorsement quote on the Maggie's hoardings was signed by none other than Setchell.
Send any juicy industry gossip to hansom@ubm.com