As the UK faces 'snowmageddon' we learn that Greg Barker has a well-stocked drinks cabinet, why Stef Stefanou has named a horse 'Hidden Discounts', and if Building's news editor is ready to run a marathon
Mother's ruin
Being a minister is never an easy job but one of my hacks was surprised to observe that energy minister Greg Barker keeps two bottles of gin in his bookcase. We all know that getting the Green Deal off the ground has been difficult but perhaps it has been more stressful than we first imagined. Or perhaps it's simply that in these tough economic times he keeps one bottle (Gordon's) for guests and one for himself (Bombay Sapphire), as well as a rogue bottle of Campari. Maybe he's a fan of the gin and Campari-based cocktail Negroni - in which case one hopes he has a bottle of vermouth hidden behind his Hansard.
Horsing around
Former boss of specialist contractor Doyle Group, Stef Stefanou, is also a racehorse owner and has taken delivery of a new mare. Stefanou - who saw Doyle Group go under last year - has named his horse "Hidden Discounts", in what he says is a reference to bad practices by main contractors he claims contributed to his beloved firm's downfall. I can only presume that - should Hidden Discounts prove a winner - this will provide catharsis for Stefanou.
Arctic oval
There was a good turnout for the Building & Engineering Services (B&ES) Association's annual press lunch at the Oval cricket ground in south London last Friday – despite the onset of what some newspapers dubbed "snowmageddon". Guests who braved the weather were treated to a picturesque view of the ground nestled in snow, from the complex's John Major room situated high in the stands. The audience heard from president Sue Sharp and chief exec Blane Judd about the B&ES' modernisation plans for the hard-hit specialist sector. Sadly there were no takers for snow cricket.
Step back in time
Construction firms tend to bury time capsules rather than unearth them, but that role was reversed when Derbyshire builder Wildgoose unexpectedly chanced upon an
82-year-old one at a development site in Halifax. Wildgoose made the discovery while demolishing part of further education centre Calderdale College, which it is redeveloping. The capsule contained a copy of local newspaper the Halifax Courier dated 21 June 1930 and an ornate scroll detailing the names of the Educational Committee. Wildgoose said it had never unearthed a time capsule before.
Juke box jury
You may have thought the world of construction dispute resolution couldn't get any more rock and roll. Well you were wrong. Hot on the heels of the successful Construction Rocks! charity fund-raising battle of the bands, comes Expertise Rocks! - a charity competition for bands from the world of expert witnesses. Outfits set to perform include Hill International's Over the Hill and Urban Flow's Gridlock. No doubt we can expect covers of "I fought the law" by Bobby Fuller Four/The Clash and "Lawyers, guns, and money" by Warren Zevon. The competition takes place at London's The 100 Club on 7 February. To find out more visit www.expertiserocks.com.
Marathon man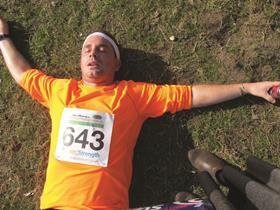 The snow last week caused much disruption, not least to all the energetic people embarking on ambitious marathon training plans. One of them is Building's news editor Allister Hayman, who has resolved to run the London marathon for the learning disability charity Mencap. He boldly pronounced that he was to start running into work last week, instead of riding his Vespa, but blamed the snow for his complete failure to do so. Fair enough. But if this photo is anything to go by, he'd better up the training. Taken after finishing a half marathon last year, he doesn't look like someone who could go twice the distance! You can offer words of encouragement, and help with Allister's fundraising at www.justgiving.com/AHayman.
Send any juicy industry gossip to hansom@ubm.com