It's a good news week with tales of a chuffed chief exec, punctual projects, a royal baking challenge and a party for the lucky teams that made it onto the exclusive Building Awards shortlist
Delayed reaction
Everything has gone very smoothly on the project to build a brand new Terminal Two at Heathrow airport. But the topping out ceremony, attended by one of my hacks last week, was not quite so hitch free. No one was quite sure what was going to happen, but there was a giant purple button to be pressed, so expectations were high. So it was a bit of a disappointment when transport secretary Justine Greening pressed it and nothing happened. For 30 seconds panicked and puzzled glances flicked around the room, before a huge union jack was unveiled, to applause of relief. It seems not everything can be quite so on time as the building itself.
Fame at last
A trip to Dutch consultant Arcadis' head office in Amsterdam for one of my reporters last week was interesting for a number of reasons. Outgoing Arcadis chief executive Harrie Noy - who has graced these pages previously because of his supposed similarity to Donald Sutherland - held his last results conference before he steps down in April. Even more interesting for Building readers was the content of his office. "Come here," he said, grabbing the interviewer. "I need to show you something." There on his office wall, mounted and with pride of place above his desk, was a copy of the Building front cover with Noy and EC Harris chief executive Philip Youell. "It is my proudest moment to be on the cover of the historic Building magazine" he enthused. "My wife was also very pleased." It seems we've made a retiring man very happy (see pages 30-32 for an interview with Noy's successor Neil McArthur at Arcadis).
A select gathering
The build up to the construction industry's most glittering awards bash started in earnest last week, with the Building Awards Shortlisting Party at the Altitude 360 bar at Millbank Tower. The great and good of construction gathered on the 29th floor of the central London landmark to toast this year's shortlist. I was pleased to see such a diverse turnout from all sides of the industry, with some new names among the more familiar faces, including a couple of pleasantly surprised but "delighted" directors at
three year old architect Hewitt Studios - nominated in the public building project of the year category. Best of luck to all this year's nominees.
Noises off
Following on from the peculiar tale of the eerie whistling emanating from Ian Simpson's 47-storey Beetham Tower in Manchester which this column noted in January, comes another tale of a building making a disturbingly loud noise.
Plymouth residents contacted the local Plymouth Herald to complain they had been kept awake at night by a "howling" and "whistling" noise coming from the recently completed £46.5m Life Centre sports and leisure complex. The council says it is working with Balfour Beatty and Arup to rectify a problem with the building's cladding.
Let them eat cake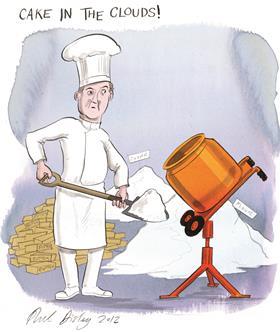 Whisks at the ready - Buckingham Palace is calling on construction firms to enter a competition to bake a "tall" celebratory cake for the Queen's Diamond Jubilee. The Palace-endorsed baking contest, dubbed "Cake in the Clouds", will form part of the Jubilee celebrations taking place at Battersea Park on 3 June. Will Building Christmas Bake Off veterans the Shard, Make Architects, Aecom or Lend Lease join the fray? If so, the teams may want to go for a more traditional design if Prince Charles has anything to do with the judging … Interested? Email Sheila@sheilahayman.com for more info.