Teams order in over two tonnes of ingredients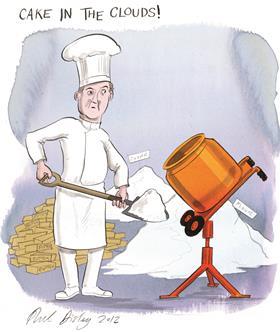 Engineers including Arup and Expedition are preparing for a giant cake bake-off this weekend as part of the Queen's Diamond Jubilee celebrations.
The teams – which will be supplied with stepladders to help them put together their cake creations – have ordered in over two tonnes of ingredients.
Items on the shopping list include almost half a tonne of butter, half a tonne of sugar and almost a tonne of Green and Blacks chocolate.
The engineers are competing to assemble the tallest, tastiest and most attractive cake as part of the Diamond Jubilee celebrations at Battersea Park on Sunday.
Expedition is teaming up with designers Conran & Partners to build a Red Arrows-inspired explosion of ice cream cones and candy floss.
Arup is planning a cake replica of London's iconic Gherkin tower – a building the firm helped engineer.
Buro Happold and the Institution of Civil Engineers are also fielding entries.
The winner will be announced during the 1,000-boat flotilla down the Thames and the cakes will then be cut up and shared among spectators.