By committing to offsite construction on a significant scale, Heathrow is giving a welcome boost to modern construction techniques, writes David Whysall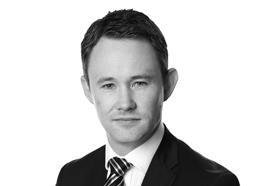 Yesterday's vote in Parliament in favour of the expansion of Heathrow Airport looks set to be an historic moment for our industry.
Though far from the final hurdle, the vote takes us a crucial step forward in unlocking the massive economic potential of Heathrow expansion for the whole of the UK. The programme will boost annual passenger capacity to 130 million, open new international routes, double the airport's current cargo capabilities, and create tens of thousands of jobs nationwide.
The opportunities for the infrastructure, construction and wider built environment industries are plain to see. The expansion will be Britain's largest privately funded construction project. It will be delivered alongside major linked investment in transport infrastructure including HS2, Crossrail, and improvements to the Piccadilly line and rail services. The expanded airport will create demand for a range of real estate development opportunities including hotels, commercial space, distribution and logistics, and much needed housing.
However, the project's legacy will not stop at specific schemes and developments. Heathrow expansion has the potential to bring about a step change in the way we deliver major infrastructure programmes and challenge the troubled construction business models that have too often held back major projects in the UK.
In its early stages, the expansion programme, led by Heathrow, has been identifying and tackling key industry issues to ensure the programme is set up for success and that investment is made to get the sector ready. At the heart of this approach is collaboration and early engagement of the marketplace. Heathrow recognises that to deliver a complex and efficient expansion programme, it requires a world-class supply chain.
The airport has begun to build confidence in the long-term, sustained investment that expansion will deliver nationwide. Supply chain partners are beginning to plan and prepare for their own investment in new skills, talent, and the modern construction, manufacture and assembly techniques required under a new bold model. This is a model which will enable expansion to be delivered more quickly, more safely, and more cost effectively than any previous major programme, while also achieving world-class standards in asset design and quality of delivery.
Heathrow's Logistics Hubs initiative is the first of its kind by a major infrastructure project. Four regional hubs will be selected to participate in the offsite construction of the third runway, ensuring that the expansion delivers a legacy of construction skills and capabilities across the entire UK. The benefits of tackling key skills shortages head on have been demonstrated by other major programmes such as Crossrail, which transformed the UK's tunnelling capabilities, creating export opportunities in the process.
By committing to offsite construction on a significant scale, Heathrow is giving a welcome boost to modern construction techniques. The programme will embrace the standardisation of repeatable component-led design – more akin to manufacturing than traditional construction – which will boost productivity and set a new industry pathway in this area.
Through these initiatives, Heathrow has also committed to creating opportunities for SMEs nationwide. This is not only good for suppliers, but also ensures that Heathrow can be actively involved deeper into the supply chain, identifying and extracting innovation from source, where too often its left unrecognised.
Heathrow expansion is a clear opportunity to drive economic growth, but it is also an opportunity to reshape our industry so that we can be more collaborative, innovative and – ultimately – drive better performance. Yesterday's vote was about far more than a new runway, as it will herald a shift for UK construction around how major infrastructure projects should be set up and delivered. It will also be a positive beacon for the attraction and retention of talent that this industry desperately needs.
Postscript
David Whysall, managing director – UK infrastructure, Turner & Townsend