The job retention scheme has worked but it should end next month, says Keltbray's boss Darren James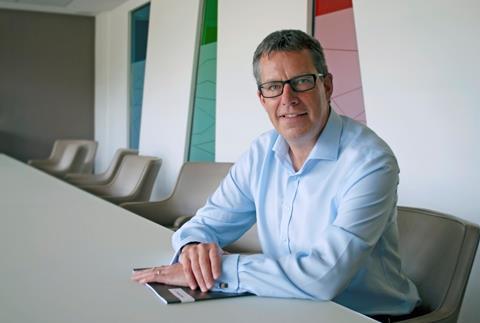 POSITIVE THINKING SERIES
I started at Keltbray in the teeth of the pandemic, on 1 April, having been 30 years at Costain. I landed here having to put a significant number of staff on furlough and with pay cuts for the rest. Sites in London were closing down, so it was about making sure we managed the business very tightly through a difficult period.
Our built environment took a big impact, particularly in London, but our infrastructure side barely hiccoughed. Clearly it had to work within the covid restrictions, and we had to get key worker status letters out to people because there were a lot of questions about travelling during lockdown.
I am positive about the future. I am acutely aware that covid-19 is still about, but 90% of our work is up and running. Very few sites are stalled entirely. Of those that are working, if you look at the total quantum of work done, it probably is still being impacted. But when you look at the total number of people needed to do that work, we're probably more efficient now than we were when we went in [to lockdown]. While most sites are back up to 90% of productivity, some might even be higher.
The fact that now you have to think about how close you are to another person means you think an awful lot more about the activity
That's partly down to the fact that the new rules and the shock to the system has meant that people have spent more time planning activity. We have working methods that have become more efficient; just the fact that now you have to think about how close you are to another person means you think an awful lot more about the activity. Vertical movement has been more difficult to manage in high-rise London than horizontal movement on a big greenfield site, so therefore you have to put a lot of thought into how it is going to work.
Our headquarters in Esher never actually shut but it went down to 5-10% occupancy, where normally we have 200 people at full capacity. At first we had a skeleton staff working on essential activities. Now we have about 50% occupancy with people able to do a mix between home and office work.
One of the fundamental parts of our strategy is to expand more into infrastructure. That doesn't mean to say we will not be continuing to do what Keltbray has done in the past, albeit the cyclical nature of some of those markets makes entire sense to have a broader presence in the infrastructure market. A lot of the government stimulus is around investing in infrastructure, and we're going to take the strong position we've got in rail and power to expand into the likes of highways to make sure Keltbray has a more resilient portfolio of activities.
What will the London market look like in the future? Whenever there is uncertainty people halt decisions but I do think there is going to be a bounce back. I think this is a temporary hiatus while people get their confidence back as to what they are going to do. There will always need to be built environment solutions in London. Whether that's transforming a building for a different purpose or making it more suitable for the new normal, I think it's a market that will be there and a core part of what Keltbray does.
As a specialist engineering company we are targeting work with better margins and the sort of customers that will support that
The Build, Build, Build programme and the Department for Transport's accelerator unit recently announced have targeted specific schemes, so I'm confident this is not just a headline and there's some substance behind it. We're seeing through the likes of Network Rail some real effort to accelerate the schemes so I do think the government's promise of more infrastructure work is real and we can respond to that. The government knows this is good for the economy; it is what you need to do if Britain is going to come out of this crisis in some sort of shape.
As a specialist engineering company we are targeting work with better margins and the sort of customers that will support that. It's a matter for other businesses what they think they should do but we will avoid commodity lower margin work.
Nearly half our staff were furloughed but we started to unfurlough people about six weeks into the scheme and now we have less than 300 still on the scheme. But in the assessment of Keltbray moving forward and being lean some of those roles will not come back and therefore we are working on the basis that approximately 300 roles will have to be made redundant. We are having to make some pretty tough decisions on roles that are no longer required as a consequence of the impact of covid-19 and the future strategy.
I dread to think not just our industry but where we would all be if there wasn't a furlough scheme. I think there would have been organisations having to face the fact they would have to make huge swathes of their workforce redundant on the spot and I think the government has to be congratulated on what it's done.
I don't think extending furlough beyond October would be appropriate for construction because we're finding ways of going back to work. But I do accept that for some industries a longer-term game might be more appropriate.
Things will bounce back at some point; it will be more painful in some sectors than others and things might not be the same again, but I think we've also learned what's important in life and the value of key skills like you have with the health system, the education system, logistics and indeed the construction industry.
Darren James, chief executive officer at Keltbray