Barry Mellor of Aggregate Industries on how greener construction materials are key to achieving ever-ambitious sustainability targets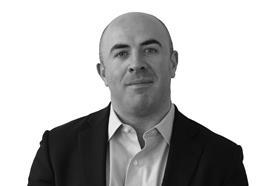 Amid a growing public consciousness around the importance of sustainability, it is becoming increasingly critical for the construction industry to go beyond compliance and adapt its business approach to incorporate a more environmentally friendly stance.
Not to be overlooked, concrete specification can have a major role to play in this; helping to not only vastly reduce the requirement for quarried material, but also the overall associated carbon footprint.
Balancing the need for economic growth with sustainability remains one of the most pressing challenges facing the modern construction world.
According to latest figures, around 33% of UK carbon emissions come from the built environment, including raw material production, construction, operation, maintenance and decommissioning.
To tackle the problem head on, in November 2017, the UK government struck an agreement with the industry to reduce the cost of construction by one-third while halving greenhouse gas (GHG) emissions in the industry by 2025.
The landmark construction sector deal will see the government invest £170m over three years, with £250m coming from industry, to commercialise technologies capable of building energy-efficient, cost-effective housing and infrastructure.
The result is mounting pressure on architects, developers and contractors alike to improve the carbon footprint of new buildings. Often this starts with the procurement of environmentally friendly building materials – and innovative concrete solutions are increasingly leading the way in meeting ever-stringent sustainability targets.
At present, the most prominent sustainability assessment and certification process in the UK is the BREEAM, which uses everything from energy, transport, water use, materials, waste and pollution to establish a building's green credentials.
For more and more clients and contractors, achieving a 'Good' or 'Excellent' BREEAM status is now a core objective on many projects – a trend we expect will intensify in the coming years.
As such, meeting this criteria starts at the planning and specification stages of a project. When it comes to building materials in particular, there are many reasons that concrete remains the most widely used man-made material in the world today; durability, high-compressive strength, fire resistance and versatility. However, given the greater onus on the industry on achieving a high BREEAM status, this has certainly driven demand for greener concrete solutions.
For instance, recent years have seen the growing use of concrete made from secondary aggregate - materials which would otherwise become landfill – which in accordance with BREEAM specifications means it can be counted towards the recycled aggregate content of a build project.
Using secondary aggregates in the concrete mix also replaces the need for quarried natural aggregate and in doing so can reduce CO2 emissions in buildings by up to 10%, as by being up to 50% lighter than natural aggregate, it means fewer truck journeys are needed to transport construction materials – resulting in significant cost savings for the build.
Amid recent reports showing that almost two-thirds of businesses operating in the UK construction sector are now more committed than ever before on taking action on sustainability, the direction of travel for the industry is clear - reducing carbon emissions needs to be at the heart of everything we do.
For many, the answer lies with looking at all aspects of a project, whether it's the supply chain and associated infrastructure or the integration of energy efficient technologies and systems.
However, frequently at the top of the agenda is the use of sustainable material choices. Whether it's utilising secondary aggregates or Environmental Product Declarations (EPD) to calculate the environmental impact of concrete, innovations in building materials will be essential to making greener construction much more efficient and cost-effective, and ultimately, will help to create the sustainable built environment we're all working towards.