If it takes 20 years and £55bn to renew every secondary school in England, what can the government do to address the crumbling school estate with an annual budget of just £4bn? The man trying to work this one out is Peter Lauener, head of the newly formed Education Funding Agency. Building puts him to the test
If things had turned out differently, Peter Lauener might have been celebrating the opening of a major display of his art works in London's Royal Academy right now. At least,that's what he would have liked. Unfortunately, his ambition was thwarted at an early age by the painfully blunt intervention of one of the teachers at his Edinburgh school.
"I love art, but one of my art teachers rather quashed my enthusiasm by telling me the apple tree I'd drawn - which looked just like the apple tree in my back garden - was nothing like an apple tree because it wasn't green and fluffy with red apples." He leans forward conspiratorially. "But mine definitely didn't look like that. Definitely. I like to think of course, nowadays, the one I painted looked like a David Hockney tree."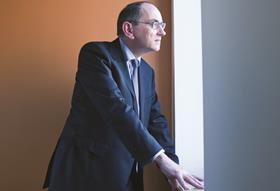 Maintaining this glass half full mentality should serve Lauener well in his role as the chief executive of the Education Funding Agency (EFA), the newly formed government body which will take over the management of school building work across England from this month. Lauener's challenge is both daunting and pressing: how to carry out much needed improvements to a crumbling school estate - two-thirds of secondary schools, for example, were left untouched by investment under the scrapped Building Schools for the Future (BSF) programme - against a backdrop of spending cuts that have lopped a staggering 60% off the annual capital budget for schools.
Over the 18 months since BSF was axed, everyone from architects to government ministers to Sebastian James, the head of retailer Dixons, has offered their view on where savings should be made, whether through standardisation, cutting sustainability measures or reducing classroom sizes. Now, finally, a fortnight into his new role, it's the turn of the man at the eye of the storm.
Schools that shock
Lauener is in no doubt that the current state of the schools estate is far from what it should be. Over the past few years, particularly in his role as the head of the Young People's Learning Agency - the funding body which is being merged with capital delivery agency Partnerships for Schools to form the EFA - Lauener has visited dozens of schools - and what he saw was, in some cases, appalling.
"I've seen some of the fantastic investments that have been made, and some of the opportunities to change the educational experience for children as a result," he says. "But equally I've visited some shocking schools. I felt embarrassed as a citizen of this country to think that our children were still being educated in these conditions."
Lauener says this "illustrates that there is still a long way to go to get the kind of school estate that we need in this country". And although there has been much debate over the extent to which buildings improve the educational outcomes for pupils, Lauener is unequivocal about the need to invest in the estate. "We can all think of circumstances where great learning will take place in a not particularly great environment, but on the other hand we would all want our children to learn in a building that's fit for purpose, comfortable and safe, and we can't actually say that that happens in every case. I certainly don't believe that new buildings are the answer to improved standards, but I do think investment in school infrastructure is really important. Getting schools fit for purpose is paramount for the next few years."
Four for the price of three
Meeting that objective when the government has cut its education budget for capital to around £4bn a year, however, represents a hefty challenge - particularly when even its new private finance programme, with a capital cost of £2bn, is a fraction of the size of the £55bn Building Schools for the Future behemoth.
"One of the priorities has to be to maximise investment to make every pound count," he says. "The big capital challenge is to improve the value-for-money equation. It's to get four schools for at least every three that were built under previous arrangements."
I've visited some shocking schools. I felt embarrassed to think that our children were still being educated in these conditions
The capital budget represents only about 10% of the total funding that will be channelled through the Education Funding Agency, which is also responsible for schools and colleges' revenue funding - and yet Lauener identifies the need to improve the value for money of the capital spend as one of his top priorities.
He has already recruited a head of capital to spearhead that drive - Mike Green, the former head of StoreCare at Alliance Boots Property. The appointment of someone from a sector which has a strong track record in driving efficiencies in procurement and design was seen by many in the sector as a clear statement of intent for future school building. Lauener insists that Green's appointment was not "based on any particular preconception", but says: "We did want a commercial approach. He has an outstanding record at Boots, and I thought he had a lot of good ideas about the ways you could apply those achievements in the school building sector."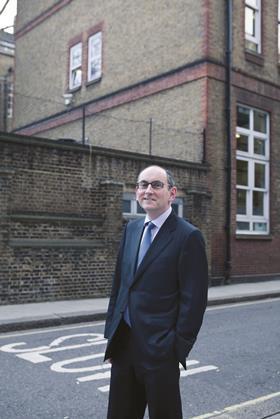 One of the obvious links between retail and the government's thinking on school building is greater standardisation. Industry, and particularly architects, have been divided over the benefits of this, but Lauener says the approach can be used without resorting to identikit schools. He points to the use of standardised, factory-made designs for buildings such as budget hotels and living accommodation, and says: "I'm all in favour of that kind of approach. But I'm sure you need to retain the facility to take a standardised design and tweak it around the edges so it's right for the purpose. In the schools sector, it can never be a single size fits all, because of the enormous variety of the settings for schools and different kinds of sites."
Lauener says that this is likely to be reflected in the government's approach to tendering standardised designs. "This is not about everything being specified centrally. I do think allowing the supply chain to come up with really smart ways of delivering value is going to be an essential part of the new system."
Space standards
Another area where government advisers have been working to drive down costs is in a reduction to space standards, a move which has proved particularly controversial in the special educational needs sector, where proposed reductions would lead to a cut of up to 20% in the size of classrooms.
Lauener is quick to stress that he does not want to damage the quality of provision for SEN students: "It's a sign of a civilised society whether it is willing to invest in the kind of resources that the most vulnerable members of society need." However, he argues that the standard of provision could be maintained if the current advice was adopted. "It comes down to making the best use of the available space, and I'm not convinced that it's all about particular benchmarks and standards. Very often these have been less obviously part of previous building methods than is sometimes thought to have been the case."
Similarly, Lauener insists that he appreciates the benefits of sustainable construction. "We would all say that a building that has lower energy costs should be better than a building with higher energy costs," he says. But he will not be drawn on whether BREEAM - the environmental rating system that the government is considering dropping for schools - should be a requirement. "The question is how you take those general principles and put them into a framework, and the roles of particular systems for doing that. That's what the government is looking at at the moment."
Late for school
Of course, these policies will only be properly tested once the government has got a coherent school building programme up and running. The repeated slippage to the £2bn Priority Schools Building Programme - the major programme to be managed by the EFA - has caused consternation within the industry, with tenders now expected in September, six months later than envisaged.
Partnerships for Schools (PfS) is having to review bids for cash from schools after being swamped by enquiries, work which Lauener insists is now "fairly well advanced" although he says he cannot confirm a date for schemes to come to market. "We do understand how much interest there is, and when we do make an announcement it will be entirely transparent - we'll make sure there's really good detail on which schools will benefit and what the timetable will be. It'll all be on the table, but it's just a little way off."
Lauener confirms that once the programme is announced, it will be the EFA, rather than local authorities or schools, which will have the main role in selecting construction firms to work on schemes. And he insists that - despite a series of senior departures from PfS following the exit of its former chief executive Tim Byles - the EFA has "got the skills needed to do the job".
In a move which may come as a surprise given civil service head Bob Kerslake's recent declaration that public sector building programmes should rely less on consultants, the EFA is supplementing its own resources with individuals seconded in from private sector consultants, and now has about 12 people working with it in this way. However, Lauener insists that this is a sensible way to function. "It helps to cope with peaks and troughs, rather than staffing up to your maximum requirement," he says. "For example, the free schools work tends to peak around now because we're completing the property deals for schools that will start in September."
Even when that particular peak has passed, however, the challenge for Lauener will only just be beginning. But he is clearly motivated. "In my career I've worked in education funding in one way or another at several different times," he says. "What I've always been interested in has been the child, the pupil, the young person at the end of the story and how we could get the very best opportunities for them. And that's what I'm looking for in the Education Funding Agency."
Hear Peter Lauener's maiden speech at BFE UK, 9-10 May, Business Design Centre, London. To book a delegate place go to www.bfeuk.com
PETER LAUENER IN 30 SECONDS
Education: Economics degree, University of Durham
Favourite subject at school: This is going to make me seem nerdy, but Latin. I like the precision of it.
Missed opportunity: Even though I really enjoyed Latin, something that annoyed me was that at my school if you were clever you got given Latin, and if not you got woodwork. And I've always wanted to do woodwork, I always wanted to do practical subjects.
Favourite building: The Guggenheim in Bilbao has to be one of them. It evokes the industrial heritage of Bilbao but also conjures up a vision of a different kind of future. It took my breath away.
What is the EFA?
The Education Funding Agency came into being on 1 April this year, incorporating the functions of the Young Peoples Learning Agency and Partnerships for Schools. It is responsible for the revenue and capital funding in education for young people aged 3-19, and up to 24 for those with learning difficulties and disabilities. The EFA has an annual budget of £50bn, around 10% of which is capital funding. It manages the majority of capital education spend, although basic need funding and some maintenance funding is still distributed through local authorities. Agency staff are civil servants, employed by the Department for Education.