We don't have to make a binary choice between the old commute and working in isolation, there is a third way says Matt Driscoll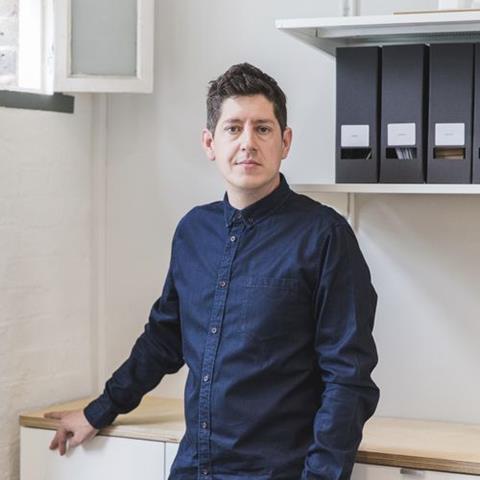 The traditional boundaries defining the varied day-to-day activities of our lives have been blurring gradually for many years, catalysed by advancements in communications and mobile technology. The pandemic has expedited this change and the last 15 months have seen a gradual shift accelerate to light speed, drawing even the most resistant of employers into the event horizon.
Never more so has the hackneyed cliché 'necessity is the mother of invention' been so relevant. For many of us the boundaries defining what mode we're in; social, domestic, professional have been erased, for those fortunate enough to be working throughout the pandemic work-life balance has become work-life integration.
A great deal has been said about the death of the office, the end of the city as we know it, face-to-face meetings being a thing of the past, at Threefold we don't agree. Whilst there is an undoubted measure of truth in much of what has been predicted, a certain level of hubris has driven much of this speculation.
The UK workforce has loudly called for a rethink of traditional office life
As a practice we have become acutely aware of the challenges total remote working has placed on our own creative processes, in a digital environment it is impossible to replace the energy of collaborative design workshops, where ideas can be easily shared, discussed, tested and adopted.
There is an absence of learning by osmosis that the workplace environment creates. We have all missed the incidental chatter, the socialising, the lunches. The simple truth is that humans crave togetherness and only by being together can we truly collaborate, be inspired and be productive.
The UK workforce has loudly called for a rethink of traditional office life, some might think this is a binary decision between the old commute and working from home, but we believe there is a third way.
Over the last five years, we have started a series of in-house research projects and collaborated with forward-thinking organisations to explore concepts for progressive models of living and working. It seems clear to us that we should adopt a work near home policy, rather than expecting everyone to choose between the office or their own housing.
We have been addressing the challenges of providing adequate space for working in the design of new homes and the importance of providing high quality shared spaces in between homes, within developments which create spaces for people to be together and to work near home.
Our Swaker Yard project in Borehamwood has allowed us to bring to fruition some of these ideas, the scheme creates a new development with a 50:50 split of workspace and homes in a traditionally residential lead commuter town. The brief was refined during the lockdown in recognition of future changes and a rising demand for local workspace.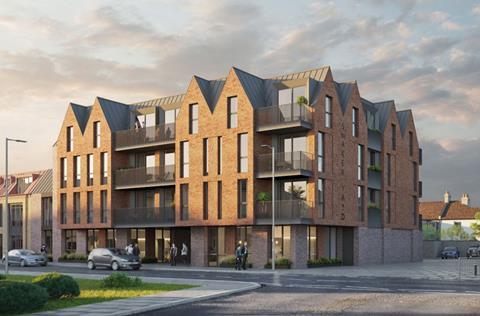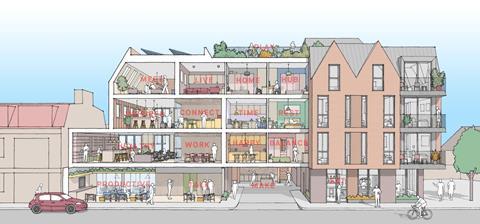 The commercial element will be part flexible office and part co-working hub, offering free space to the residents of the apartments, enabling them to work near home for much of the week, outside of their home within a specifically designed workplace.
We have also been working with Pocket Living on an innovation-led initiative to define a brief for shared amenity spaces within their developments, to create spaces adjoining the home for residents to come together for wellness, for working or to socialise. The experience of lockdown has bought into sharp focus the need for these types of spaces within every community.
Work near home initiatives which activate the high street with community amenities and local work hubs will shorten the commute, and enhance the working experience, providing spaces to come together reinstating those boundaries between the activities of our lives.
Over the next few years we expect to see a rise in demand for well-provisioned and well-designed local hubs, which offer the facilities and technology to support collaborative, hcommealthy, productive and inspirational working. This could lead to a change in the texture of the city and its suburbs, bringing a more diverse range of activities and spaces to both and a richer blended work/life lifestyle balance for everyone.
Matt Driscoll, director at Threefold Architect