This period of merger mania should prompt us to look back at lessons from the past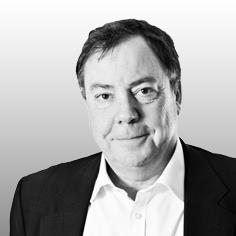 Passing the windows of Sports Direct, I noticed the signs for yet another "Mega Sale". The England World Cup strip gathers dust whilst the new Manchester United, Arsenal and Chelsea season kits are selling fast – at full price. Even my own team Southampton seem to be popular.
However, as the summer transfer window continues to create the headlines it is not just football teams that are flashing the cash at the moment. We seem to be entering a season of mega mergers in the construction sector.
The size of Aecom's $4bn (£2.3bn) acquisition of fellow US engineering giant URS, raised the issue of the consolidation of global brands with a deal which will create a combined global company with $19bn (£11.1bn) revenue and more than 95,000 employees.
This news came in the same week Galliford Try announced it had acquired Miller's £410m-turnover construction business in a £16.6m deal, with Miller offloading the loss-making division to pave the way for the flotation of its house building business.
We may see inflation taking its toll on building costs and stressed consultants being placed in the position of having to explain the realities to irked clients but compared to the soccer sector we remain remarkably undervalued as an industry
Then this was followed closely by the surprise Carillion and Balfour Beatty merger talks announcement. This deal foundered before it really got started but merger mania was then further underlined by Hyder Consulting announcing it had agreed to sell itself to the Dutch Arcadis for £256.2m, or 650p a share. The deal represents a huge premium for the engineering consultancy of just under 39%,
All this reminds me of a bygone age. Flicking back through past newspaper and magazine cuttings I see that the current period of activity in our industry is spookily like history repeating itself. Most people would agree that 2006 was probably the last full year of normality for most of us before the effects of the global crash. It was just before Northern Rock went over a cliff in 2007 and the UK economy followed in 2008.
To revisit that time, here are some of the highlights: In 2006 Rok, the maintenance and social housing contractors, completed three acquisitions that enabled the company to extend operations, (Rok disappeared 4 years later) Balfour Beatty announced the acquisition of Birse Group in line with the regional expansion strategy it expressed at the time (see comments above!), and the acquisition of John Laing, by Henderson Infrastructure made the headlines.
Also looking back to this time I see that there was a dearth of skilled labour pushing up wage rates, a shortage of raw materials raising building costs and a worry about foreign takeovers as Spanish construction firm Ferrovial made a deal with BAA over involvement in Heathrow, Stansted and Gatwick. Does any of this ring a bell yet?
The last eight years have however also brought enforced improvements to the industry and it is all too easy to look back at the past through rose coloured safety goggles. Let's look at some of the good things to come out of the recession:
BIM The increasing de-risking of construction and the interface the supply chain has with technology is transformative in the way we now control and manage projects. Unless we had suffered the crash I don't think there would have been the same dynamic to adopt BIM as a core part of the build process. It would have come, but nowhere near as fast.
Global expansion Although I am not sure that we want to see the built environment entirely dominated by one-stop-shop engineers that have their fingers in more pies than an eight handed pastry chef. All of us with an eye to the future have been forced to explore, invest and develop our international offering at a much greater pace of development than we would have done had the home market not died overnight.
Talent pool With this global expansion comes the advantages of sharing ideas, philosophies and methodology with colleagues from abroad. The UK does not have a monopoly on talent.
The Olympics On time, on budget and a showcase for the world to see the best in design, management and enactment. In the middle of the worst recession in living memory our industry did itself proud and I believe that we are reaping the benefits from this on the global stage.
Government recognition It has been a long time coming and we have been through three or four construction ministers. In my personal dealings with the secretary of state for Business, Innovation and Skills he has shown an appreciation of the heady times when construction represented 12% of GDP and employed one in eight tax paying workers. The coalition may prove to have been better for the construction sector than anyone could have previously predicted.
So back to 2006, it won't come as a shock to learn that England had just been knocked out of the World Cup crashing out of the quarter finals on penalties; in 2014 they didn't get past the group stage. Manchester United signed a shirt sponsorship deal with AIG in 2006 worth at that time a record £56.6m over four years. The same team has just adopted Chevrolet as shirt sponsor worth a reported £335m over six years. We may see inflation taking its toll on building costs and stressed consultants being placed in the position of having to explain the realities to irked clients but compared to the soccer sector we remain remarkably undervalued as an industry. That is as true now as it ever was.
Richard Steer is chairman of Gleeds Worldwide