Over four years ago we had a vision to fund R&D in construction, and now we are seeing a return on that investment, says UKRI's Sam Stacey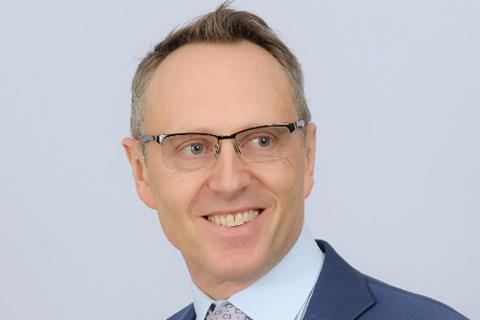 When the UK's industrial strategy was launched in 2017, the then secretary of state Greg Clark proclaimed that we were "at one of the most important, exciting and challenging times in the history of global enterprise." He noted that Britain was extraordinarily well placed to benefit from the new industrial revolution.
The construction sector was one of those selected to lead the charge with the funding of the Transforming Construction Challenge.The initial investment of £170m from UK Research and Innovation, has been surpassed by £250m of funding from industry. The recently released independent evaluation of the challenge's impact by Frontier Economics reveals what has been achieved.
The Transforming Construction Challenge was found to have exceeded its targets: 85% of clients reported more frequent use of challenge solutions and the results of projects supported by it are being applied on over £14bn worth of developments. Of the 140 or so companies involved, 62% reported a large positive impact on revenue, and a further 30% a lesser positive impact.
The evidence shows uptake being far beyond expectations, with planned whole-life cost reductions across projects worth £114bn by 2027
Other indicators of project performance are also looking good, with 71% already reporting improvements in delivery time, 27% reporting a reduction in cost per square metre, and 30% an improvement in productivity.
The Transforming Construction Challenge was designed to prove the gains that can be made from using platform methods of construction and shifting from lowest price to best value in terms of procurement. Every step in the construction process was considered – from design, through manufacturing and site, to use – and for a range of building types.
The need for scaling was understood from the outset. This was to be achieved by increasing R&D investment, establishing new business models and accelerating technology adoption, shifting demand away from "cheapness", expanding research and increasing knowledge dissemination.
The evidence shows uptake being far beyond expectations, with planned whole-life cost reductions across projects worth £114bn by 2027. This demonstrates just how quickly the industry is prepared to adopt innovation when the conditions are right.
Three examples illustrate this: nPlan, which uses machine learning to optimise large construction project planning and scheduling, has received £25m in investment that included Google Ventures; Cloud Cycle, providing sensor technology for concrete trucks to optimise delivery and quality has obtained £9.3m investment; and Converge's sensor technology monitoring concrete curing is now being used all over the world having received £24m in investment.
The evaluation of the Transforming Construction Challenge shows positive evidence it is having an impact on annual revenue, profit, export sales, productivity and speed of delivery for the companies involved. As yet, there is relatively limited evidence regarding the wider impact of the challenge beyond the organisations directly engaged. This is to be expected, given the stage of delivery and the challenge's current focus on demonstration.
It is clear from the case study on procurement, that the Challenge has begun to shape thinking around procurement in the public sector, including through its significant contributions to the Construction Playbook. However, further tangible change, including change across the commercial sector, will take time to deliver.
The evaluation found that "the experts commented that they did not expect the R&D focused on challenge concepts to continue in the long term without further government support". Without this, they felt it unlikely that industry would be able to continue the increased level of R&D in challenge concepts seen, as organisations tend to be too focused on "business as usual" activities.
The findings show that the Transforming Construction Challenge has more than achieved its aspirations, and made it a poster-child for successful industrial strategy. We must build on that success. All those involved from now on – clients, suppliers and government – will have important roles to play in scaling the benefits over the coming years.
Sam Stacey, challenge director – Transforming Construction, UKRI