The partner at property and building consultant TFT on compulsive Googling, social netwoking and being an Apple tart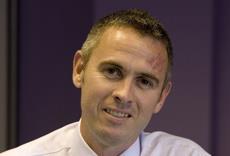 What is your favourite website?
It's a close call between Pistonheads.com and the BBC as a favourite, with Google being by far the most visited. I am sure that they will all be overtaken by the new TFT site that we are working on!
What is your worst digital habit?
Googling everything, and I mean everything. Any hint of a question in my mind gets Googled at the next possible opportunity. I am sure that the answers aren't always right, but can often be highly entertaining.

iPhone/Blackberry/Android. Which side are you on?
iPhone all the way - I am the original Apple tart!
Are you into social networking? (Linkedin, Twitter, Facebook etc)
Linkedin is fantastic for keeping up to date with contacts who are on the move within the industry. Plus it's a great way to research and be researched for a whole host of purposes. I am not a regular Facebook poster but I do love to keep an eye on what's going on with my online social circle. Isn't it funny how something that someone does, who you haven't seen for 10 years, can still be remotely interesting!!
Are you on Twitter? If so who do you recommend to follow?
I'm not a massive Twitter fan. I don't get the personal twitter thing, unless you are a star or a wannabe. For business I can see the merit, I just need to get up to speed on how, what and when and then TFT will be up there with Stephen Fry and Lady Gaga.
What is your favourite app?
eBay on iPhone. It's just so easy to buy stuff.
What is your preferred means of communication? (eg. Email, phone, face to face, text etc)
Face to face every time, but as that is not always possible a good balance of phone, email and messaging suits.
What did you last buy online?
Pretty much everything I buy now is from online sellers as it is so quick and easy on my eBay/Amazon app. What was it I last bought? A big pot of Dubbin for my motorcycle boots I think.
PC or Mac?
My house is littered with MacBooks, Mac Mini's, iPads etc so I would like to say Mac. But as my work tool is a PC and, like most, the PC is a familiar friend, I will stick with that. If I were to start all over again I would probably choose Mac though.
Guilty pleasures: Most played tunes from iTunes/Spotify?
My iTunes account shows it as being Titanium by David Guetta – what a great track to unwind to.

Seth Love-Jones is a partner at Tuffin Ferraby Taylor (TFT)