This graduate structural engineer from Arup on password problems, worrying things about Twitter, and the joy of Bananagrams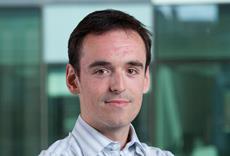 What is your favourite website?
My favourite changes from week to week. However, I consistently return to the BBC website for information, expert commentary or entertainment. It is my default source on the internet.
What is your worst digital habit?
I am utterly useless at remembering my password and secret question. I try to make my account safe with un-guessable answers that I often cannot remember myself.
iPhone/Blackberry/Android. Which side are you on?
I was carrying a phone pretending to be a brick for years so with my first pay packet from Arup I treated myself to an all singing all dancing Android smart phone and have not looked back since.
Are you into social networking? (Linkedin, Twitter, Facebook etc)
Facebook for friends, Twitter for finding out any information that the press cannot tell me about, and LinkedIn to keep up to date with old school friends' careers.
Are you on Twitter? If so who do you recommend to follow?
I am only on Twitter to follow other people and keep up to date with the news. I think it is great concept that any individual can communicate with anyone in the world. This understanding and sharing of one another's culture and ideology can only bring people closer together for the benefit of humanity and this planet as a whole. However, I do think there should be a "are you really sure you want to send this" button on the website because some of the Tweets you read on there are disrespectful, hurtful and frankly concerning.
What is your favourite app?
My favourite app has to be the Chiltern Railway app as it tells me the quickest way to get home after work. I am utterly dependent on it.
What is your preferred means of communication? (eg. Email, phone, face to face, text etc)
Always face to face. I often think it is easy to misread the intended tone of typed communication, hence why I prefer to talk to someone. Communication to me is all about connections and the best foundation to any relationship can only come from interacting face to face.
What did you last buy online?
The last thing I bought online was a word puzzle travel game called Bananagrams. I thoroughly recommend it to everyone!
PC or Mac?
PC – I cannot use the Mac mouse.
Guilty pleasures: Most played tunes from iTunes/Spotify?
My most played tune at the moment is "Big Time Players" by T. Powell. It gets me in the mood for playing hockey and a great start to a gym workout.
Stephen Thompson is a graduate structural engineer at Arup