The Bennington Green marketing manager on her friends' art skills, discussing business over a glass of wine and her Royal Ascot hat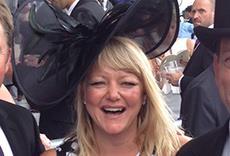 What is your favourite website?
Ebay and iOffer as I'm always looking to bag a bargain.
What is your worst digital habit?
I have two – having far too many tabs open on my pc and checking my emails in the night.
iPhone/Blackberry/Android. Which side are you on?
Iphone 5. Is there anything else?
Are you into social networking?
Being a marketer I have to use all of the above. I love LinkedIn for the powerful professional network it builds, although I have been stalked on it before which wasn't fun. I was born in Essex but now live on the South Coast and Facebook is fantastic for keeping up to date with friends and family.
If you are on Twitter, who do you recommend to follow?
@BenningtonGrn (obviously!), @BuildingNews and @BBCFood.
What is your favourite app?
Draw Free. Whenever I have a quiet moment and a few minutes to fill, it always makes me laugh because my friends are rubbish at drawing.
What is your preferred means of communication?
For business I prefer emails as I can flag up things I need to do, communicate with several people simultaneously and check back through my sent items when I've forgotten whether I've replied or not. However, there's nothing to replace face to face on a personal level – preferably over a glass of wine.
What did you last buy online?
My hat for Royal Ascot. Its fabulous; couture and a bargain!
PC or Mac?
PC
Guilty pleasures: Most played tunes from iTunes/Spotify?
U2 and Stereophonics. The latter I am going to see in concert in October.
Alexandra Eaton is marketing manager for Bennington Green