Building surveyor Danny Wallace reveals why his emails are tricky to read and which technology would help him in his job the most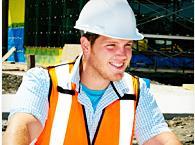 What is your favourite website?
BBC News, so I can read the news for whatever area I am in! England, N. Ireland etc.
What is your worst digital habit?
Typing short cuts, like writing initials instead of complete names to the point where you need an acronym dictionary to understand my emails
iPhone/Blackberry/Android. Which side are you on?
BB although the iPad is an essential tool for work so one day I may be tempted to make the transition to iPhone
Are you into social networking?
My working day, as a structural iInsurance surveyor for C-R-L.com is spent on the road or on building sites so fast paced social networks such as Twitter kind of pass me by. However I do find LinkedIn to be a great business resource. I am passionate about new building techniques and materials and I like to check out the various group discussions on LinkedIn. I feel I can be part of the conversation in my own time, unlike Twitter which seems so fast paced and in the moment.
Who do you recommend to follow on Twitter?
Well of course our company Twitter account @CRLManagement where we share industry news, new building techniques such as 3D printing as well as updates from my travels and insights into the building sites I visit via our online blog
What is your favourite app?
Anything that makes my life easier gets a thumb up from me. So based on my day to day needs as a site surveyor on the road, GoReport, which is a mobile report generation tool. It literally saves hours of paperwork for me and helps me produce professional detailed report. I am still trying to persuade the powers that be that, as a company known for embracing modern technology, that what I really need is Google Glass which I am sure would be a great tool for a surveyor
What is your preferred means of communication?
I don't think you can ever lose human interaction no matter how much we embrace modern technology. Being on the road so much, I have to liaise with the office virtually. In fact, with many of our staff based remotely, Skype or conference call software such as Webex or GoToMeeting are essential for the day to day efficient running of the business.
What did you last buy online?
Does paying the bills count? Well then I would have to say the grocery shopping. Being on the road, online shopping services really help me keep on top of day-to-day basic chores
PC or Mac?
Mac
Guilty pleasures: Most played tunes from iTunes/Spotify?
I like to catch up on episodes of Russell Howard's Good News, or listen to episodes of Just a Minute or The Now Show. I love these comical shows.
Danny Wallace is a building surveyor at C-R-L.com