The DSDHA director on online mapping apps, Stella McCartney handbags, and Talking Heads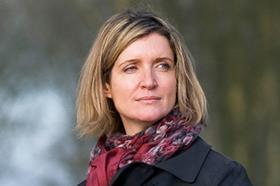 What is your favourite website?
I love maps, not just for navigation, but fundamentally for the way they reveal hidden truths and evidence of the way human enterprise and the natural world come together. Read alongside Google Earth, this website is a fantastic tool where you can gain insights into the layers of phenomena that make London such a dynamic place to live, work and create new architecture and public spaces.
What is your worst digital habit?
As I have to be incredibly well organised and focused, my worst habit is probably the audible diary alerts that constantly ring on my iPhone, keeping me on track as I go from meeting to meeting, project to project, all day (and evening) long. To maintain quality in everything we do at DSDHA, along with David Hills, I have to overview a huge number of diverse projects, maintaining design consistency and reminding everyone of our clients goals and values. The alerts also remind me to switch off, to make time to relax and recharge and find time for the inspiration I need to keep creativity to the fore.
Iphone/Blackberry/Andorid – which side are you on?
Iphone – in a crashproof case to protect it from being dropped on site, out of moving vehicles, over the egde of a balcony at the opera, or when I'm cycling on a Boris Bike from A to B.
Are you into social networking?
Yes – LinkedIn and Twitter.
I love the latter for keeping me informed across a range of interests all in one go, when I get a chance to catch up, as well as letting me share my thoughts (@deborahsaunt) and those of the studio (@dsdha).
Who do you recommend to follow on Twitter?
Will Hurst is great, as well as Ellis Woodman and the London Review of Books
What is your favourite app?
Citymapper – This app is a god send and has literally has changed the way I perceive and use the city – bringing disparate parts together by making public transport bearable. It offers a range of options so you never feel trapped into having to use one form of transport, and covers suggested ways between destination for walking, cycling, taxis, overground and underground as well as buses. And it has a sense of humour too with a catapult option. I also like use the NYC version when I am there too – the ferry system there is a hidden resource that London should learn from too as it is seriously useful and easy to use.
What is your preferred means of communication?
Multiple, simultaneous ways of communicating appeal to me depending on who I am in touch with, although I really do not like email that much. I try to keep that as a business mode only and use text, Twitter, telephone and Skype/Facetime for more social aspects of day-to-day life.
What did you last buy online?
A beautiful handbag from Stella McCartney – the detail is inspiring in terms of craftsmanship.
PC or Mac?
Both in the studio. Macs at home.
Guilty pleasures: Most played tunes from Spotify/iTunes?
Talking Heads download after seeing David Byrne at the Roundhouse a few weeks a go and getting nostalgic.
Emeii Sandé, Early opera, Purcell or Benjamin Britten to relax. or Black-eyed Peas and David Guetta to get my energy up so I can focus on a project as I design/write/think.
Deborah Saunt is a director and founder of the architect DSDHA