An EC Harris partner reveals why the internet recently frustrated him and which app is helping him train to be the King of the Mountain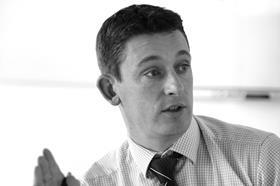 What is your favourite website?
I really like the BBC news and sports websites. The live sports feeds in particular are a great way of keeping close to the action, and have been brilliant this summer with such a rich vein of sporting success from the Tour de France, Olympics and more recently the high drama of the Ryder Cup. I also love Wiggle, and find there are always more gadgets and bits of kit to buy for cycling!

What is your worst digital habit?
I think that my most annoying habit is to spend time monitoring Twitter and LinkedIn updates on my IPhone, while trying to engage in family life. The time has come when I need to stick the phone in a drawer and live in the real world!

iPhone/Blackberry/Android. Which side are you on?
I have both an iPhone and a Blackberry. The Blackberry has always been a brilliant business tool, with great email functionality, but the iPhone is much more versatile for multimedia, social networking and has great functionality when on the run, as well as a multitude of great Apps. One of my colleagues recently developed a great snagging App - Snag List (Creative Grid Ltd) - which, at £1.99, is a great investment for anyone who works in the construction industry as it allows you to produce quality/defects/snagging lists which quickly and easily capture items with photos and details and which can be exported to pdf and other formats via email.

Are you into social networking? (Linkedin, Twitter, Facebook etc)
I am a great fan of all three - LinkedIn and Twitter are used purely for business, and Facebook is definitely a personal space for friends and family.

Are you on Twitter? If so who do you recommend to follow?
Quick plug, I can be found @RichBonner. Earlier this year Bristol voted to have an elected mayor, the only city in the England to do so. The vote is coming up in November, and I follow most of the candidates. @Marvin4Bristol and @GeorgeFergusonx are both active, interesting and passionate about Bristol. @ECHarrisLLP provide lots of useful blogs and opinion pieces and for out and out sporting passion look no further than @MarkCavendish

What is your favourite app?
I love Strava, which is a fantastic tool for tracking your routes whilst out cycling or running. The great functionality though is that it ranks your ascents and tells you how you compare with other riders who have ridden that same section. I have a long way to go though to get close to being the KOTM (king of the mountain) on any of my usual rides.

What is your preferred means of communication? (eg. Email, phone, face to face, text etc)
You can't beat face to face, but I'm actually finding that Twitter is a great way of communicating with local politicians and quickly getting your point across directly on matters affecting you and your business.
What did you last buy online?
I purchased an iPad 3 last night - it should arrive any day now which I'm very excited about. However, there are also some occasions when buying stuff on the internet can be very frustrating e.g. Iast Sunday morning, when despite having three laptops and two phones on the go, I spent an hour and forty minutes trying to buy Glastonbury tickets yet couldn't even log on to the ticket website. I guess I'll try again in April when some of the tickets are returned…
PC or Mac?
I prefer the Mac although I'm still trying to get to grips with my MacBook after years as a PC user

Guilty pleasures: Most played tunes from iTunes/Spotify?
My favourite album that I have bought from iTunes is Kasabian's West Ryder Pauper Lunatic Asylum.
Richard Bonner is a partner at EC Harris