James McArdell on his path to becoming a graduate QS, the great outdoors in Wales and the ins and outs of forecasting costs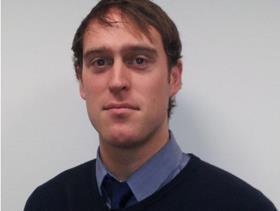 I have been away on secondment with one of our key clients, Welsh Water. The time spent on secondment has been a great experience, as I've developed my QS skills and been out and about across the whole of South-east Wales.
Typical days have seen a mixture of office and site based work with me working on over 200 separate small schemes. For instance, one project involved grit blasting, spot welding and re-painting of a pipe bridge. The bridge was 50ft over the river level, requiring total encapsulation scaffolding for weather proofing to enable works to be carried out uninterrupted by the elements.
Because of the sheer number of small projects I'm responsible for, a fair amount of time is spent in the office tracking and forecasting costs. I also spend a lot of time talking to PMs and contractors to accurately forecast cost, with any changes in project programmes having to be regularly reviewed to reach an up-to-date spend profile. Often contractors will submit early warnings for approval for work over and above that included in the contract price.
When on site I'm often assessing the validity of any early warnings submitted, which is always interesting. On the bridge mentioned above I found severe corrosion which had previously been missed as the corroded cross members were hidden by a walkway, and so I photographed the area and measured the extent of the damage. Once back at the office I then assessed the price of the early warning notice to benchmark it against works of a similar nature.
When on site I'm often assessing the validity of any early warnings submitted, which is always interesting
I always wanted to work in the built environment from a very early age and after school I worked in construction as a labourer and brick layer. But I knew that I wanted to be involved in the commercial aspects of construction so signed up for a distance learning degree in surveying from Reading University. After I graduated I then came to South Wales as my girlfriend's from Cardiff.
Originally I'm from Southampton so becoming an 'honorary Welshman' took a bit of getting used to, but I love it now. It's brilliant for outdoor pursuits such as cycling, climbing, surfing and cricket. We even go out as a company with Welsh Water for bike rides, which is my real passion at the moment.
Currently I'm busy with my APC. Last summer I signed up to the RICS and now have to keep a work diary up-to-date which details the experience I've gained and the lessons learned. As a company Faithful+Gould is really supportive of me as I work on my APC, with well established processes, lectures and a mentoring programme which increases my chances of success and just makes it all that bit easier. Compared to some of my contemporaries experiences I really value and appreciate this; indeed it was one of the reasons why I joined Faithful+Gould in the first place.
I hope to continue working in the utilities sector as the work's challenging, but varied and stimulating. Also, everyone needs water, gas and electricity; even with higher prices that's never going to change!
James McArdell is a graduate QS at Faithful+Gould