The government set construction's blood pressure rising recently by seeming to announce a sharp drop in funds for Procure21+. In fact, the life support system isn't about to be turned off. Katie Puckett reports on how a tiny error shook the flagship health framework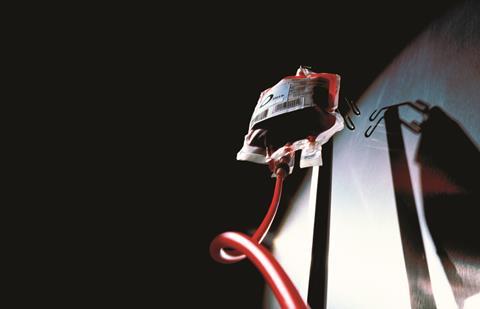 On 19 July, when the Cabinet Office released the numbers for construction spending over the next three years, a collective "what the … ?" could be heard across the industry.
This modest five-page document shouldn't have been particularly controversial - it was simply intended as a dry run for the quarterly updates on the construction pipeline due to begin in the autumn. But as there have been quite a few unpleasant surprises regarding the cancellation of public spending programmes lately, any threat to the remaining few was inevitably going to cause panic. "It very quickly became a talking point," says Ian Greggor, project director at Cyril Sweett, who was working on a bid when the news broke. "It's been a difficult time for a lot of contractors and some people were getting quite twitchy and nervous."
It was the figures for the Department of Health that set alarm bells ringing. There were two lines on a table, one labelled as relating to the ProCure21+ framework, the other to PFI, LIFT (Local Investment Finance Trusts) and "major public capital funded schemes", with figures for the next three years. For the ProCure21+ framework, launched last October and supposedly worth £2.9bn over five years, there was a dramatic sloping off. This is supposed to be the principle route for health procurement for the next five years, while big PFI projects tail off. Just £841m worth of work was shown in total, dwindling to a measly £98m in 2013-14. Meanwhile, for PFI - on which the government and healthcare trusts themselves were supposed to have gone lukewarm - there was a total spend of £1.34bn, expanding from £126m this year to £732m in three years' time.
What was going on? Were these unfamiliar figures the scorched tyre marks from yet another screeching handbrake turn in government policy? The industry stared, rubbed its eyes in disbelief and then deluged its contacts in the department with calls, emails and texts demanding an explanation.
The real picture
The answer? A typo. If the figures for ProCure21+ looked like those of a programme that was being wound down, that's because they were. But they weren't the figures for ProCure21+; they related to the last projects procured under ProCure21 - and no one knows how the rogue + sign found its way into the document.
So what on earth is going on? A DoH spokesperson confirmed that ProCure21+ was neither on hold nor under review, but in fact thriving. Since it was launched in October 2010, the DoH says around £800m worth of work has been registered across 57 schemes, giving an average value of £14m. But none of this work was included in the published figures.
In fact the figures are arguably higher than hoped for: the government had said that it expected "£650m-750m worth of work would be completed in each year of the programme".
This fits with what contractors have been experiencing and explains the level of shock the July figures caused. "To be honest, we've never been busier," says Michael Clarke, health manager at Willmott Dixon, which is one of six private supply chain partners (PSCPs) on the framework. "New schemes are being added on a weekly basis. Altogether we have seven or eight in various stages of procurement, from the first documents coming out to interview stage, ranging from £1.2m to £30m. These numbers didn't make sense."
Greggor was equally perplexed. "We work with a number of the PSCPs and we are beginning to see a lot of schemes. There's loads of stuff coming through at the moment, from foundation trusts and even PCTs. It's not just small bits and bobs either; it's quite chunky schemes and programmes, and much of it is up for delivery over the next two or three years."
The departmental mess-up was particularly unwelcome given the context: with such uncertainty still hanging over the far-reaching changes proposed in the Health and Social Care Bill - now on ice until parliament returns for the autumn - contractors wondered if trusts were getting nervous about committing to future capital spending? Primary care trusts (PCTs) in particular have the threat of abolition hanging over them with government's long-term strategy still in doubt.
No new PFI
The explanation, however, still leaves PFI figures that were far higher than many expected, particularly given that a number of trusts are struggling to meet the government's 2014 deadline to become foundation trusts because of the heavy weight of operational PFI projects dragging on their books. Of the slim number of forthcoming schemes, procurement of at least one has been halted amid concerns that it would be too great a burden for the trust to achieve foundation status.
"I don't get the sense that we've got a huge pipeline of the healthcare [PFI] projects coming forward," says Paul Coomber, head of healthcare at Davis Langdon. "That's not the nature of the beast any more. It's all about smaller healthcare facilities in the community, and more of them. Estate rationalisation is the big challenge to the NHS, and they will need to do that to meet efficiency targets, so I would say that ProCure21+ rather than PFI is likely to remain the procurement route of choice for a lot of trusts."
In fact, there's nothing new in the PFI figures. The DoH spokesperson said that the £1.34bn relates to five major acute schemes that have been around for a while - Papworth, Alder Hey, Royal Liverpool and Broadgreen, the Royal National Orthopaedic Hospital, and Sandwell and West Birmingham, most due to begin construction over the next three years. And with the future of the Royal National Orthopaedic Hospital in Middlesex now uncertain (see Building, 29 July, page 11), that pipeline is potentially £88m lower.
Figures on that line also include two large NHS LIFT schemes - a small-scale form of PFI in the community - for Mersey Care NHS trust (£50m) and East and North Herts (£27m). There are also six other "major public capital funded" projects, at various stages of the business case approval process: Brighton and Sussex, East and North Herts again, Epsom and St Helier, Porton Down, North Cumbria and Broadmoor. "When figures for these are stripped out, PFI and NHS LIFT schemes will be contributing just over half the total for those years: £250m in 2012-13 and £465m in 2013-14," said the spokesperson. They don't expect there to be any new projects included in the autumn figures, but the (real) ProCure21+ numbers will be.
As for the source of the panic, the news of its mistake came as just as much of a surprise to the Cabinet Office itself, as did the fact that there are two completely different frameworks with subtly different names. Nevertheless, the department says it does not plan to issue a clarification.
The government's typo may be easily dismissed but its significance at a time of such uncertainty over a key area of spending, cannot. As Cyril Sweett's Greggor says: "It's a silly slip. No one's going to die, but this sort of thing does stick in the craw a bit. We think of all the clever explanations, but the one we forget is the cock-up."
There's also a sense of frustration that with so little information available to the industry, officials could at least ensure the accuracy of what data there is. Clarke at Willmott Dixon is irritated by such a careless mistake: "People put a lot of store by these figures, so they should be right."