At long last, it looks like the humble quantity surveyor is being recognised in the global market and is on everyone's shopping list, writes Richard Steer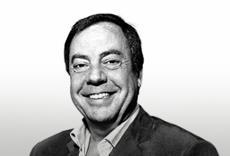 The ups and downs of the construction sector are unparalleled. We have seen more cycles than Chris Hoy on race day at the velodrome. But above the rancour
and dissent that accompanied last month's horrible GDP figures, I sense that for cost and project management consultancies we are entering a new era. It is bringing hope for a different future and for the first time in some years I am beginning to feel a little more optimistic. At last we are being valued as a key part of the construction management offering and as a result the humble QS appears to be on everyone's shopping list.
Don't misunderstand me, things are still tough day-to-day and everyone is still struggling, with many offering bargain basement fees to buy work rather than win it.
However, in construction management we may be better placed to rise from the ashes than many of our peers in other areas of construction. Architects have had a nightmarish time, mown down like unwilling combatants, slaughtered on the commercial equivalent of the Somme. When firms like RMJM appear to struggle to pay their staff on time, then the lack of work in the pipeline becomes all too apparent.
But in the previously less glamourous world of cost consultancy those of us still left as independent entities, operating on behalf of clients across the globe, are seeing new opportunities opening up. Suddenly, I sense that the idea of true and independent cost management is striking home.
For decades we seem to have had to explain what we do, why it is needed and finally, and most importantly, why it is worth the cost. This has been especially true when operating in Asia or the US.
However, with global brands such as Experian and Goldman Sachs wanting to build in Mumbai, but use a methodology that works in Manchester, the template is being forged and copied by the locals. This does us a lot more good than endless RICS fact-finding tours and presidential visits.
Harrie Noy, the outgoing chairman and chief executive of Netherlands-based infrastructure company Arcadis, apparently declared he had a £100m war chest to go out and purchase specific consultancies and, sure enough, the Asian cost consultancy Davis Langdon Seah has now gone Dutch.
This follows Noy's purchase of EC Harris last year, bought to complement his engineering offering. Having just returned from Shanghai myself I also see that the large Chinese contractors who fear the bursting of their own housing bubble are also looking to diversify. They have resources at their disposal that make Noy's millions look like lose change and they are not afraid to spend it.
Suddenly the QS seems to be everyone's must-have accessory.
All this merger and acquisition activity gives the client a decision to make and it is one of the reasons why I feel more optimistic about the future than at any time since 2007.
The underrated quantity surveyor and often undervalued project managers are suddenly in demand and clearly have something worth buying, as Arcadis and Aecom will testify.
I believe that for those of us still working and still profitable there are going to be more clients available on a global basis as they see the added value that good cost and project management brings to any construction job. It is true that the pay may still not match the rates offered in the UK, but they are beginning to understand the value that we are able to bring.
Also, it is my belief that, for those that appreciate the need for a specialist bespoke service, they will choose to work with firms that are not necessarily tied to
either designers, engineers or contractors.
Those working in the built environment know that it has never been a one-size-fits-all type of business - if that was the case everyone in the industry would have just adopted a design and build model years ago.
I believe that the global market has a desire to work with those companies that see cost and project management and associated construction management services as their main offering.
After all this time it is nice to finally be wanted. And those of us who are still independent - and proud of it - are beginning to get a sense that the future may not be so grim after all.
Richard Steer is chairman of Gleeds Worldwide.
Follow Richard on Twitter: @Richard_Steer