Infrastructure is all about long-term value – or should be. But to make that a reality we must learn to work together. Will you sign up to Project 13 and help transform the sector?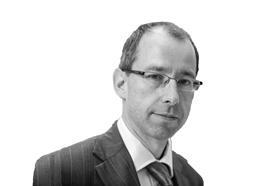 If you are an infrastructure owner in the UK – particularly if you are one of those handful of organisations whose annual spend is more than £1bn – please read carefully. Because this is really important, and I would like you to sign up. Not necessarily right after you have finished reading this article, but certainly before we all head off for our summer holidays. So that gives us about three months for me to persuade you that you should, and for you to agree that you will. Okay?
I would like you to sign up to take part in an effort to fundamentally transform the UK infrastructure and construction industry: it's called Project 13. You may have already heard about it – and perhaps are still scratching your head about the name, but never mind that. The aim is to establish a community of infrastructure investors, owners and stakeholders committed to a new way of working to drive change throughout our industry.
Project 13 is being led by the Institution of Civil Engineers and the Infrastructure Client Group, and already has the backing of a large number of organisations, both public and private, who care about the future of infrastructure. Numerous individuals are also involved, including me.
To deliver long-term value requires an enterprise-wide approach, with collaboration through the supply chain
We will be producing some documents, but that is not the main focus. There have already been a host of documents setting out the reforms the industry needs, from Sir Michael Latham, Sir John Egan and Andrew Wolstenholme. We all know what we need to do. This time we are trying to institutionalise change. That is why it is a campaign. That is why you need to sign up. Particularly infrastructure owners, because we believe that you have the ability to change the way the whole industry operates.
So, what are we asking of you?
The formal launch will be on Tuesday 1 May. But here is a heads-up on what we are proposing under the governance workstream.
First, we are proposing a new vision of value. We are looking for explicit recognition that value is achieved on the basis of long-term outcomes. We believe organisations should operate in a way that aligns with the objective of delivering that long-term value. We are arguing that to deliver that value requires an enterprise-wide approach, with collaboration through the supply chain.
Second, we are setting out three levels of governance maturity. Our "Utopia" level, for the highest-performing organisations, is seeking for example, that:
The company's board is charged with long-term asset management success
Investment decisions are based on whole life value
The board is committed to creating conditions that incentivise investment in supply chain infrastructure innovation and productivity
Commercial structures are strongly linked to realisation of outcomes on a long-term basis.
By embracing a long-term, partnership-based approach to driving value, we can deliver better outcomes
Our third proposal is to put into place corporate governance principles for public and private sector infrastructure owners, mirroring the logic of the UK Corporate Governance Code for listed companies but tailored for the infrastructure sector. In doing this we are building on best practice by certain infrastructure owners; guidance that has previously been developed by regulators such as Ofwat and Ofgem; and the thinking developed by long-term investors, in particular Hermes.
We believe there are certain issues of particular importance in the infrastructure sector which make the effective discharge of governance duties more challenging. These include:
Time horizon – infrastructure investments are mostly for the benefit of future generations not our own, so place uniquely long-term obligations on decision makers
Role within society – the underlying assets affect diverse stakeholders, and their resilience is usually of critical importance
Scale – as infrastructure investments are often some of the largest a society or an organisation will make, cost control is critical.
Moreover, infrastructure projects usually involve a complex array of different stakeholders, making clear governance even more critical to success.
Fourth, we are looking to create alignment in expectations of and support for good governance, covering shareholders, regulators, boards and government so we are acting in concert for the common good. To this end we are calling on all investors, public and private, to help enable the adoption of the principles we propose in the organisations they influence.
Fifth, we are setting out guidance for public sector investors including the Treasury and the key infrastructure departments, building on thinking in HM Treasury's Transforming Infrastructure Performance report and the Transport Infrastructure Efficiency Strategy.
So what are we seeking to achieve? Nothing less than the transformation of UK construction. By embracing a long-term, partnership-based approach to driving value, we believe we can deliver better outcomes for investors, owners and stakeholders. More innovation, more investment (in skills and technology), dramatically lower long-run costs, better predictability in outcomes, and higher productivity.
So, this does not rest on altruism. It rests simply on accepting that infrastructure owners, investors, stakeholders and UK society as a whole (and our children) we will all be better off if we take collective responsibility to act in a different way.