High Court judges are rebelling and want to send standard final accounts disputes to the county courts. All very well, but it would be a lot quicker to get adjudicators to hear them
The work of the Technology & Construction Court in London has, since 2003, increased by about 75%. Some 550 new claims were issued last year, mostly building contract disputes. So the four (soon to be five) High Court judges are ever so busy. Goodness knows how they manage to handle twice the number of claims as the eight judges in the TCC were handling seven years ago. So the four judges have given the machinery a short back and sides, a haircut. These High Court judges are going to send what they call "standard disputed final accounts" to the county court instead. "There is," said Mr Justice Akenhead, "a strong feeling that the High Court judges should deal with substantial cases."
If I was a builder, I would be beside myself with fury at having to wait 12 months for a result. Moreover, it is crucial that the result is final and conclusive
So what are standard final account disputes? Actually in my experience they are not only very ordinary, they are very difficult too. These embarrassing, time-consuming, costly cases are some of the most painful in the disputes business. No wonder the High Court judges would prefer the substantial cases. This hiving-off idea cropped up last week in one of these standard cases. West Country Renovations is a relatively small builder. It employs carpenters and bricklayers and buys wheelbarrows and is invariably stretched to the financial limit.
Probably these builders spend more time working per week than High Court judges. But at this level of real building, the contractual bumf, the clauses and rules and contract documents, are ignored completely. And, yes, disputes are standard. This particular contract began at £141,000. The builder says the final account is £265,000. Its customer,
Mr & Mrs McDowell, has baulked at the final account, not surprisingly.
The builder sued. By the way, he can't come to adjudication because of the rule (a daft rule) that says adjudication doesn't apply to building works where one party intends to or does live in the property. So these folk are pinned down to litigate unless they consent to adjudication. This time the judge decided to ask the parties' barristers to take the case up the road to the experienced county court judges. The barristers wriggled. They worried that the county court would let it get bogged down. There is, too, a hint that the parties want the even more experienced High Court judges to handle those "standard" but awkward final account disputes. The judge said, however, that the time had come to reserve more substantial cases to the High Court. So, county court, here they come.
People always end up quarrelling about the final account. That's 'standard' disputes business
Snag is, "standard final account disputes" are by no means limited to the extension works on Mr & Mrs Smith's house. The commercial contracting business is heaving with standard final account disputes. The job starts at a lump sum price of whatever. It always, always, always ends up at a different price. There are always, always variations. The programme always goes to pot. People always end up quarrelling about the final account. That's "standard" disputes business. And if I have it right, they too will go to the county court instead of the High Court.
coming December - 12 months, for a three-day trial. That too is "standard". And if I was a builder, I would be beside myself with fury at having to wait 12 months for a result. Moreover, it is crucial that the result is final and conclusive. Commercial people want a fast, cheap and final result to standard disputes or "final accounts".
Adjudication's weakness is that it is not a dispute resolution system. It is only a pro-tem decision as to who will hold the cash until something like the county court trial in one year's time. Let me tell you what can be done. There are now, more than ever before, very experienced adjudicators who are more than capable of deciding the standard final account disputes very, very quickly. The trick is to put these adjudicators into the seat of an arbitrator, yes arbitrator. These final account disputes need quantity surveyor arbitrators. The Arbitration Act empowers these arbitrators to cut through litigation rigmarole. Nothing should take longer than 100 days and it will be cheap and final and finished. Come on, get that arbitration clause back into contract documents.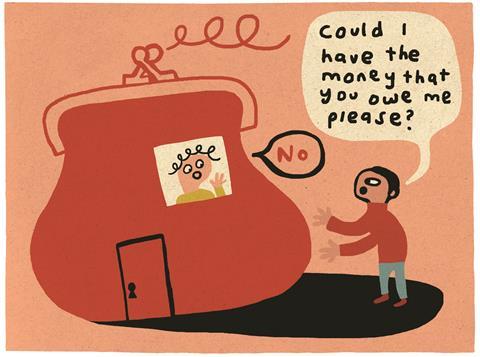 Tony Bingham is a barrister and arbitrator at 3 Paper Buildings, Temple