Pragmatism, agility and flexibility are essential qualities when working on a building that requires updating, says Ed Williams of Fletcher Priest Architects
Approaching a retrofit project tests an architect in many ways. There is no blank canvas to work on, since the building is already there. Being agile – and flexible enough to respond to both the unexpected issues that may arise from a building along with its qualities and quirks – is crucial.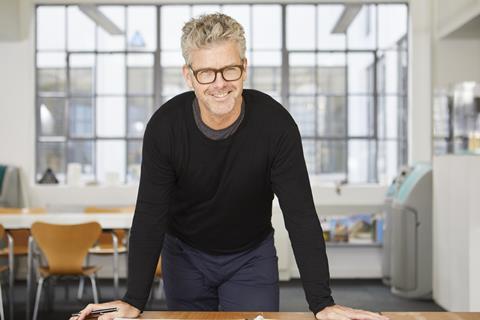 Working on a retrofit project often means adopting a "light touch"; in many ways it is better to preserve and enhance the existing assets of a building than impose one's own architectural will. This has an obvious environmental benefit too: retaining as many of the original features as possible reduces the amount of material, cost and energy used.
Three key considerations need to be borne in mind when approaching a retrofit job.
First, determine the project timescale as soon as possible. Five to 10 years is obviously very different from 10 to 15 years, which is very different from 25-plus years. Doing a job in less time does not always result in financial and carbon cost savings in the long term.
Second, a project's timescale needs to be sensible from the outset. Be pragmatic. Time will be required to investigate record information and carry out intrusive surveys that will reveal the good – and sometimes bad – about a building. It's important not to assume that fire protection has been fabricated or executed correctly, for example.
And thirdly, one must be flexible and agile and open to ideas. Architects are often guilty of wanting to transform and replace – it is part of the training. But it is important to set this outlook to one side and look at the potential for retaining or repurposing as much as possible, to celebrate the unexpected, to bring out the qualities and quirks of the building.
Such approaches were taken when we were tasked by British Land to transform its 135 Bishopsgate development in the City of London within a set of strict financial boundaries and a limit on the carbon cost of the work.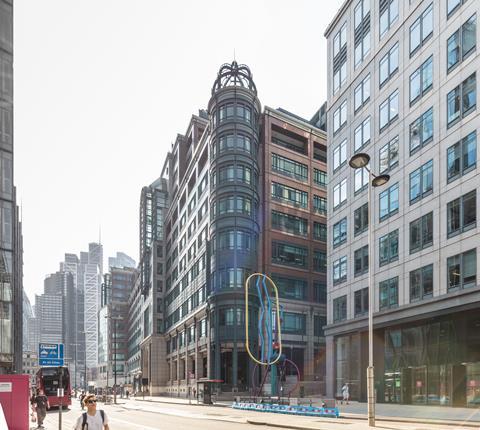 Built in the 1980s and standing on the edge of the Square Mile, 135 Bishopsgate has always been an imposing building, its dark and defensive frontage designed to protect the financial institutions within.
Internally, the building was approached through a grand and austere entrance hall, with acres of deep sterile office floors around unused and sealed atria, its roof cluttered with cleaning equipment and quantities of mechanical plant.
Early investigations revealed exceptionally generous four and five-metre high structural floors. The removal of ceilings also exposed dynamic ladder trusses that now dramatically enhance the high internal volumes that are flooded with natural daylight.
The roof plant was rationalised to create a series of private and shared roof terraces. We designed a lounge and terrace for all occupants on the 10th floor, overlooking a new VOGT-conceived roof forest that took the place of redundant generators.
Above the first floor, the building envelope was repaired and cleaned, with internal framing painted to replace the dated green of the original. Elsewhere internally, escalators, lifts and most finishes have been retained.
Key to the improvement of the public realm, a series of accessible landscaped pocket parks and giant steps designed by VOGT opened up Bishopsgate's frontages over two floors to accommodate the Eataly food market.
This transformed the Broadgate campus, creating a vibrant and exciting destination, a key attraction for McCann, the global marketing communications organisation, which relocated and consolidated its operations to the building.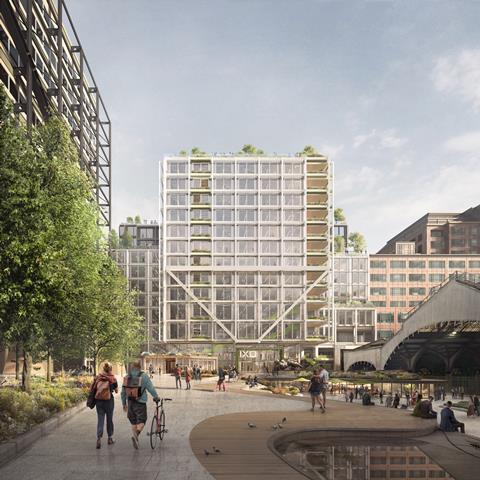 Revamping the scheme's public realm was key. Such work ends up benefitting occupiers and public alike, contributing to the establishment of effective communities around the building, which in turn aids its longevity. One can argue therefore that retrofit is a more sustainable approach to regeneration – both from a climate and social perspective.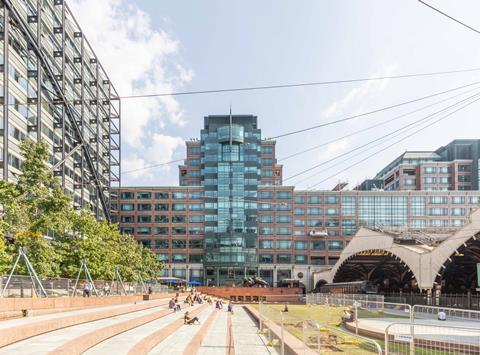 Our work for British Land did not stop with 135 Bishopsgate. We were commissioned to work on its neighbouring 155 Bishopsgate development, which had the challenge of half the occupants remaining in situ throughout the project.
Completing a trio of Bishopsgate jobs, our design to retrofit 175 Bishopsgate – aka One Exchange Square – for PNB, LaSalle and M3 recently received resolution to grant planning.
The longer-term sustainable approach we are taking with this project includes new open façades, private terraces for all and sustainability metrics at the highest levels.
Whether conceived as retrofit, reprofiling or refurbishment, all can be the right choice when the building's attributes are as generous as those we worked on. However, one should heed a note of caution: existing buildings should be carefully and objectively reviewed before decisions are made to refurbish or redevelop.
While there needs to be a bias for retention from both clients and architects if such an approach is deemed feasible and sensible, there are still buildings and sites that are not efficient or ultimately sustainable enough to refurbish or extend, with replacement the obvious solution.
Being pragmatic, being flexible, and being open to ideas are all important behaviours when working with old buildings that require updating. Set aside that architectural ego, if you can; you – and your client – will be glad that you did.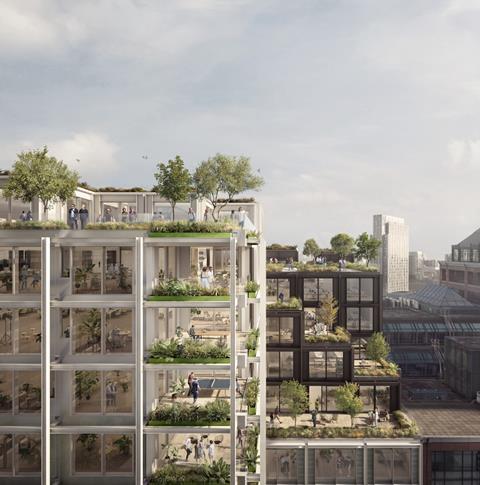 Postscript
Ed Williams is a partner at Fletcher Priest Architects