Three different sides of Singapore can be seen from the 24th floor of Faithful+Gould's office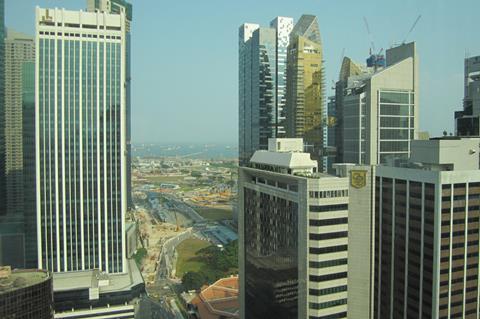 What do you see?
From where I am located in Faithful+Gould's Singapore office I get to enjoy three different views; a glimpse of the Marina Bay Sands Integrated Resort with the Central Business District (CBD) from the breakout area, a heritage view of Chinatown from the furthest end of the office, and lastly the view from my desk which is my favourite - the lovely One Shenton Residential Development. This is a beacon of gold among the surrounding grey clad buildings of the CBD with a distant view of the harbour front in the Marina Bay area with loads of tankers waiting to be piled high and then sailed around the world.
What floor are you on?
We only recently moved offices and I'm now on the 24th floor of the PWC building in the heart of Singapore's business district.
What are you working on?
Facilities management work for an aerospace client, working on a monthly technical advisor's construction monitoring report for the Lenders to the Sports Hub Project at Singapore's new National Stadium, plus a Green Mark submission - it's great being busy and I love the variety of the work.
What's on your desk?
Computer, phones, business card holders, a few papers, a bottle of water and a half demolished bag of jackfruit I just bought to stave off mid-afternoon hunger pangs.
What's your all time favourite view?
Snow capped mountains. Preferably from the top, with my skis on and a cabin serving tartiflette peeking at me from somewhere down-slope.
Hannah Feddon is a senior consultant in Faithful+Gould's Singapore office