Senior cost manager at EC Harris in Belfast looks over Northern Ireland's newest visitor attraction Titanic Belfast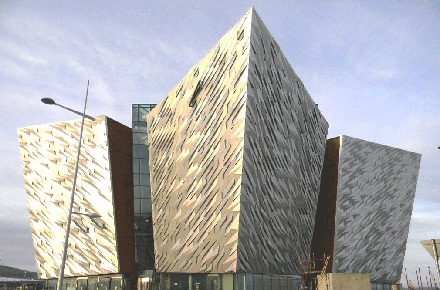 Where are you?
EC Harris site office located in Belfast's Titanic Quarter.
What floor are you on?
The site hut is within the construction site.
What do you see?
We have a view of three of Titanic Belfast's iconic 'hulls'. Due to the unique panel design and the effect of the weather it is a view that frequently changes in appearance.
What project are you working on?
Titanic Belfast is the world's largest Titanic visitor experience and a major new tourist attraction for Northern Ireland. It has been constructed at the site where RMS Titanic and her sister ships were designed and built a century ago.
The project includes nine galleries of interactive exhibition space, including a dark ride that uses special effects and full scale reconstructions, an underwater exploration centre that is linked with Dr Robert Ballard's exploration vessel Nautilus, recreations of the ship's decks and cabins and a luxurious conference and banqueting suite.
What is your all-time favourite view?
On a clear day, the view from the Ards Peninsula across the Irish Sea towards Scotland and the Isle of Man.
Steven Ferguson is a senior cost manager at EC Harris in Belfast
Source
If you have an interesting office view email nargess.shahmanesh@ubm.com