We need to think differently about corporate governance to regain public trust – I hope the realistic new set of principles I have been part of creating will help companies achieve this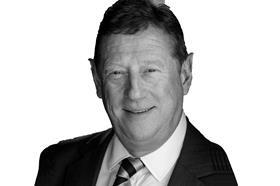 We in the built environment sector need to be particularly sensitive to issues of public trust. In the past year or so, major developments such as the collapse of Carillion and the Grenfell Tower disaster have shone the spotlight on us. Whether one believes those developments are symptomatic of problems in our sector, or just anomalies, is irrelevant. We must respond to public perception.
And that response has to be more than just complying with the law, though the law is shifting and becoming ever more demanding. In June, the government fairly quietly introduced some new reporting requirements for companies, with a particular focus on remuneration issues. The Companies (Miscellaneous Reporting) Regulations 2018 weren't widely publicised at the time, but they introduce a raft of new requirements, including the fact that from 2020 listed companies will need to publish the ratio of their chief executive's total remuneration to the median salary of UK employees.
More will be accomplished by changing the underlying nature of how we do business than by naming and shaming
This comes on the back of regulations in recent years that require companies to report on their gender pay gap. And last month the government issued a consultation paper on the idea of requiring companies to report on differences in pay among employees from different ethnic backgrounds.
So there is a lot of reporting going on, and the government appears determined to continue to pile more requirements onto companies' existing regulatory burdens. I'm not dismissive of these efforts, but we should all be taking a more holistic view: ultimately more will be accomplished by changing the underlying nature of how we do business than by naming and shaming those who perform poorly in the latest league rankings. At its core, this is about corporate governance.
Here I should declare my personal interest. In January this year, business secretary Greg Clark asked me to lead a group of organisations developing a corporate governance code for large private companies. The importance of this effort was reinforced in June, when the aforementioned legislation confirmed that private companies above a certain size (with either 2,000 employees, or a turnover of £200m and balance sheet of £2bn) must declare whether they follow a code of corporate governance, and if so, how they apply it.
The new requirement will affect quite a few of us in the built environment sector, including my own company, the Wates Group. So the group I am chairing, with secretariat support from the Financial Reporting Council, is determined to make sure we have a code of practice that is realistic and will drive holistic change.
The companies that will be caught by the new legislative requirement are quite diverse – from the numerous family-owned construction companies to some of our built environment clients such as Heathrow airport or John Lewis & Partners, to subcontractors and materials suppliers such as Tata Steel. So it's important that the code we produce is flexible and not overly prescriptive.
What we are developing – to be known as the Wates Corporate Governance Principles for Large Private Companies – will be different from, and simpler than, the existing corporate governance code for public limited companies.
Our principles and the accompanying guidance are about the essential elements of good business:
A strong purpose and culture grounded in a social benefit;
Effective board composition;
Clear board responsibilities and accountability;
Risk management balanced with responsible pursuit of opportunities;
Fair remuneration;
Meaningful engagement and dialogue with stakeholders.
But they will not include boxes to tick. There are too many examples of high-profile corporate failures in which the company ticked all the right corporate governance boxes, but still failed to deliver on any commitment to ethical business.
Good corporate governance is not about box-ticking – it is about creating a positive culture in the company aligned to a higher purpose. Moreover, if we are to increase the public's confidence and trust in business, then surely we can't achieve that through a regulatory regime that uses somebody else's words. It can only be achieved if companies think seriously about why they exist, and how they deliver on their purpose through good corporate governance. Then they have to explain how they go about living their principles. That is the sort of transparency that can build the confidence of suppliers and lenders, and the trust of the general public.
My vision is that a wide range of companies – and not just those caught by the new legislative requirement – will use the Wates Corporate Governance Principles to look at their businesses in a new way, applying the principles rigorously and using them to drive improvements in how their companies are managed. This can in turn result in better engagement with their stakeholder base and ultimately rebuilding confidence.
I hope also that clients in both the public and private sectors will take these principles seriously and do their part in driving change, making it clear to contractors that transparency and rigour in corporate governance is mandatory.
The Wates Corporate Governance Principles will be launched in December and I hope that the built environment sector will play a leading role in implementing them.
James Wates is chairman of the Wates Group, the BRE Trust and the CBI Construction Council