The skills shortage facing construction is particularly acute within more niche, highly skilled roles. So it's time for the Year of the Craftsperson, says Adrian Attwood
Last month, I wrote to Building magazine highlighting a topic which has been close to my heart for many years: getting more people into heritage construction.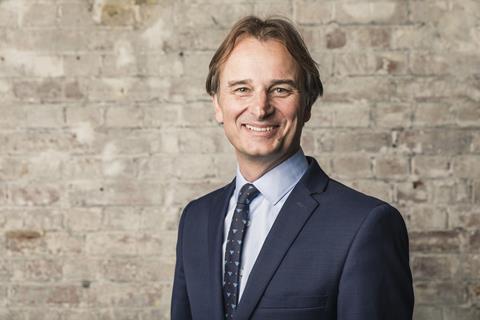 While we have seen a steady stream of young people coming into these careers for centuries (eg stonemasonry, leadwork, joinery etc), the past two decades have seen a worrying dip in the number of candidates applying to take up the tools and ply these essential trades.
Of course, the skills shortage facing the construction industry as a whole is nothing new, but I have noticed that it has become particularly acute within more niche roles, those that require years of dedication, hard graft and skill to master.
I fear we are continuing to progress towards a cliff-edge without taking nearly enough action at both a national and local level. If we do not address it now, it might be too late and these time-honoured crafts will be lost to the mists of time.
There are many reasons for the shortage: a lack of diversity, an ageing workforce and not enough young people inspired by careers in skilled trades are just a few. Now that the tap of imported skilled labour has been turned off, we are going to feel the squeeze as more projects come online with not enough experienced hands to deal with them.
Looking close to home, the heritage sector is already feeling this pinch. Take stonemasonry for example.
A perfect storm of sharp work increases, retirements and lack of new starters is looming
While on paper there are currently enough professionals in this field to satisfy demand, a perfect storm of sharp work increases, retirements and lack of new starters is looming. It will certainly affect the pace of restoration work nationwide and could mean some of our most treasured historic assets fall into disrepair.
Thankfully, the answer to these problems is close to hand. It can easily be found in schools up and down the country.
Within the sixth forms from Land's End to John o'Groats, a ready-made recruitment source is waiting to be tapped. Frustratingly, many in the sector have yet to see the opportunity that is staring them in the face.
I think it is time to collectively admit that, over the years, we have done a terrible job of engaging with young people on the threshold of their professional lives. For too long we have let a perception that construction is a blue-collar, menial, low-prospect career gather momentum in our education system.
That is grossly inaccurate, and it is to our detriment that it is still a barrier. While some work has been done to address this situation it is an attitude which persists in the hearts and minds of children, parents, teachers and even at the highest levels of government.
If we are truly committed to reversing this – and, from recent conversations with peers, I believe that we are – we all now need to come together and start making the case in schools and colleges up and down the country. It's about moving beyond the stuffy sports hall careers fair, the clipboard and the free pen. Our most charismatic ambassadors need to become our activists and recruiters.
We must start to promote the rich and vibrant industry we work in better, directly demonstrating the incredible opportunities that a career in construction offers
We must start to promote the rich and vibrant industry we work in better, directly demonstrating, face-to-face, the incredible opportunities and rich rewards that a career in construction offers. We have to bring the compelling argument to the future talent because we can no longer rely on it coming to us.
This will require a considerable investment of time and money to achieve, but my colleagues and I at DBR, know it will be worth it in the long term.
There is plenty of talk around this topic, sadly rather less action. But that is starting to change. Over the coming year, we are looking to join forces across the industry, not only celebrating some of the amazing people who work in the heritage construction but to engage with the next generation of potential craftspeople.
We have called it the Year of the Master Craftsperson, and it is being designed to be a diverse and inclusive campaign.
We are working with some of the sector's leading bodies, academic institutions as well as peers and competitors! It is about formulating a collective, awareness-raising campaign which we hope will usher in a sea-change in attitudes towards conservation construction careers.
It is relatively early doors but we are starting to strike a chord, with an increasing number of well-known organisations keen to become involved.
As the momentum gathers, we hope that it will become something to inspire the industry as a whole – not just the heritage sector – to help solve our skills problem and to get young people excited about our amazing industry and keen to get involved in the highly-skilled work that we do day in, dayout.
Adrian Attwood is executive director at DBR Ltd