A resurgence in local shopping means it is time to focus on the high street's other uses, writes Sheppard Robson's Claire Haywood
Over the last few months, covid-19 has had unparalleled effects on nearly all aspects of how we carry out our lives. Day-to-day routines have been upended, resulting in new emerging patterns of how we work, occupy public space, and live in our homes. There is no doubt that the pandemic has had a dramatic impact on the once thriving UK retail and hospitality sector, and the daily news of stores closing and of jobs lost makes for sobering reading.
While many aspects of life have moved online, in my own neighbourhood I have seen somewhat of the opposite effect: a noticeable shift to people using the local spaces and shops on their doorsteps more than ever. With online food delivery slots saturated and large chain shops requiring hour-long queues, many are resorting to small high street and town centre shops, in contrast to the previously dominant narrative that local shopping has faded into obscurity.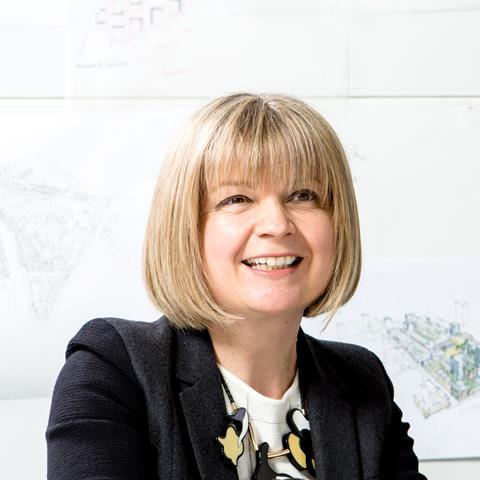 In fact it is increasingly becoming clear that it is the town centre shops that are neither local nor destination retail that offer an experience that online cannot provide, which will suffer the most. It is likely to be a reduction in this middle ground of retail that will leave voids in our towns and shopping centres. Local retailers, and particularly those with a strong brand, have the opportunity of increasing their market share.
pepper-potting residential in amongst retail units may deaden our high streets
Further, there is no doubt that the pandemic will increase vacancy within shopping centres and high streets, where the need to develop alternative uses within these centres has even greater priority, so high streets can retain their vitality. To convert empty retail units into much needed residential may sound like a sensible approach; however, pepper-potting residential in amongst retail units may deaden our high streets.
We need to condense our retail into better, efficient retail in certain areas and allocating others for residential and we must work collaboratively with local authorities, so that town centres can be viewed holistically. This is also the time to focus on bringing in other uses into town centres—public space, healthcare, education and community uses that we all want.
I have seen public space become increasingly important for retail, replacing large department stores as the anchors of new retail development. This, coupled with experiential retail, can enrich and intensify user experiences by providing something that cannot be recreated online.
These design elements are critical as life moves back outside, defining places that allow social interaction while feeling open, unconfined, and safe. The public's return to the high street also goes hand-in-hand with the desire to use less public transport, with a shift to walking and cycling further supporting local town centres.
While some of this effect may be temporary, there will likely be long-term shifts accelerated by covid. On the high street and in town centres, homogeneity will continue to decline, while mixed-use spaces that integrate small and medium shops with cafes, restaurants and public spaces will become increasing more prevalent.
The effects of covid also reinforce the need to design flexibly, allowing adaptation to the way we use our spaces. Without these adaptations, some retailers and types of retail inevitably will not survive, in some cases leaving the retail landscape as even more of a "survival of the fittest," which we are already witnessing.
There will also be regional discrepancies in how the high street bounces back, with local economies responding differentially based on unfolding patterns of factors such as wider unemployment and the demise of other industries such as manufacturing. Now more than ever, strength of brand will be a make-or-break characteristic for retailers, as local shops and eateries become the preference, and those with outdoor space more preferential still.
Claire Haywood is a partner at Sheppard Robson