Matthew Woodthorpe thinks he may have found the perfect cemetery chapel in Stockholm, but finds St George Wharf in Vauxhall discomforting to look at
My wonder is one of the Norwegian architect Sigurd Lewerentz's earlier buildings - the Chapel of Resurrection in the Woodland Cemetery of Stockholm. When I visited this chapel as a young architect I was captivated by its unconventional composition - a meeting of architectural functionalism and national romanticism. It caused me to question much of the accepted wisdom of what I thought I knew. At the time I liked it - but found myself unable to explain why. Years later I understand that I had visited the work of a master of sacred architecture.
The beauty and poetry in the chapel is not necessarily in the carefully orchestrated woodland setting or the enigmatically applied classical composition. The chapel comes to life in the interior, which is dominated by a tall canopy over the altar lit from an over-scaled south-facing window. There is something poetic about this room. It is functionally executed but in part elaborately ornamented. Sitting in this room I found myself mentally drifting off - eyes dwelling on the elaborate scroll detail of the window sill. I often find myself mentally returning to this building as a source of inspiration. It challenges you to look past the conventional into the metaphysical. Maybe it is a perfect cemetery chapel.
For my blunder I chose St George Wharf in Vauxhall by Broadway Malyan. For me, this one dishes out its own brand of terrible design on such a large scale that it is discomforting to look at. I find myself thinking of what could have been the inspiration for the massing and roof form. Like a bolt from the blue it hits me. Ah yes - a row of giant, fat, green, scowling Samuri warriors. Just what Vauxhall needed.
Matthew Woodthorpe is a director at architect MWAI
WONDER
The Chapel of Resurrection in he Woodland Cemetery of Stockholm, designed by Sigurd Lewerentz (1885-1875) was completed in 1925. The design and landscaping of the cemetery was also planned by Lewerentz and fellow architect Gunnar Asplund. The two men won the job after submitting a joint entry for the architecturalcompetition called by the cemetery committee, having met as students.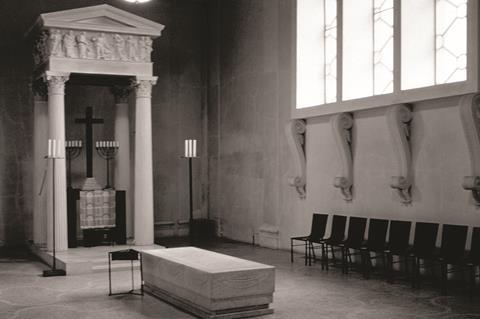 BLUNDER
St George Wharf is a mixed-use riverside development, situated next to Vauxhall bridge in the London borough of Lambeth. It was designed by architectural practice Broadway Malyan. An addition to the scheme is under construction - One St George Wharf, also designed by Broadway Malyan. When completed this will be the tallest residential tower in London.