Niall Cairns praises the Bishop Edward King Chapel for its otherworldliness but finds the Walkie Talkie an unwelcome intruder on the London skyline
When sieving through articles on construction projects it's relatively rare to unearth a gem. The Bishop Edward King Chapel, Cuddesdon, Oxfordshire, is such a gem, playing with light and honed like a fine cut diamond from a master craftsman. Three honest materials: stone wood and glass are combined in an oval form with sublime detailing to create a robust exterior and a wonderfully uplifting interior. The smooth stone base facade with rough cut staggered stone midsection topped by a clerestory of thin stone fins creates a hard but tactile edge.
From the outside this combination expresses both formality and friendliness. I am not a religious man but the interior of thin timber columns flowing to an elegant webbed truss to support the "floating" roof generates a feeling of ascension. The combination of placing such austere materials in a large volume to create a warm space is a true skill and it's great to see an architect at the top of his game.
On returning back to Earth, it's been slightly depressing watching 30 Fenchurch Street - the Walkie Talkie - raise itself out of the ground. Appreciation of design is subjective, but from whichever angle I look at this building, I find little to relieve the "black dog". This interloper dominates and bullies its surroundings. While I am sure the construction is a thing of genius, it is revealing that recent press coverage has been in the construction sections and not the architectural. The bulbous form dominates the London skyline and is more befitting of a development in certain countries where context is non-existent and building form is the only reference. "Walkie Talkie" - over and out.
Wonder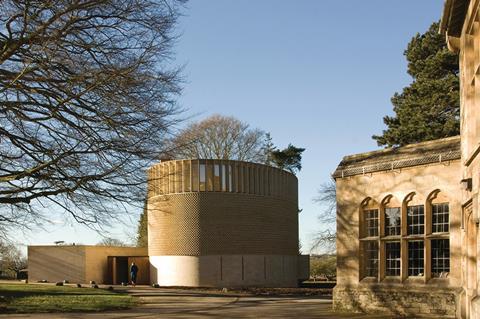 Bishop Edward King Chapel in the village of Cuddesdon, Oxfordshire, was designed by Niall McLaughlin Architects. The chapel was built for Ripon theological college and a small group of nuns, the Community of St John the Baptist. It was nominated for the 2013 RIBA Stirling prize.
Blunder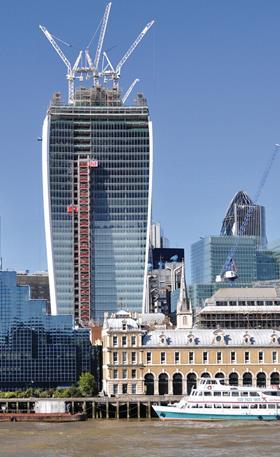 20 Fenchurch Street, known as the Walkie Talkie due to its distinctive shape, topped out in December 2012 and Canary Wharf Contractors is due to complete work in the summer of 2014. In September 2013 it became the focus of media attention when it transpired that the distinctive form of the facade could in certain circumstances reflect the sun's rays into an intense heat-ray capable of melting part of cars in the
street below.
Niall Cairns is director of Assael Architecture