For Vicky Richardson, the view from the Emirates Air Line cable car shows a city with exciting potential to fly high - whereas the sight of the supposedly future-facing Crystal is a bit of a downer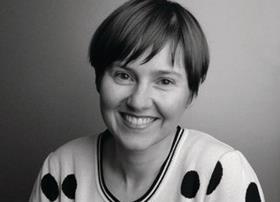 To my mind the only new view of London that comes close to justifying its title is the Emirates Air Line - the cable car across the Thames. Of course this new wonder for London has great views across the City, Greenwich and East London, but the best bit is about a third of the way across, from north to south, when you suddenly find yourself staring straight down the runway of City Airport. For about 30 seconds it really feels as if you might be piloting an Emirates plane.
The next engineering marvel to catch your eye will be the Thames Barrier, one of London's most beautiful and underrated landmarks. Further east, along the river there is the promise of the new Estuary airport. This is the most exciting view over London, because it shows a city that is old, yet still has the potential to grow, change and keep surprising us.

On the return trip, take my advice: turn right out of the cable car station and head towards the ice cream van. Do not look at The Crystal, the angular glass "landmark" that sits to your left in a self-consciously designed landscape of jagged lawns.
It claims to be the world's first center [sic] for sustainable cities. The building's glassy facade, and awkward geometry tells us this is all about "the future".
The Crystal wants to reclaim sustainability as being pro-development, and ends up lacking conviction. The idea of futuristic architecture being inspired by hippies is the saddest outlook I can imagine.
Vicky Richardson is the British Council's director of Architecture, Design and Fashion. She is a one of the curators of Venice Takeaway which runs at the RIBA Gallery London until 27 April. bit.ly/fqrNZz
Wonder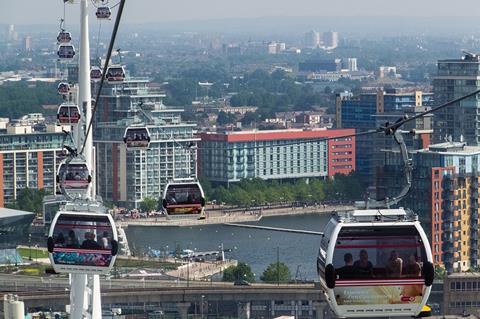 The Emirates Air Line, designed by Wilkinson Eyre and Aedas, links Royal Docks on the north side of the river Thames to Greenwich Peninsula on the south side. The 1.1km long river crossing - which opened in June 2012 - has the capacity to carry up to 2,500 people per hour in each direction
Blunder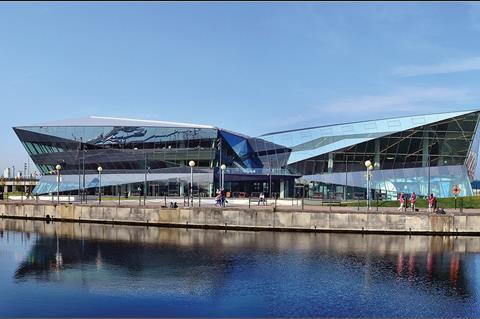 The Crystal in Royal Victoria Docks, London, opened to the public in September 2012. It is at the centre of the area's Green Enterprise District. The building, also designed by Wilkinson Eyre, has both BREEAM "outstanding" and LEED platinum certifications.