Even if things are looking up here, don't rule out looking abroad for work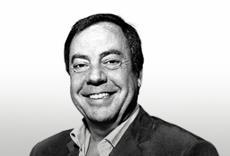 Some may say that the consultancy market is taking on the appearance of the British weather at the moment: changeable, with some periods of sunshine - but don't underestimate the strength and severity of the showers, which still have the ability to ruin your day.
The unpredictability of our workload is also reminiscent of Britain's national game, football. The relentless barrage of publicity on Sky Sports and the new BT Sport are a reminder that the season is again upon us, so it seems appropriate to use a football metaphor to describe the re-born post-crash construction consultancy landscape today. There are definite similarities between our sector and football: like the Premiership, we have a number of teams all fighting in an arena that is predicted to be one of the most competitive in a generation.
I sense that the hunt is back on for talented people, as the recession ends and those firms that depleted their ranks look to build up a competitive squad again
Like our sporting counterparts, the consultancy sector has also had a huge turnover in managers and team members in recent months. Once British-owned teams such as Chelsea, Manchester United, Manchester City and Arsenal are all now foreign-owned and are looking to exploit their global brand value to attract both players and supporters. Similarly, our domestic construction consultancy market has an increasing amount of foreign ownership, with those firms and their UK-owned competitors seeking to exploit their global footprint.
So, while in the quantity surveying and project management community we will not be seeing Gareth Bale-sized transfer fees, I sense that the hunt is back on for talented people, as the recession ends and those firms that depleted their ranks look to build up a competitive squad again.
By nature of their size and their ability to invest, British consultancies are split into those that see the UK regions as their sole business opportunity and those that have global markets to draw upon. For those operating in foreign arenas, there is some cause for optimism, and a whistle-stop tour around some of the most promising areas is quite revealing.
We are likely to see Libya, Dubai and Qatar starting to warm up, for instance, and Singapore, Vietnam and Hong Kong show great potential for the next five years. China is not as expansive as it once was, with projects being mothballed as the new government tries to control inflation, but it is still busy compared with Europe. Meanwhile, South America offers those with the appropriate international footprint the chance to make money, especially with the Olympics and World Cup ahead.
Of course, the US is always keen to look forward rather than being mired in the past. Its industry is just starting to appreciate the concept of independent cost and project management. And India is still an exciting region, even if the fees available are shaped and constricted by local market conditions.
There is, however, a challenge that restricts our ability to harness the commercial opportunities in our sector that does not seem to affect the football world. It is increasingly difficult to get qualified and experienced men and women from the UK to embrace the chance of a foreign career transplant.
Reasons for not moving abroad include worry about losing a place in a local football team to the thought of getting to drive their new car
At times it is as though the worst recession in living memory has already been forgotten by many of those with bright and intelligent dispositions. There are newly qualified surveyors I have interviewed recently that are challenged by the prospect of a move from Nottingham to Northampton, and therefore see the idea of a jump from Birmingham to Bangalore as being as attractive as root canal surgery without anaesthetic.
The reasons I have been given for rejecting the idea of a move abroad have varied from worry about losing a place in a local five-a-side football team to the horrific thought that, once departed, they will not get the chance to use the car they have just bought.
One can see the notion of uprooting children, schools and partners being a legitimate limiting factor for some, but for many people reaching a senior position will inevitably mean a spell abroad at some time.
If this recession has taught us anything, it is that to rely on exposure to a single market is risky - be it domestic or foreign.
I would counsel that if you see yourself as the Cantona of cost control or the Suarez of surveying, do not close your mind to the possibility of a free transfer to another country. There is more to life than the upcoming home fixture list. Chat with your manager about what it is really like to work abroad: it may just be better than you think.
Richard Steer is chairman of Gleeds Worldwide