This week, a sheikh is inspired by Shepherd's Bush and Westfield (who could not be?), Joanna Lumley is perhaps too close to her champagne-quaffing alter-ego, and Pink Floyd's guitarist gets a luxury home in Hove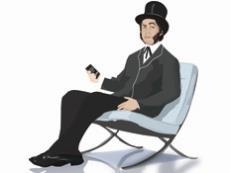 The common touch
There are all sorts of nuggets in Margaret Hodge's report on the Garden Bridge. This passage referring to the bridge's chief flag-waver, actress Joanna Lumley, caught my eye: "Joanna Lumley described the concept as 'the people's bridge'. However, I found a lack of connection to the local community south of the river. By contrast the presence of others as trustees on the board, including a special adviser at Number 10 Downing Street and the brother of a leading Conservative minister, did nothing to support Joanna Lumley's assertion." Not so fabulous.
Bands on the run
Ping! An email arrives from the mayor's office telling me that 21 music venues in London are at risk of, ahem, having the plug pulled because of business rates increases. One club facing crippling hikes is the 100 Club on Oxford Street. It has hosted performances from many notable bands since opening its doors way back in 1948. Among those who have made their way there, the mayor's office continues, is a band called the "Sex Pistol" and Scottish indie-rockers "Primal Screen". I think the Rolling Stone played there, too.
Not for the faint hearted
Still on music, architect Pilbrow & Partners – headed by Fred Pilbrow, formerly of KPF before he headed off to help set up PLP – has been given the green light for a luxury seafront home within a former Turkish baths in Hove. The plans for Pink Floyd guitarist David Gilmour and his author wife Polly Samson caused a bit of a rumpus with some of the locals who had misgivings about its height. Normally when I read about these things, protestors weigh in and give the target of their ire both barrels. But this being genteel East Sussex, not so. One objector from Save Hove described the new scheme as "almost perfect". Valerie Paynter told the local paper: "It's a beautiful design, I absolutely love it, and I didn't want to lose the scheme if it went the other way and it was a refusal." Some objection.
School competition
Cenkos analyst Kevin Cammack thinks he has an idea where the direction of the contracts to build a swathe of free schools might be heading. Last week the government approved the construction of 131 more. "The largest number will be in the South-east," says Cammack, "and the most successful contractor in the education sector is historically Kier." I'd like to point out that other contractors are available.
Nosy neighbours
The powers-that-be at Tate Modern seem keen to pour oil on waters being stirred up by residents of the neighbouring Neo Bankside super-luxury apartment development. Some flat owners are all in a kerfuffle about visitors to the 10th floor viewing gallery of the Tate's new extension, the Switch House, designed by Herzog & de Meuron, being able to peer into their exclusive living space. In an ironic twist, one of the selling points featured on the development's website is its proximity to the Tate. As is the line: "Neo Bankside offers you the unique opportunity to live at the very epicentre of this dynamic and ever evolving neighbourhood." So long as you don't mind Joe and Josephine Public taking a gander into your living quarters, they could have added … Still, it's not all bad: Neo residents have the chance to enjoy an architectural tour of the Tate's new extension without even having to leave home.
Two in the bush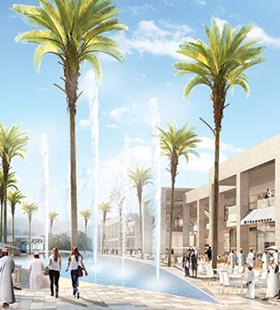 A London-loving sheikh is building a £127m replica of Shepherd's Bush, complete with Westfield mall, in the Middle East. His Excellency Sheikh Fahad Abdullah Al Araimi of Oman and family are regular visitors to London and when in the capital they often travel from their Knightsbridge residence – naturally – to Shepherd's Bush and Westfield – their favourite place to shop. Now the sheikh is going to build a mini-replica of Shepherd's Bush in Oman – complete with Westfield mall, roads, water features, fountains and roads.
It seems he's leaving no stone unturned, even planting palm trees (pictured) for which London is famed.
But one thing does bother me: how on earth will he recreate London's drizzle and slate grey skies?
Send any juicy industry gossip to hansom@ubm.com