It's not that we've got it in for the Rio Olympics but things didn't get off to a glitch-free start. At least there's good news from the world of cement, a harebrained transport idea could just fly, and Northerners come clean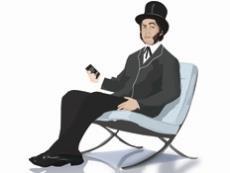 Spoil sport
The Rio Olympics suffered a number of last-minute hitches, you will be surprised to read. Just before the Games were due to start, the east gate to the stadium had to be forced open after the padlock key was misplaced. A BBC reporter queueing with spectators witnessed men having to use bolt cutters to get the gate open to allow people in. Only days earlier sailors, rowers and open water swimmers were warned not to swallow the water due to the high levels of pollution that would very likely make them violently ill, while the boat launch ramp collapsed in high winds and arriving athletes created a Twitter storm with pics of their haphazard accommodation - missing shower heads, broken sinks, missing furniture, among other horrors. Makes London 2012's G4S saga seem mundane in comparison.
Cementing a friendship
Tarmac has already sold 10 million bags of cement in the UK this year. To celebrate, the firm is offering Thomas Dicher of J&J Innovative Solutions and the team from the Staples Corner branch of Travis Perkins, as the merchant and recipient respectively of the 10 millionth bag, a celebratory meal, as part of the company's Bags of Trust campaign, which celebrates the loyalty of Tarmac's customers. The company will also be rewarding the sales of the 20, 30 and 40 millionth bags. If that's not incentive enough for clients in this new Brexit reality to stop pausing schemes, we don't know what is.
A little knowledge
Have people had enough of experts, as backstabber Michael Gove famously asked in the run-up to the EU referendum? No, is the answer, according to a group of er … experts. A provocative piece of research published by the Economic and Social Research Council's Urban Transformations programme has outlined how experts will be needed in future to build 21st-century cities capable of sustainably housing growing populations. The authors argue the knowledge of experts does matter and can make a difference, so long as they share their knowledge with others, including urban planners, politicians and local communities. But frankly, why on earth should we believe a word they say?
The odd couple
It was the God-given deal sceptics said could never happen: big City property developers entering into business with the Roman Catholic Church. But when the new term starts at St Mary's RC Primary in Battersea, pupils will have a completely new school to enjoy. And it's all down to an unlikely tie-up between the backers of Battersea's Nine Elms project and the Roman Catholic Diocese of Southwark. The church has agreed to an unusual proposal involving swapping their land for residential development, in return for alternative accommodation for pupils. Sounds like a deal made in heaven.
The North makes a clean sweep
For years people in the North have prided themselves on being cleaner than their southern counterparts. Now, there is a study which shows there is truth to that belief. The results of a survey of 200 households across Britain has shown that those in the South spend the least amount of time cleaning their homes, with the average cleaning time spent each week in Greater London at only three hours and 50 minutes. People from Aberdeen meanwhile came top of the charts with a whopping five hours and 15 minutes spent on average cleaning their homes each week.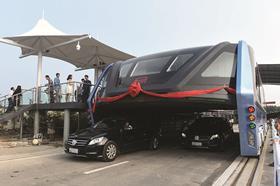 Above the fray
Hopes are rising that the transit elevated bus is on its way. Looking like something out of Back to the Future, the traffic-straddling bus has just been tested in the Chinese city of Qinhuangdao. Powered by electricity and costing only a fifth as much as underground transit systems, the bus hovers 2m above two-lane roads. This extraordinary bus runs on tracks as it passes over traffic, with the potential to carry 300 passengers in its 72ft long, 25ft wide body. It is not known how the system would cope with lorries or vehicles carrying tall loads, and apparently it has difficulty negotiating turns, but I'm told interest is intense among communters despairing of the daily battle with Southern Rail.
Send any juicy industry gossip to hansom@ubm.com