New York eyes up a new tram system, Sir Terry Farrell gets the run of Newcastle, some old plasterwork is found in London and Time Out features a brilliant front cover. Plus, Richard Steer narrowly avoids a dress clash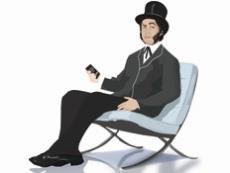 On track in New York?
New York mayor Bill de Blasio is hoping to "change the lives" of 400,000 city residents with a new £1.7bn tram system. The Brooklyn Queens Connector will run at 12mph for 16 miles north to south between Astoria in Queens to Sunset Park in Brooklyn. Blasio has claimed it could generate £17bn in revenue from extra business and tourism and if approved work could start in 2019. However, tram projects are not always plain sailing as Edinburgh residents will testify - their tram opened three years late, cost double its budget and hasn't made it to half of its planned network. Here's hoping New York has better luck.
Geordie? Sure
Architect Terry Farrell has been honoured with the freedom of the city of Newcastle. He joins an eclectic bunch who hold the honour, including ex-footballer Alan Shearer and former US president Jimmy Carter. Farrell grew up in Gosforth and studied architecture at Newcastle University. His best known designs in Newcastle include the city's Quayside masterplan, the Great North Museum and the International Centre for Life. Discussions are now under way with Newcastle University to provide a permanent home for Farrell's archive, which has been described by the V&A as the "most comprehensive archive of a living architect".
Old Londinium
With all the hullabaloo of late about London being overrun by oligarchs and sheikhs, it's easy to forget the city has always attracted the super-rich. A reminder of this came last week at a City building site, where archaeologists found an almost 2,000-year-old fresco that would once have adorned the wall of a very wealthy Roman. The ornate artwork, measuring about 2.5 metres by 1.5 metres, was found during a dig at mid-size commercial scheme 21 Lime Street. Ian Betts, building materials specialist for Museum of London, unearthed the artefact, and commented: "[This area was] the Chelsea or Hampstead of Roman London and it is very much a case of one-upmanship where if someone down the road had nice plasterwork you had to as well." A case of keeping up with the Caesars.
Oxford and beyond
Celebrating 70 years in business since Harold John Ridge launched Ridge & Partners' first office in Oxford, the consultant has launched its Challenge70 campaign. The campaign will see all the firm's UK and China offices work to raise £70,000 for charities, including Cancer Research and the Wooden Spoon Foundation. A worthy endeavour, best of luck to all involved.
The Chinese are coming. Again
Spot the difference: last week's Time Out London cover sports a design familiar to longstanding Building readers (specifically, those reading on 28 June 2013). Great minds, eh?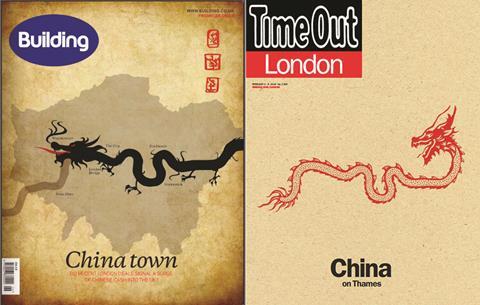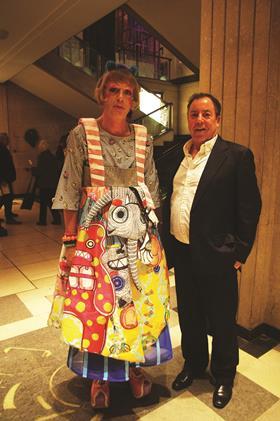 The unusual suspects
Gleeds chairman and Building columnist Richard Steer is hardly a shrinking violet, but even he was upstaged when collecting an honorary fellowship at RIBA's London HQ, alongside cross-dressing, Turner prize-winning potter and artist Grayson Perry. The fellowships are awarded annually to a select group of people judged to have contributed to architecture in its broadest sense. RIBA president Jane Duncan and 2015 Royal Gold Medallist Sheila O'Donnell were on hand to present the awards. Duncan said QS Steer was being recognised for his "long-term commitment to architecture, achieving a better built environment and construction industry".Congratulations to both Steer and Perry.