Closing this investment gap provides an opportunity to investigate alternative funding models for our future infrastructure projects, says Aecom's Colin Wood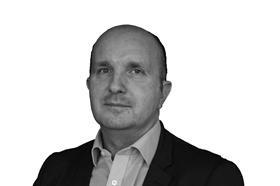 A clear pattern in the results of Aecom's recently launched Future of Infrastructure 2019 Report was a desire from the public to be more engaged and play their part in delivering better infrastructure. London, for example, was one of several international cities where residents would be willing to pay higher taxes to fund improvements.
While this willingness is encouraging, the public purse cannot finance the city's much-needed infrastructure upgrades alone. Indeed, government estimates propose that almost £500bn is required to bridge the UK-wide infrastructure funding gap.
Closing this investment gap provides an opportunity to investigate alternative funding models. From value capture to road user pricing and transit-oriented development (TOD), there are a number of innovative revenue raising techniques that could generate significant new funding for transport operations and improvements.
With the UK facing a chronic housing shortage and limited space to build on in our towns and cities, TODs – residential, commercial and retail spaces located at or within walking distance of transport hubs – are becoming increasingly popular. But with a range of unique planning, engineering and construction complexities that can affect a TOD project's cost and feasibility, successful delivery requires an understanding of both commercial viability and the constraints associated with building on existing infrastructure. As such, introducing TODs to generate funds that can be reinvested in public transport requires infrastructure owners and operators to diversify to enable them to also deliver and manage property developments.
There are international examples where this funding model is working well. In Hong Kong, the integration of rail and property development has eliminated taxpayer funding for the city's Mass Transit Railway (MTR). The MTR self-funds its rail operations, maintenance and upgrades by working with developers to build well-connected neighbourhoods alongside rail routes to bring in revenue. It is perhaps unsurprising then, that of the more than 10,000 people across 10 major international cities that Aecom surveyed, respondents in Hong Kong were the most satisfied with public transportation.
For less satisfied Londoners, roads were a major concern, with 75% of respondents believing that the state of the city's roads has worsened or not changed in the past 12 months. Changing transport habits and emerging technologies, as well as an estimated decline in revenue from vehicle excise and fuel duties, requires fresh thinking now on how to fund a sustainable road network that will be fit-for-purpose in the years to come.
Developing an alternative funding framework that includes road user pricing models would generate substantial new revenue streams vital for ongoing road maintenance and upgrades. Overcoming the practical challenges of introducing such radical changes will require government and industry collaboration, but it will also necessitate a shift in mindset from road users. Starting conversations early, and advocating the benefits of improvements funded through such revenue streams, will be key to boosting public understanding as new funding models gain traction.
Early engagement to help people understand the costs and benefits of projects, as well as how they are financed, will help gain buy-in for infrastructure investment. Without doubt, public support is essential for getting new schemes and initiatives off the ground.
Colin Wood is chief executive of civil infrastructure, Europe, Middle East and Africa at Aecom