This is a crucial year for HS2. As it waits for the government to give the signal to proceed in earnest, there are fears that rising costs could derail the project
HS2 represents the single biggest investment in Britain's transport system since the motorway programme of the 1960s, and will be the first major national railway to be built since Victorian times. It is not only the government's biggest major project, but also the largest infrastructure scheme in Europe.
For some this scheme to build a brand-new high-speed line connecting London and Birmingham in the first phase and then on to Manchester and Leeds, is history in the making, while others dismiss it as a white elephant of gargantuan proportions. What is undeniable is that the vision of a high-speed rail network, which began a decade ago when the government created HS2 Ltd, is, against all the odds, still very much alive.
Helped in no small part by cross-party political support, HS2 has survived years of austerity that have seen cuts in public spending, several legal challenges in the high courts and years of campaigning against it.
"The project team are working on the basis that there's no more money and are looking at innovative ways of trying to get the same solution but within that funding envelope"

Sir Terry Morgan, former HS2 chair
But now, just as the project is within touching distance of starting construction in earnest, a doubling of projected budget estimates is putting the scheme at risk of being massively scaled back or even scrapped. So, what are the pressures bearing down on HS2 and are they enough to jeopardise – or at least compromise – the very future of the UK's most important infrastructure project, one that, according to some, could eventually top £85bn?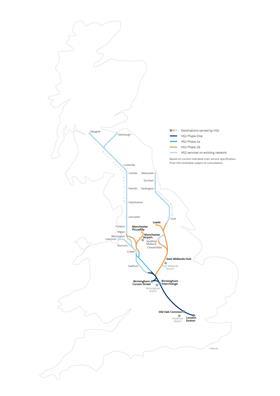 Awaiting a green signal
The case for HS2 has evolved over the past decade, from focusing on cutting journey times to increasing capacity and now as a catalyst for growth. Transport minister Nusrat Ghani said last month: "It is not just a railway line; it is a regeneration line."
Phase 1 of the £56bn programme is due to open in December 2026. Phase 2a from Birmingham to Crewe is due to open in 2027, while Phase 2b from Crewe to Manchester, and from Birmingham to Leeds, is scheduled to be ready by 2033.
This year is a crucial one for HS2, as it waits to find out whether the government will issue the notice to proceed that will enable construction on Phase 1 to finally commence. HS2 Ltd is confident this will happen, with a spokesperson telling Building: "Notice to proceed will happen this year, when we are ready."
Enabling works have started, including for the new stations at Euston and Old Oak Common (see On Site at Old Oak Common, overleaf), and although the appointments for the main construction works are a month late, Building understands they are expected any day. Meanwhile, the Hybrid bill needed for Phase 2b to progress has been delayed by a year and will now be placed before parliament in 2020.
HS2 Ltd, however, stresses that work is progressing. A spokesperson says: "HS2 is real and happening. With over 7,000 jobs supported by the project we currently have 62 live sites." What's more, it says it has already let "around £10bn work of contracts" and "by the end of the year that will be around £20bn".
And it points out that the amber rating given the project by the Infrastructure and Projects Authority (IPA)– indicating "significant" but resolvable issues – is acknowledged by the IPA itself to be expected on "a project with the scale and complexity of HS2 at this early stage […] in line with other national infrastructure projects". So, nothing to worry about then?
Something's gotta give
The trouble is that cost concerns have become a major issue, as estimates of the final bill have escalated. In 2012 the government budgeted £32.7bn for HS2; by 2013 this had jumped to £42.6bn. The latest estimate, done in 2015, is that it will cost £55.7bn.
A leaked HS2 report emerged last year in which Paul Mansell, a senior government adviser on major projects, warned that the project "is highly likely to significantly overspend" and cost more than £80bn. And quantity surveyor Michael Byng, who created the method used by Network Rail to cost its projects and who has prepared a 4,000-page document analysing the costs of HS2, has even claimed that the true cost could reach £85bn.
When it comes to balancing cost with scope and time, "something has got to give", according to former HS2 chair Sir Terry Morgan. Speaking during a hearing on HS2 by the Lords economic committee last month, he claimed "nobody knows" what the project will end up costing.
Morgan, who was sacked as Crossrail chair last year after it emerged that the project was behind schedule and over budget, stepped down from HS2 to avoid the project being tarnished with the controversy over Crossrail.
He told Building that the problems with Crossrail "highlight the importance of getting system integration right and HS2 has got time to do that".
Morgan added: "The project team are working on the basis that there's no more money and so they are looking at innovative ways of trying to get the same solution but within that funding envelope that's available to them."
The coming months will be critical, with "some key moments coming up on the programme where they need to start laying down some big contracts". He added: "That's the big issue, getting approval to make those contracts, and they won't get that unless they can demonstrate there's a solution to resolving the funding needs with the scope and speed determined at the moment."
Cost increases and delays are a familiar blight on major projects, with the revelations over Crossrail – that there is a 20% risk that the project will bust its newly approved £17.6bn budget – a recent example that has cast a shadow over HS2. But the sheer scale of HS2 makes the stakes far higher.
The list of those working on HS2 reads like a who's who of the building world, ranging from the likes of Costain, Skanska, Morgan Sindall, and Bam Nuttall to Laing O'Rourke, Kier and Balfour Beatty.
Contractors are clashing with HS2 Ltd over the mismatch between the funding they say is needed and what is actually available, according to sources involved in the project.
Speaking on condition of anonymity, one source said: "They are having a challenge closing the gap between target costs that are being proposed and their budgets."
The source added: "The target costs are quite onerous numbers to agree. I've heard the gap is anywhere between 20% and 100%."
Some sources close to the project are warning that Phase 2b – particularly the part of the line between Birmingham and Leeds – could be at risk of being cut to enable the programme to remain within its current budget.
On site at Old Oak Common
Walking onto the site of what will become the new Old Oak Common station in north-west London, the size and scale of the HS2 project is immediately apparent, writes Jordan Marshall.
It is just one of hundreds of sites across the country where early works are under way to deliver the £56bn train line, but the massive amount of work to be done at Old Oak Common is representative of the scope of the wider project.
According to Matthew Botelle, project director of the Old Oak Common job, the subterranean box (that includes all the underground structures), which measures around 1km in length and is 60m wide, is the second largest in the world. "That's what attracted me to this job," says Botelle, who was previously Transport for London's strategic director for the Northern Line Extension and the programme director on Dubai's metro project. "There is never going to be another station of this scale built in Britain."
Botelle reckons it's a big year for both the HS2 programme as a whole and for the team pushing ahead with Old Oak Common, saying that one of the big issues is the public perception that nothing has been happening on the scheme – something he promises is all about to change at Old Oak Common.
The early works contractor, a joint venture between Costain and Skanska, is already working hard on site, while the first images of what Old Oak Common will look like, which have been spearheaded by a design team led by WSP, were released earlier this week.
Developed designs are set to be approved by HS2 in March, while the application for schedule 17 consent will be submitted in April.
Meanwhile, at the time of going to press, Building understands the construction partner for the main package of works at both Old Oak and Euston will be appointed imminently, with the main construction works to start in earnest at the end of this year or early next.
"It's going to be a big year for HS2," Botelle says. "But that's what also makes it exciting."
Weakening support
And there are signs that the political support for HS2 is on the wane. Recent months have seen some MPs demand the project be scrapped, and concerns about costs have been raised by Andrea Leadsom, leader of the House of Commons, as well as former foreign secretary Boris Johnson.
Liz Truss, chief secretary to the Treasury, has warned that this year's spending review will be "examining all major investment projects across government" and "we must be prepared to junk the white elephants".
Baroness Randerson, Liberal Democrat transport spokesperson, warned: "The danger is that it will never get further north than Birmingham if costs are not cut." And Labour shadow transport secretary Andy McDonald has said "there will be no blank cheque from Labour" for HS2.
Prime minister Theresa May stepped in to defend the programme last month, telling MPs: "It will bring tens of billions of pounds' worth of benefits to passengers, suppliers and to local communities up and down the route." And HS2 maintains that the programme "continues to enjoy cross-party support".
Betrayal
Yet concerns were recently raised by business and political leaders in the north of England that HS2 could be cut altogether. This prompted transport secretary Chris Grayling to warn that "a failure to deliver it would be a dereliction of our duties to improve the life chances of everyone in this country" and "a huge betrayal of the people in the Midlands and the North."
MPs are set to quiz HS2 next month. Labour MP Lilian Greenwood, chair of the transport select committee, told Building: "Questions have been raised about whether the government will be able to deliver HS2 to specification and within budget, and there are obviously concerns about how the business case for the project will be affected if costs increase or the ambition of the project has to be scaled back."
She added: "We are hoping to schedule a session on HS2 in mid-March."
There are already signs that the project is in trouble when it comes to balancing the books. Questioned by MPs at a meeting of the All Party Parliamentary Rail Group last year, HS2 chief executive Mark Thurston openly suggested ways in which money could be saved – by reducing the number of trains and cutting the speed.
But changes to the scope of the programme could, as Greenwood says, affect the business case for it, which could make it vulnerable to being cut back or even scrapped.
The notice to proceed that the government must issue for construction work to begin on HS2 will be dependent on a revised business case being considered by ministers and officials from the Department of Transport, the Treasury and the Cabinet Office over the weeks ahead.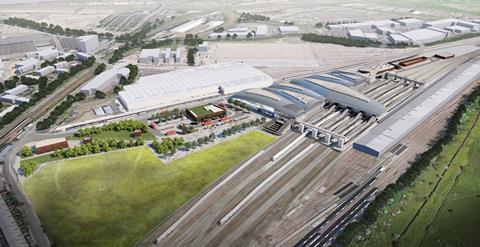 Value for money
Lord Alistair Darling, who signed off on Crossrail when he was transport secretary, told Building: "It would be better to spend the money on improving lines in the Midlands and the north-east and west of England and their links to the East Coast."
He added: "Smaller-scale projects are easier to manage and, importantly, deliver on time and cost."
A benchmarking study commissioned by the government from PricewaterhouseCoopers, released last year, found that HS2 was more expensive than other schemes.
The report, which examined more than 30 high-speed rail projects, found that high-speed rail lines can be delivered at an average cost of £32m per km. It stated: "The early estimate of £81m per route km for the capital cost of HS2 Phase 2 is at the high end of the range of costs of international high speed rail schemes."
It added: "More urban routes, or those that have a high density of existing infrastructure, are typically delivered for between £43m per km and £61m per km."
HS2 has more than enough money to do the job, according to former HS2 chair, Sir David Higgins. He told Building: "All of our benchmarking told us that European infrastructure can be done substantially cheaper."
In terms of the budget, he commented that it is "well above the European benchmark so the issue is to challenge the industry to deliver it to the median that is set out in the budget".
But Conservative MP Dame Cheryl Gillan, a longstanding critic of HS2 who would like to see it scrapped, told Building there is an issue in terms of the "capacity of the construction industry to actually deliver this project".
A HS2 contractor visited her office late last year to complain about the problems finding the number of engineers needed, she claimed. "They would have to bring them in from abroad and train them and house them and move them around – and the logistics and the pressures of that cause major issues and major problems for these companies," she said.
A HS2 spokesperson responded: "We are working with our supply chain to ensure we deliver on the budget we have been set by government."
The Department for Transport, meanwhile, is remaining tight-lipped over the future of HS2.
In a statement, a spokesperson said: "We expect the business case to be submitted later this year – the decision over the notice to proceed will be made after this."
It's likely that the £4.4bn the Department for Transport accounts show has already been spent on HS2 will be weighing heavily on their minds as they consider how to proceed.