As the core contracting sector gets to grips with what has happened in the first three months of this year, you can hardly blame them for taking a more cautious approach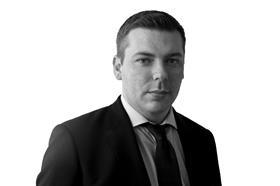 Quite a beginning to the year, don't you think? The first quarter of 2018 has been dominated by the fall of that great lumbering giant Carillion and the aftershocks of its collapse that have hit the wider contracting market. To fathom the turmoil of that event and its consequences for other contractors' finances, our review of the annual results season makes for essential reading.
Not that it's all grim news. Consider the scale of the turnaround that Balfour Beatty under Leo Quinn has achieved. With Carillion now gone, Balfour Beatty is the only real mega-contractor in town, with a turnover in excess of £8bn – more than double its nearest competitors. And despite the ongoing market turbulence, and difficulties of its own, it still managed to post a profit of £117m last year. It could so easily have been very different. In 2015 the firm posted a £304m loss – a result Quinn cites as the firm's "darkest hour".
It put the firm perilously close to the precipice – eight profit warnings and a £600m cash outflow in nine months, according to Quinn, who came on board that year. He was quick to diagnose the problems, then rolled up his sleeves and got on with the job of sorting them out. Fundamentally, it was about the company's attitude to risk. "The management we had that got us into the mess has moved and we have more energy and better discipline. Culturally, we are in a very different place," he said.
The prospect of collapse is now very real. As one well-established contracting boss put it: 'After all, if it can happen to Carillion it can happen to anyone'
The problem with Carillion was that its dominance encouraged risk-taking, both by the directors and by those that were lending it the money – the fallacy was thinking it was too big to fail and that if it bombed, the government would bail it out. Balfour Beatty's approach is the opposite. Quinn won't be flying over to the Middle East to chase money like his Carillion counterpart Richard Howson did each month because Balfour Beatty has simply pulled out of the region – a "drain on resources", says Quinn. And the firm certainly won't be touching any of Carillion's former jobs in the UK or anywhere else. Instead it will focus on its core UK and US markets because it thinks it is here where the business can thrive – making contracting margins again of up to 3% in the second half of 2018, it reckons.
You can hardly blame Quinn for taking a more cautious approach when you look at the financial, contractual, regulatory and political forces gathering on the horizon that are likely to be buffeting the contracting market in the coming years. And he's not alone. Many in the top 20 contracting firms are reverting to bread and butter build contracts under simple frameworks – the kind of thing that made their names in the first place. Faced with so much uncertainty and with the industry still reeling from Carillion's fall, it's understandable why traditional contractors want to keep things simple. Housing isn't as lucrative as it once appeared to be either, given the risks and costs associated with delivering high-rise development and the barriers to entry in the volume game playing out in the regions.
So it's "back to basics" for many main contractors, and we will see them chasing simple-to-deliver, volume build contracts. They will either specialise in key sectors such as education or work hard to woo repeat private clients and chase the money in lucrative public sector frameworks such as Scape, which is providing billions of pounds' worth of work through easy to navigate procurement routes.
Of course, there will still be risks for contracting folk – as there always have been. There'll always be the problem jobs that will need experienced, judicious handling, managing and spreading risk, and there will always be the fear that a contract might be the one that goes catastrophically wrong and wipes out a year's profit. That's contracting for you.
Still, the culture now is palpably different. You would have thought that for the key contractors the prospect of a top-five competitor being knocked out of the game would have been a massive plus, with the chance of mopping up market share. And maybe this will play out lower down the chain. But what has happened to Carillion has sent a shiver down the spines of most chief executives in this industry; they are now acutely aware of how vulnerable their cash positions and tight margins make them and as a consequence they are becoming even more risk averse. The prospect of collapse is now very real. As one well-established contracting boss put it: "After all, if it can happen to Carillion it can happen to anyone."
So now, as the core contracting sector gets to grips with what has happened in the first three months of this year, companies will jostle for position in the less risky areas, and they will make taking smaller work at volume fashionable again. Until the next time, that is. It's what always makes contractors the talk of the town. But never more so than after the events of the first quarter of 2018.
Postscript
Tom Broughton, editor-in-chief, Building