Whilst the NIC is making great progress and giving a clear voice, it does ultimately operate within the constraints set by the Treasury, writes Ramboll's Mathew Riley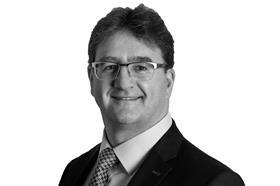 The NICs National Infrastructure Assessment is certainly a big step in the right direction and gives a better understanding of the UK's infrastructure needs, a clearer picture of associated impacts and clear backing for some critical infrastructure projects.
Whilst the NIC is making great progress and giving a clear voice, it does ultimately operate within the constraints set by the Treasury. I would welcome more devolved powers to bodies that are better protected from political instability, who can be close to infrastructure needs at both a national and local level, and who can take a stronger stance on delivering our infrastructure.
We are currently working to a spend of 1.0-1.2% GDP pa between 2020-2050. Yet a 2016 report found that the UK's spend on infrastructure 2010-2015 was 2.1% GDP pa. The need for investment has since become significantly more acute than during this period. Ageing infrastructure, congestion, air quality, a lack of affordable housing, the need for school places and hospital beds; all highlight the size of the challenge we face. A 1.0-1.2% GDP pa is simply not enough to maintain and upgrade the infrastructure of a supposed developed nation.
I would like to see a follow on to the NIA that assesses what else our nation needs to be able to operate well into the 21st Century, compares this to what we can currently afford, and produces a gap analysis. The industry needs to play its part and contribute to this affordability debate with hard commitments (or even conditions) around productivity - aiming for 20%-40% and not just marginal gains - if we are to win the trust of the policy makers. We can then have an open debate on whether we should go further faster, or live within the financial parameters currently imposed by the Treasury.
The fundamental needs of our social and economic infrastructure have not changed, but how we pay for them will. We know traditional industry business models are evolving, and during the timescales of the NIA will also see a shift in how we pay for our infrastructure. Whatever our ambition, we should be exploring what alternatives exist, such as road pricing or subscription models, and how they could be adopted in the UK.
Our ambition cannot continue to be limited by the Treasury approach of 'Tax and Pay.' This model will also become as outdated as our current construction model. We have economists predicting that tax revenues from existing sources will not even be able to meet the future demands of our defence and social services, let alone fund infrastructure.
A greater devolvement of powers will help us to mitigate our already acute infrastructure problems being passed on to the next generation.
Postscript
Mathew Riley is managing director at Ramboll