Many other countries' broadband capability puts ours to shame – and while government targets are a step in the right direction, progress is painfully slow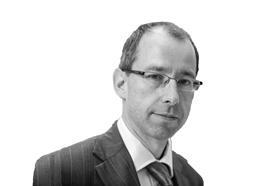 Last year, at the start of Ramadan, I was with my family in Morocco's High Atlas mountains, in the capable hands of a local guide and his friend Mohammed. Mohammed looked 102 years old and spoke not a word of English, but was a jolly chap who sang to himself as he led his mule along the tracks with us. There were glimpses of new wealth buying into some of the villages whose paths we traversed, but by and large the buildings' weathered stones appeared gloriously untouched by modern civilisation.
Looks, however, can deceive. Somewhere in the middle of nowhere a little jingle competed with Mohammed's vocals, and he pulled a mobile phone from his pocket and began an animated conversation in Berber. On the basis that he was still talking 10 minutes later, the reliability of the connection was clearly much better than I usually find in Canary Wharf.
"Digital connectivity is now an essential utility," asserted the National Infrastructure Commission (NIC) in its recently published National Infrastructure Assessment (NIA). I doubt many would argue with that statement, which came only a few weeks before the Office for National Statistics (ONS) published its 2018 Internet access – households and individuals report, suggesting that 90% of UK households, and 100% of all households with children, now have an internet connection.
"The UK has slipped from 31st to 35th in the broadband speed league table, putting us in the bottom third of EU countries"
But before we rush to celebrate, the reality is that by global standards the UK's digital connectivity is mediocre. According to a recent M-Lab report, analysing 163 million broadband speed tests across 200 countries, the UK has slipped from 31st to 35th in the broadband speed league table, putting us in the bottom third of EU countries. Our average speed is just under 19Mbps, compared with 60Mbps in Singapore. Our 4G speeds are worse in the UK than 40 other countries, including Albania, Armenia and Ecuador, according to OpenSignal, and 4G coverage is woeful, particularly in rural areas.
It matters, of course, not simply to cope with the reported surge in demand for pay-to-watch TV, but because as infrastructure becomes more connected, we need ever-greater capacity in our data networks to operate that infrastructure effectively. Examples include connected vehicles, smart meters, and increased use of digital delivery of education and healthcare services. The NIC's 2016 Connected Future report, which sets out the case for 5G investment, made this point brilliantly, and following the same logic the NIC chose digital as the opening chapter of the NIA.
But given we are so obviously falling behind, how do we catch up? Broadband and 4G are yesterday's technology. Now the focus is on 5G and fibre. So the NIC has challenged the government to develop a nationwide plan for full-fibre coverage across the country by 2033, relying on the private sector to provide investment in the more densely populated areas, and implementing a taxpayer funded scheme for areas where the commercial return may be insufficient incentive. The government has said it will aim for 15 million fibre-optic connections by 2025, and agreed to seek full coverage by 2033.
Full-fibre coverage is the right ambition, but targeting 2033 feels glacially slow. The government's own Future Telecoms Infrastructure review refers to Ofcom's findings that today 99% of connections in South Korea, 97% of those in Japan and 89% of those in Portugal are full-fibre, compared with 4% in the UK.
So if there is approaching universal coverage in these countries in 2018, why on earth should we contemplate the UK taking another 15 years to get to a comparable position? The pace of technology infrastructure development is so speedy that in 15 years' time we can pretty much guarantee the rest of the world will be well into the next generation of connectivity, while we will still be playing technology catch-up.
And eventually citizens will be forced to take matters into their own hands, as I found out this New Year in a tiny village on the border of Suffolk and Norfolk. A small committee of local residents, backed by Broadband for the Rural North Ltd (B4RN), was raising subscriptions to fund the laying of a fibre-optic cable to connect them to the world.
The NIC is right that the government must create a plan to avoid our fibre future being driven by the haphazard dynamics of the competitive market and the desperation of communities. And it is welcome news that the government agrees so comprehensively with the NIC's recommendations for fibre and 5G (and credit to the NIC, which is proving highly influential in driving government policy).
But ambition is failing to translate into urgency of action. We need to massively increase the pace of investment to protect the UK's economic prosperity and enhance our quality of life over the next few decades.
Richard Threlfall is global head of infrastructure at KPMG
Postscript
Richard Threlfall is global head of infrastructure at KPMG