Contractor looking to take advantage of market conditions with bond offer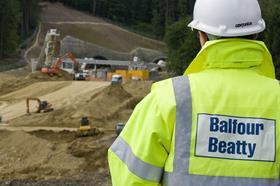 Contractor Balfour Beatty has announced it intends to raise £250m on the capital markets by issuing a bond.
It said it wanted to "take advantage of currently favourable convertible market conditions to continue diversifying its funding sources".
Balfour Beatty has already raised $350m in the US this year through a private placement. In the summer it reported the group was running net debt at June 28 of £189m, which fell from net cash of £34m at the same point the year before.
Balfour Beatty said the bonds would mature in December 2018, and would be convertible into ordinary shares of the company at a 30-35% premium to the average share price of the firm over a set period. The bonds will be unsecured but guaranteed by the company.
It said it would issue – or "settle" – the bonds on December 3 this year.