As the needs of shoppers change, so too do those of retail developers. Paul Zuccherelli, Ben Agyekum and Marco Ielpi of Davis Langdon, an Aecom Company, consider the kinds of shopping centre that we will need in a click-and-collect world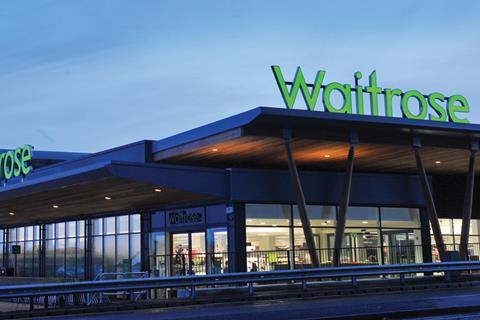 01 / INTRODUCTION
The retail market in the UK continues to undergo significant change. Shoppers are becoming more sophisticated, in that they want the opportunity to buy and compare products on the internet, while at the same time seeking the experience of browsing, buying and returning goods to the stores.
Consequently, retailers and developers alike are looking for stores and spaces that are easily accessible to their customers and are also places where shoppers will want to spend some of their leisure time.
In an evolving market, it is also important to retailers that these spaces are affordable and can be easily adapted to the changing needs of their business and the retail market.
As a result, retailers are focusing their store portfolios in retail properties that offer the best combination of location, affordability, flexibility and environment, and developers will look to accommodate that within their existing portfolios or as new development opportunities.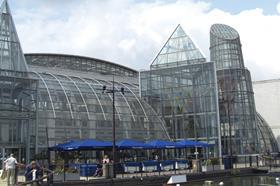 02 / OPPORTUNITIES AND CONSTRAINTS
With retail development still at a low point in the cycle - current output is just 1.8 million ft2, from a high of 13 million ft2 in 2007 - it is difficult to anticipate when the upturn will come.
Certainly the more gloomy among us do not see this coming for a further two or three years. So where are the opportunities and what are the constraints to new development?
It will come as no surprise that the most promising areas for retail remain primarily in the world's developing markets, particularly the BRIC nations of Brazil, Russia, India and China.
Having said that, opportunities remain in key areas in the UK market. Whether driven by the cost of capital, the growth of the internet and mobile technology, legislation or just the good old-fashioned recession sweeping across the globe, specialist areas remain vibrant and healthy.
The uncertainty in the financial markets and drop in consumer spending has affected developers' ability to take risks and commit funds for developments. Prime sites in London and prime regional centres will continue to attract consumer spending and remain attractive to developers and retailers alike - however, these are few and far between.
The safer route is to extend existing shopping centres and retail parks to enhance the value of existing assets and grow revenue marginally without taking significant development risks.
Many retailers, in particular the supermarket sector, are also reviewing their formats to provide better and more easy to access channels for their customers - formats that combine bricks and mortar with the internet. Indeed, Andy Street, managing director of John Lewis Partnership, recently commented at the British Retail Consortium (BRC) symposium that retailers needed no more than 70 outlets to reach every customer in the UK if they adopted an "omnichannel" strategy.
Ultimately, the impact of all this activity must start to be reflected in retail development opportunities. The question is, how do you address the need for:
maximum flexibility for retailers (changing formats)
increasingly onerous legislation (the larger chains of retailers are able to respond to this, but many smaller chains will need help)
multichannel or omnichannel retailing
recession economics (customers travelling less often and looking to have a "total" retail experience)
sustainability criteria driven by government legislation
commitments to shareholders.
In particular, how do you address these needs when some of the key opportunities are:
supermarket and convenience store developments albeit at a slower pace and smaller scale
extensions and remodelling of existing shopping centres and retail parks (examples such as West Quay in Southampton and Cribbs Causeway in Bristol)
new concepts for leisure and entertainment uses high streets and regional shopping centres
some measured activity in town centres as a result of the Portas Review, but the implications of this are yet to be fully understood
the right time to buy prime sites considering the reduction in construction costs from the highs of 2008 (falls of 25% or more)
tender price indices likely to remain depressed or negative for 2012 and no real upturn envisaged until 2014/15
the resurgent demand for cinemas and associated food and beverage sites.
03 / FUNCTION AND DESIGN
It is not surprising that the days of the conventional retail shopping mall with two or three large anchor stores, medium-sized units and shop units are numbered. The changing customer desire for a "day out", which may include some shopping, dining and entertainment is gradually changing the nature and function of shopping centres and retail high streets.
The nineties shopping centres had 70%-80% retail shops as a proportion of gross lettable area (GLA). The trend has been gradually shifting to more food and beverage units and entertainment centres such as cinemas - to the extent that the pure retail shops account for 60% of GLA. The graph below illustrates this changing dynamic.
The increase in leisure space means that there is an opportunity for more food and beverage units, which generally attract higher rental values to offset the lower rents for cinemas.
Implications for designs of retail and leisure developments include:
massing issues due to cinema requirements for 8m-12m building heights
access requirements and car parking proximity
transfer structures where situated over retail
roof or canopy cover for food and beverage (F&B) terrace areas
anti-vibration floors for bowling alleys where over retail.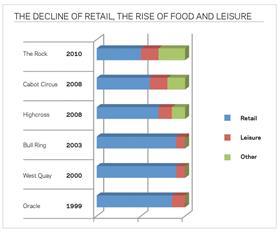 The next generation of shopping centres or retail destinations is likely to include significant proportions of leisure and F&B units. It could be argued that anchors could in future be entertainment centres with surrounding retail shops. Another notable change in function and design is that the increase in internet shopping means some retailers are reducing the size of their shop unit requirements.
Click-and-collect functions in retail anchor stores such as John Lewis have also had an impact on the design and layouts for access and parking. This trend will also increase for other retailers that opt for multichannelling. Many retailers are now using Collect Plus, a pooled click and collect facility as a way of reducing costs and achieving a broader reach to customers.
There is an increase in shared retail brands and pop-up shops. Developers will need to consider flexible designs and format to allow for access requirements and flexible unit sizes to allow stores to expand or contract or morph to meet changing customer shopping habits.
Some retailers are introducing shop units where customers try out the products such as cookers and showers before making the purchasing decision. This means some stores will have more demonstration space complemented by online product search facilities in store. The focus then will be distribution and delivery, which points to smaller store sizes in fewer locations.
CBRE's Research Report Spring 2012 notes that the advent of better infrastructure, major regional shopping malls and the reluctance of consumers to shop at multiple destinations means that the modern retailer needs to operate far fewer stores than ever before. The research notes that 50% of the UK retail market is in just 90 locations, compared with 200 in the early seventies.
Clearly, in-town development is constrained in many ways by the existing urban landscape and infrastructure. Having said that, you often find all the amenities are already in place. It is the cost of rearranging them to suit that all too often is unsustainable. So, if you could start with a blank piece of paper, what might you do?
Design a large open-plan environment in which to stage set the retail offering
Aim to achieve all the legislative requirements in the external walls of the "box" which then encapsulates the retail setting within. Monte Casino in the Gauteng Provence, South Africa, is an example of this type of idea in play
The external envelope would need to be a higher standard than often associated with big sheds - primarily to enhance or reflect the surrounding area and to make the most of legislation-driven change
Thought would have to be given to leasing strategies and contracts
Shared distribution, goods delivery and waste strategies would need careful consideration and would also need to be reflected in leasing documentation.
Fewer stores but larger flexible floor space in regional centres, plus a significant proportion of leisure uses, may be the way forward over the next development cycle.
04 / SUSTAINABILITY
While the recession and the advent of omnichannel selling continue to present a number of challenges, sustainability remains firmly on the retail agenda. Many retailers have well-defined sustainability plans in place and aspirations to operate more responsibly, but what is interesting is the continued push from UK plc to move forward with its demanding low-carbon agenda.
This desire for an ever lower carbon economy, driven by the UK's legally binding carbon dioxide reduction targets, has seen continued evolution of the Building Regulations and in particular changes to Part L, with the next iteration scheduled for 2013. The proposed targets currently tabled for the revised Part L are for either a 20% or 11% reduction compared to the 2010 requirements. The consultation has recently concluded and it is expected that later in the year the final reduction targets will be announced.
Regardless of which scenario is chosen, it is clear that developers and retailers will need to incorporate these requirements into their portfolios and development strategies. They will also need to understand, in the round, the cost of ownership of their assets balanced against the rising cost of energy and the carbon reduction required by the government. This will mean whole-life value analysis will be an ever more essential tool in business case development/investment decisions.
Looking at potential development strategies, such reduction requirements will start to have material differences on negotiations for future retailing space and the decisions on whether retailers opt for landlord or tenant status. The following issues are likely to be important:
The current carbon performance of existing empty retail space and whether this is fit for purpose for re-tenanting in the future
How developers/landlords meet regulatory requirements and tenant expectation in terms of carbon and still develop compelling space propositions which are commercially viable and attractive
Retailers switching from a tenant to a landlord model in order to secure greater control of their carbon footprint
Strategies on retailing products - with the advent of omnichannel shopping it is likely that high street and internet strategies will become more hybridised, affecting space requirements and display approaches, and potentially reducing carbon emissions
Energy generation and security of supply - this is likely to become far more widespread and could become a source of additional revenue while ensuring a level of independence from the grid
One of the potential upsides of the sustainability drive may well be the increased alignment of developers and retailers to solve these issues. They are complex and will be difficult for one or the other to resolve in isolation.

05 / COST MODEL: OUT-OF-TOWN RETAIL CENTRE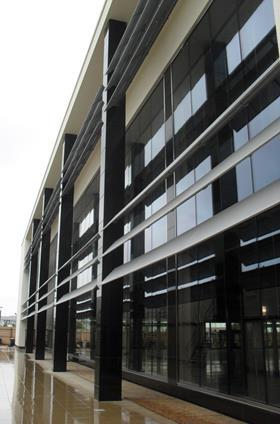 The cost model included in this article is for the creation of a 6,500m2 non-food retail unit on an existing retail park in the South-east. The unit is comprised of two full-height levels which will give the operator the flexibility to trade over both floors without having to compromise on a reduced head height, which is often encountered on the mezzanine levels of retail park units.
The cost model is based on a shell-only specification and allows for the construction of the retail unit while maintaining continuous trade for all other tenants within the retail park. The overall programme duration for the shell is based on 18 weeks, with a further 12 weeks envisaged for the tenant fit-out works.
The project also included the diversion of a water main around the proposed building, the construction of 145 new car parking spaces and some external/public realm works, the costs of which are excluded from the model.
Costs are at second quarter 2012 and are based on a lump sum design-and-build competitive tender. The costs exclude VAT and professional fees.

Location factors
The cost of a building is affected by many localised variables, including market factors such as demand and supply of labour and materials, workload, taxation and grants. The physical characteristics of a particular site, its size, accessibility and topography also contribute. Not even identical buildings built at the same time but in different localities obtain the same tenders. Factors vary over time depending on regional market conditions and the general state of the construction market.
Below are current UK location factors for each region applicable to this cost model.
| | |
| --- | --- |
| Scotland | 0.91 |
| Northern | 0.87 |
| Yorkshire and Humberside | 0.92 |
| North-west | 0.87 |
| East Midlands | 0.91 |
| West Midlands | 0.92 |
| Wales | 0.90 |
| East Anglia | 0.99 |
| South-east | 100 |
| South-west | 0.95 |
| Greater London | 1.01 |
| Northern Ireland | 0.67 |


Risks and factors to consider
If the proposed project is on an existing retail park, then minimising the impact on the trading environment is an important factor to consider for any development scheme. Experienced project teams will understand the potential for lost or reduced revenue and also appreciate the sensitivity that the development may have with existing tenants. This will help dictate the most cost-effective method for procuring the works. An understanding of phasing requirements is also vital, taking into account any sequencing, out-of-hours working, construction access, the existing centre's peak trading periods, the customer journey, and so on.
06 / ACKNOWLEDGEMENTS
Davis Langdon would like to thank John Davies and James Morrison for their assistance in the preparation of this article.