Office work has changed beyond recognition since Dolly Parton's Nine to Five. But only now are offices being designed with as much flexibility as the workforce that uses them, write Ciaran Timpson, Nicola Gillen and David Thornley of Aecom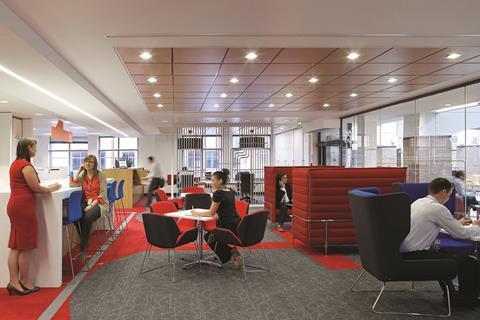 01 / Introduction
The way we work today is profoundly different from 30 years ago, when personal computers first emerged in the workplace, or even 10 years ago. The development of wireless networks means that we can now use virtually anywhere as an office. Lightweight laptops and smartphones have severed our ties to the old-fashioned desktop computer, meaning we can work from cafes, trains, our homes and even abroad. This enhanced mobility is reshaping how the office is designed and ultimately fitted out.

Aecom's Time Utilisation Study, which observes and measures space use hourly over time, recently showed that the average workspace is only occupied 42% of the typical day, largely reflecting this new way of working. Many of today's knowledge worker office staff will undertake a wide variety of activities during a typical working day. Some of these will be individual and others collaborative. They could move from a quiet booth for concentrated individual work to a formal meeting room to meet clients, then to a private room to take a confidential phone call and finally, to a more informal collaborative space for team work - the physical work environment needs to respond to these changing dynamics. The once commonplace open-plan office, which was traditionally designed for process or more routine work, based on the use of desktop PCs, doesn't provide enough variety for the range of tasks most people now perform.

Working environments also have to compete with the increasingly popular trend of home working. According to a Trades Union Congress analysis of unpublished data from the Labour Force Survey, just over 4 million UK employees usually worked from home in 2012, a rise of 13% since 2007. The growing popularity of home working is not restricted to the UK. A series of recent roundtable events, hosted by Aecom's global experts in workplace strategies, found that remote working is widespread across parts of Europe, the Middle East, North America and China. The appeal of home working is compelling for both the employer and employee. A company saves on operational workstation costs and the individual has more flexibility to balance work and personal life, the outcome of which can be a happier and more productive workforce.

The younger generation has been quick to spot the benefits of home and flexible working. A study carried out in 2013 by PricewaterhouseCoopers of its worldwide workforce found that "Millennials", the cohort born in the early 1990s who now represent a majority of its employees, place greater value on time and flexible working than on salary. They prefer to delay promotions and give up pay in exchange for more of those things. Millennials also believe that productivity should be measured by the output of the work performed and not by the number of hours at the office - they view work as a "thing" and not a "place".

With all these growing pressures, the office has to work harder than ever to remain relevant. The agile workspace, which is about matching space to what people do, is one way of meeting these demands. More and more corporations are considering alternative working strategies, partly because moving towards an agile office fit-out means less space is needed to house the same number of people. The obvious benefits of less floor space include cheaper rent and reduced operational costs.

Agile or flexible working is here to stay. As a result, the drivers of agile working, not to overlook the challenges associated with the concept, must all be considered if it is to be executed well.
02 / Considerations of agile working
An agile work place does not assume that people do the same activities in the office. It provides a range of environments tailored to different kinds of work.
Agile workplace components
In agile work environments, collaborative work areas are blended with small, quiet booths for work requiring greater concentration, flexible and more open-plan project spaces where presentation materials can be pinned up, formal and informal meeting rooms, and lockers for personal belongings. It's about providing a landscape for a variety of spaces in the office. There are also more amenities such as cafes, restaurants, "town centres" - open and informal community gathering spaces - relaxation areas and "outside spaces", all of which are designed to enable an increasingly diverse workforce to meet and socialise.

MEP services
In an open-plan layout with a degree of cellularisation, services are more regimented and easier to install. Agile work environments, by contrast, will include a variety of functional areas such as quiet rooms, study booths and collaboration areas. Some of these areas will require full-height partitioning and providing services for them will become more complex.

Each of these rooms will require their own dedicated services, together with tailored sound-proofing and ventilation arrangements. Each space will also need its own distinct lighting. As a result, the services costs may be greater than in an open-plan workspace.
Interstitial spaces
Wireless networks mean we now don't wait until we arrive at the office to start work. The interstitial spaces - those between buildings - such as cafes, trains and public spaces are all becoming increasingly popular places for working and networking.
British Council for Offices Research
The London technology, media and telecommunications (TMT) sector is responsible for more than one-third of all office take-up in 2013, so the TMT market provides an interesting insight into the workplace of the future.
Research into the TMT sector carried out by the British Council for Offices (May, 2014) found that the way TMT employees work and how they use their office space may be considered ground-breaking today, but may soon become standard within other industries.
With a much younger demographic than other industries, the TMT office is less formal and faster paced, and employees have a less defined distinction between work and personal life. They often see the office as an important gathering place that expresses their culture and identity. In TMT companies, the office is not simply a place of work, but a place for meeting, relaxation and recreation. Approximately 40% of the floor plate tends to be for spaces other than desks.
03 / Drivers of agile working
Cheaper rental and operational costs
The initial construction costs of fitting out an agile work environment may be greater than for a traditional open plan space. In a like-for-like area, Aecom estimates that this can be between 10% and 15%, given the greater attention paid to providing high-end furnishings and furniture, joinery and specialist finishes. However, research with various corporations has shown that less space is required for the same number of people in an agile work environment. Given the nature of flexible working, with more people working outside the office or using different spaces when they are there, fewer workstations are required. Less space means lower rental costs. Furthermore, if only 10,000ft2 of space is required for an agile work environment, instead of 12,000ft2, then operating costs including energy costs, cleaning and maintenance will be lower. Indeed some corporate organisations have reported overall savings of up to 20% over the life of the asset.

Better connectivity and quicker decision making
Advances in technology and audio-visual equipment enable meetings to be more efficient. It's considerably cheaper, faster and more sustainable to conduct meetings with clients or colleagues located in different countries over a video-link, instead of flying everybody to one place. Also, the more collaborative nature of an agile workplace, which encourages better communication, can lead to quicker decision-making.

Reduction in moves, alterations and changes
Given the flexibility of an agile work environment, if there are any changes in a business - for example, a department expanding or changing function - the work space can accommodate this. In an agile work environment each team tends to work from a specific and shared neighbourhood of space, so partitions don't need to be removed or added, which reduces the need for moves, alterations and changes which form a significant part of some organisations' annual running costs.

Happiness = loyalty and productivity
Ways of measuring productivity in a workplace are highly complex and subjective, but the consensus is that increased productivity will generate increased revenue. Factors to take into account include a complex network of external forces, internal politics, attrition, sick leave, job satisfaction and the physical environment. A well-designed agile work space, which includes access to daylight, good artificial lighting, the provision of different areas that enhance productivity, not to overlook creating a social hub, are critical to the overall success of an organisation. It's important, though, that these changes are considered holistically with business objectives early on and that managers and staff are involved in shaping the new work strategy from the start.

Office fit-out
Agile working brings into sharper focus how an office is fitted out. Offices are often fitted out to a category A standard, which involves installing a raised floor, suspended ceilings, services and electrical installations. When an end user decides to rent the space and finish it to a category B standard, they may want a different design and will remove some of what has already been installed, leading to a great deal of material waste. With an agile work environment, companies will increasingly have their own standard set of components. So developers have more options and the trend to wait and see what the end user wants and provide an allowance for what would otherwise have been spent on a Category A fit-out may increase. The key benefits are less waste and reduced costs.
National Grid
Strategy Plus, Aecom's workplace consulting and design practice, has been working with National Grid to develop and implement a new workplace strategy for its offices across the UK. At the major energy infrastructure company's headquarters in Warwick, Strategy Plus has implemented its Smart Workspace Programme, which seeks to maximise the company's return on investment and reduce waste. By radically redesigning 22,686m2 of its interior floor space on agile work principles, National Grid has improved collaboration across its business and saved more than £8m per annum in operating costs.

The employment of the Smart Workspace Programme has also seen a 5% increase - equating to around two hours per week - in collaborative activity per person, a 5% gain in productive time through easier access to meeting spaces, a 15% rise in desk utilisation and a 16% reduction in energy use. The implementation of the new workplace strategy has been successful due to thorough research into the current and future requirements of the business together with close staff engagement.
04 / Challenges of Agile Working
There are a number of challenges that can occur when implementing an agile work environment and the culture shift required can be huge.
Sponsorship at senior business level
If agile working is going to be implemented effectively, it has to be embraced by everyone in an organisation - and that means from the top down. If there is a lack of commitment at senior business level, how can the managers beneath them be expected to promote change, especially if they don't understand the new way of working.

Change management
If the main driver for creating an agile work environment is to save money on rent, rather than the needs of the people working there, then the strategy may fail. People don't like change if it's being foisted upon them, but if the reasons why it is happening are effectively communicated, then a new working environment will be more successful. When developing agile environments, it's important for the management to build trust and help staff to buy into the new way of working. This includes instigating a programme to teach staff the etiquette of working in an agile environment. Common situations that may arise in a new agile work environment may include: where can I take a personal and confidential phone call? Where do I keep my belongings if I no longer have my own desk? How can I personalise my workspace?
Virtual workforce
A key challenge of agile working is how to manage a virtual workforce. This involves adapting behaviour and putting policies in place that allow people to work in a more flexible way - such as working away from the office on certain days. But it's also putting agreed protocols in place - where, when and how people work to enable them to be most productive.

Trial and error
In any new work situation there is an element of trial and error. Sometimes an organisation may have miscalculated the space needed for an agile workplace. This can result in an environment that is too small to accommodate the different needs of its employees. Fine-tuning the space in this way may have cost implications.

Information technology
If an organisation isn't able to provide the technology to support and enable people to work in a mobile way then the company shouldn't be implementing an agile workplace strategy. The agile work concept tends to get blamed when staff can't log on to their laptop due to a poor wi-fi connection, or they can't print a document because there isn't a printer nearby. If there isn't adequate IT planning to support a new office layout, staff will get frustrated and resist change.

One size doesn't fit all
Never assume that the same agile workplace strategy successfully adopted for one organisation will work for another. Whether it's a financial company or a media organisation, it's critical that the business objectives for that company are clearly understood. Online staff surveys help to understand how people work and ask what's important to them. Is it an emphasis on technology solutions? Or the way a building is run? It's also important to understand how people work in spaces when they are in the office and when they are not.
05 / Cost implications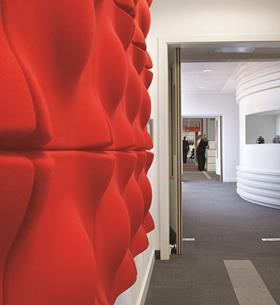 The cost implications of agile working, whether positive or negative, manifest themselves in both the capital and operational expenditure of the organisation - neither can be assessed in isolation. As a rule of thumb, it is generally the case that the capital cost of the fit-out for an organisation migrating from a more traditional working environment will be higher than that of like-for-like replacement, subject to overall space efficiencies. However, when viewed over the whole life of the asset, these additional costs are offset by the resultant operational cost savings due to space efficiencies.

High-end furniture
The most immediately apparent area where an agile working environment may be initially more expensive than a traditional open-plan environment is furniture. Creating areas conducive to collaboration and an attractive workspace overall may require furniture that would otherwise not have been selected. High-backed seating booths, for instance, are often utilised to create a semi-formal meeting area and these have a higher initial cost than a more basic solution that may otherwise be employed. Furthermore, the loss of storage space under workstations requires floor space to be utilised for personal lockers, which frequently exceed the cost of pedestals, and the lockers themselves may be dressed in a joinery housing for aesthetics.
Office fit-out
Other areas where costs can exceed those expected in a traditional fit-out would include specialist finishes, such as fabric panels, floor finishes, feature ceilings and writable walls, as the designers seek to create a welcoming space that promotes efficiency, increased productivity and collaboration. Furthermore, the client should expect to pay a premium for the audio-visual installations as a function of the increased and varied nature of the collaborative spaces. Creating cellular spaces will also increase costs when compared with an open-plan environment due to partitioning, additional doors, services and sound proofing. Although if agile working eliminates the requirement for private offices, the uplift will be dependent on the level of cellularisation that would otherwise have been necessary.

Building services
In respect of building services, areas where the costs may prove to be higher than that of a traditional fit-out would include the distribution of ventilation and air-conditioning into various spaces, increased requirement for data and small power outlets, and potentially an increase in the quantity of specialist lighting.

Additional professional fees
Clients should also consider the possible additional professional fees that may arise from a decision to implement an agile working scenario, especially if this is an organisation's first experience of creating a more flexible working environment. A workplace strategy consultant will help with this in the conceptual and design stages. It is also good practice to employ a dedicated change manager, either externally or internally, to ensure a smooth transition. Hopefully, with the correct professional assistance, the project can be managed as successfully as a more traditional fit-out.
Longer project programme
Potentially, additional costs may arise from an extended overall project programme, with the largest schedule risk being in the earlier design stages, where more time may be necessary to ensure the proposed agile working strategy will lead to tangible efficiencies in the business. More time may have to be allowed for internal approvals within the organisation as stakeholders are convinced of the merits of the change and assumptions are ratified.

Smaller workspace
Conversely, with a possible reduction in space required of around 20%, obvious savings present themselves in the agile working scenario. The
base cost of items such as suspended ceilings and raised floors will be lower simply as a function of the space being smaller than would otherwise
be necessary. The additional furniture costs mentioned earlier may be offset by using a smaller workstation footprint and the reduced requirement for private office furniture, or a dedicated conference suite.
Global standard
The move to agile working can also present procurement opportunities to larger corporations by standardising their space standards and setting up framework agreements in various regions or indeed worldwide that, if properly implemented, could reduce procurement time and simplify product selection.

Reduced lease and operational costs
Finally, and possibly most importantly, the real estate business case for moving to agile working is driven by the reduction in lease and other ongoing operational costs arising from the positive outcome of agile working implementation - achieving more productivity with a reduced spacial requirement.
Going forward, clients will be looking at other metrics to analyse and contextualise capital fit-out costs. Cost per square foot alone no longer tells the whole story, if indeed it ever did.
More emphasis will need to be placed on the cost per person served, and the analysis of costs in the context of the whole life of the asset including both capital and operational expenditure is more important than ever.

06 / Agile working – Cat A & B office fit-out costs