This CPD module considers how subcontractors can manage the risks to their businesses, focusing on the contract. It is sponsored by Aldermore

How to take this module
UBM's CPD distance-learning programme is open to anyone seeking to develop their knowledge and skills. Each module also offers members of professional institutions an opportunity to earn between 30 and 90 minutes of credits towards their annual CPD requirement.
This article is accredited by the CPD Certification Service. To earn CPD credits, read the article and then click the link below to complete your details and answer the questions. You will receive your results instantly, and if all the questions are correctly answered, you will be able to download your CPD certificate straight away.
CPD CREDITS: 60 MINUTES
DEADLINE: 4 JANUARY 2016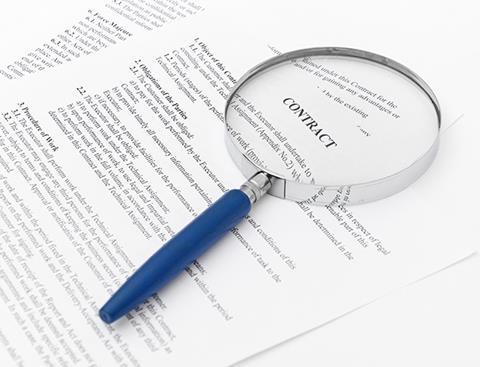 INTRODUCTION
Construction is a challenging industry in which to run a business. Even small projects may last months or years, and involve many interconnected elements and suppliers. The risks are many and varied, spanning very local factors such as planning or site conditions, as well as global trends in commodity prices or economics. Sub-contractors, meanwhile, are often paid in large but infrequent chunks, while bearing many ongoing costs of labour or materials. Unfortunately, there is a high rate of business failure in the construction sector, with a shortage of cashflow and failure to manage project risk among the most common factors.
This CPD will discuss how subcontractors can manage the risk to their businesses, focusing on the single most important document: the contract. This not only sets out the scope of the work and your responsibilities throughout a project, but governs when and how payments will be made and in what situations they will be withheld. You should always take legal advice or advice from a professional such as a quantity surveyor before you sign your subcontract. Below we highlight the key areas of risk and how they can be best managed to ensure successful, profitable projects.
BEFORE YOU COMMIT TO A PROJECT
Perhaps the most important point in a project comes before you even commit to it. Conducting thorough due diligence before you sign the contract is vital – many problems can be avoided by reading it carefully and ensuring you understand exactly what is required, and vetting the organisations you will be directly and indirectly working for. Forewarned is forearmed: even if you still choose to take the project on, being aware of potential delays or gaps in payment later on means you can plan your work and manage your cashflow to stay afloat.
Questions to ask include:
What do you know about the contractor? A company's website is a good first port of call, for the background of the organisation and details of the type and size of contract they typically work on. What projects have they completed before and how long did they take? Do they have a reputation in the industry for being aggressive or claims-conscious? What do your peers say about them? Speaking to other suppliers who've worked for them in the past is an invaluable source of information.
Are they creditworthy? Confirming that your employer is financially stable upfront can reassure you that they will be around to pay you in the future. A credit check from an organisation such as Experian will show how big a company is and whether it's making money, its payment history – has it changed from 40 to 60 days? – and details such as whether its credit limit has been reduced. It will also reveal if there are any County Court Judgements (CCJs) against the company, issued when they have failed to pay a creditor. You could also search the register of CCJs held by the Registry Trust for a small fee. A Google search can also reveal a chequered financial history – articles in the local, national or trade press, for example, or complaints on social media or online forums.
Who will you be dealing with? Understanding the chain linking your key contacts together is vital. Who's the site manager, who's the quantity surveyor, and who will be signing off your work? Where should invoices be sent, and who should you chase for payment? It sounds simple but details like these can mean the difference between prompt payment and months of delay.
What about the overall employer? It is imperative that you understand your upward chain and end customer. It is particularly important to identify any principle contractors or clients who are renowned for slow payment or who are particularly critical when it comes to signing off work, because they will impact your own cashflow as the project progresses.
UNDERSTANDING YOUR CONTRACTUAL OBLIGATIONS
You may have no choice but to sign a contractor's standard contract but you don't have to go in blind. Reading the contract carefully and familiarising yourself with the key elements will help to avoid any unnecessary delays in payment or deductions.
Key areas to consider include:
Payment terms
Ask contractor for a copy of their standard payment terms, which should be included in the contract. This will tell you when your invoices should be submitted and when you should expect payment. If a company does not meet these terms, it will be in breach of contract.
Contract milestones
Make sure you're aware of milestones or timelines in the contract, and that you can meet them. You should take note of your obligations on the supply of materials so that you do not suffer penalties for late delivery or materials that do not meet specified quality standards. You should also be aware of the deadlines for payment applications for payment. Your contract will set out certain dates on which work will be measured and by which an application should be submitted. Contractors enforce these strictly and will make no effort to chase you up if you miss them. If the deadline is the 20th of the month and you submit your application on the 21st, you will have to wait an extra month for payment, as bills for labour and materials continue to flow in.
Inappropriate clauses
As a subcontractor, your contract (the subcontract) derives from the main contract between the employer and principal contractor, which means that it may include terms and conditions that have cascaded down. You will not typically be given a copy of the conditions that are being placed upon you and very often the only opportunity to inspect them will be at the main contractor's head office.
This means that there may be clauses that are not relevant to your scope of work. For example, if you are a plasterer, your contract should not include clauses that relate to design or groundworks. Accepting these obligations can leave you responsible for elements of the project that are beyond your control, and may also require you to have additional insurance cover – professional indemnity in the case of design. Ask for these clauses to be removed before you sign the contract. As a fallback, if you have already signed, you could still ask the contractor to remove these clauses later on.
Beware of "killer clauses"
You should also watch out for so-called "killer clauses", which allow the contractor and employer to withhold all future payments if you have breached the terms of your contract. These clauses tend to be inserted by main contractors following a bad experience on a previous project, and will cascade down through subcontracts. The most recent example is the termination clause, which states that in the event of a breach, the contract will be terminated immediately and no payments will be due. In ordinary circumstances, it would be possible negotiate over payments for work carried out up to that time. The killer clause removes that possibility and could put subcontractors in a very precarious position. Typically it is not possible to have this clause removed, but if you are aware of it, you can manage your work to avoid a breach.
Health and safety
Take note of the other obligations that the contract imposes on areas such as health and safety. An updated version of the Construction (Design and Management) Regulations 2015 came into force on 6 April 2015, replacing the 2007 CDM regulations. These involve some significant changes and place a much greater emphasis on smaller projects. Key changes include extending the scope of the regulations to include domestic clients and the requirement to appoint a principal designer and principle contractor as dutyholders on all schemes where two or more contractors are on site. Go to www.hse.gov.uk/construction/cdm/contractors.htm for full details of how contractors and subcontractors are affected, and your obligations on site and towards your employees.
Insurance requirements
You contract will specify the insurance coverage you should have as a minimum. This will typically include employer's liability to cover injuries sustained by your own workers, and potentially public liability to protect employees of other companies and members of the public. Check your policy against your contract to ensure it fully meets the requirements for the project. If you are responsible for design work, you will also require professional indemnity (PI) cover in case of any subsequent failure of the building results in a claim against you. Failure to put the required insurance cover in place, and to be able to demonstrate that you have done so, not only places you in breach of contract (and therefore potentially at the mercy of a "killer clause") but could result in the insolvency of your business should a successful claim be brought against you.
Bonds, warranties and guarantees
The extent of these clauses within your contract will typically be dependent on the scope of the work being carried out. If you're involved in groundworks or the heavy civil engineering elements of a project, it is common to find a contractual requirement for security in the form of bonds, warranties or guarantees. Even if you're not, these clauses could still appear in your subcontract so it is important to be aware of their implications. If you are unsure, seek legal advice or the assistance of a quantity surveyor.
All three are designed to ensure that a contractor (or subcontractor) will complete a project to a satisfactory standard. Bonds allow a third party (such as a bank or insurer) to offer security against performance, payment and any obligations you are required to fulfil. Warranties provide assurance that project milestones will be met or conditions maintained. Guarantees generally take the form of "if the contractor does x, I guarantee to pay them y".
DURING THE PROJECT
As the project progresses, subcontractors must ensure they continue to comply with the terms of the contract, and that they understand other parties' obligations towards them. Key areas are outlined below.
Administration
As mentioned above, the contract will require that certain documents are submitted at key points during the project, without which you will not be paid. You may be confident that you are capable of carrying out the project works, but you should also consider whether you have the set up and sufficient resources to meet these administration requirements. Formatting your requests for payment clearly and in line with the contract requirements is an obvious but vital step, as is sending them to the right place. Include clear payment terms in your application and offer multiple methods of payment including cheques and BACS – the easier it is to pay you, the fewer excuses a contractor can make. Putting a robust billing process in place at the start of the project will enable you to complete paperwork accurately and efficiently as it progresses.
Delays
It is your responsibility to report any delays in your lead or completion times, even if they are not your fault. The appropriate procedure for submitting an extension of time (EOT) request will be specified in your contract. Should a delay occur, this should be submitted in writing, detailing the relevant event that has caused the delay, as soon as possible. As there may be many interrelated reasons for a project to fall behind, EOT applications are often be complicated and controversial. The quality of information and record-keeping will be crucial in any assessment of their merit.
Variations
Differences in the as-built project can mean changes to the scope of work required, referred to as variations. Sub-contractors are contractually obliged to complete the works required, but as they are not part of the original contract value, you will need to add the cost to your application for payment providing full details of the work. It is imperative that you obtain a written request for additional work, which you can append to your application for payment. If someone asks you to carry out additional work, ask that they put it in writing. At the very least, send them an email with as much detail as possible of the additional work and request that they confirm by reply.
Recovering the cost of materials
Some contracts allow you to invoice for the cost of materials before works are carried out. This is typically where materials account for a significant proportion of the work and would normally take place "on site", ie when the goods are delivered to site. It can also be "off site", when the materials are held at a separate location, when a certificate will be required. Your contract should expressly state when you have the right to apply for these costs and, if so, whether you have to provide some form of vesting certificate. If you can recover the cost for materials sooner, both your cashflow and supplier relationships will be much improved.
Others' obligations towards you
You should also be aware of your employer's obligations towards you under the contract. For example, if the contractor does not intend to pay you the full amount stipulated in the contract, they must issue a "pay less notice" setting out the basis for calculation, or they are in breach of contract. If they do not do this, you can force them to pay the full amount of the payment application.

How to take this module
UBM's CPD distance-learning programme is open to anyone seeking to develop their knowledge and skills. Each module also offers members of professional institutions an opportunity to earn between 30 and 90 minutes of credits towards their annual CPD requirement.
This article is accredited by the CPD Certification Service. To earn CPD credits, read the article and then click the link below to complete your details and answer the questions. You will receive your results instantly, and if all the questions are correctly answered, you will be able to download your CPD certificate straight away.
CPD CREDITS: 60 MINUTES
DEADLINE: 4 JANUARY 2016

Privacy policy
Information you supply to UBM Information Ltd may be used for publication and also to provide you with information about our products or services in the form of direct marketing by email, telephone, fax or post. Information may also be made available to third parties. UBM Information Ltd may send updates about Building CPD and other relevant UBM products and services. By providing your email address you consent to being contacted by email by UBM Information Ltd or other third parties. If at any time you no longer wish to receive anything from UBM Information Ltd or to have your data made available to third parties, contact the Data Protection Coordinator, UBM Information Ltd, FREEPOST LON 15637, Tonbridge, TN9 1BR, Freephone 0800 279 0357 or email ubmidpa@ubm.com. View our full privacy policy at www.building.co.uk/cpd