The latest ONS figures suggest construction activity is slowing, or are they just a blip?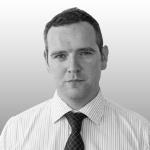 This month's unexpected result in the general election has thrust the spotlight on the UK's economic performance as that dreaded word "uncertainty" reared its head once again. But what impact is it likely to have on the economy in general and, more specifically, on construction? I would contend that businesses had already factored in the uncertainty over Brexit into their forward plans so a minority government probably won't change that risk assessment much.
That said, while I think the impact on business confidence is unlikely to be major, there are gathering signs that economic activity is softening. The latest of these was the retail sales figures from the Office for National Statistics (ONS) for May. This showed that the value of retail sales, after adjusting for inflation, grew at its slowest rate since April 2013. This follows from data showing that real wages are now falling, suggesting the consumer expenditure, which has been supporting economic growth, is slowing. The impact that this will have on construction is unclear but, in the past, construction has been pro-cyclical and tends to follow the direction of travel in the economy as a whole. And the latest statistics from the ONS certainly suggest that construction activity is lessening. Construction output was 1.6% lower in April compared with March and 0.6% lower than April 2016.
Private housing, which has been driving the industry over recent years, actually declined by 6.9% on the previous month
What stands out the most from these figures is that private housing, which has been driving the industry over recent years, actually declined by 6.9% on the previous month and was 1.4% lower than April 2016. While this is certainly concerning, I would temper it slightly with the fact that the timing of Easter this year could have led to a larger than usual hit to activity levels. Nevertheless, the monthly and yearly falls are concerning and perhaps tie in with the consumer appetite for spending beginning to wane. If this pattern continues, it is clearly a threat to the entire industry. It is worth remembering though that housing still has plenty of factors in its favour, not least government subsidies and continued low interest rates.
All eyes will be on the ONS figures for May to see whether April was an Easter blip or the sign of something more fundamental changing in construction.
Michael Dall is an economist at Barbour ABI
Barometer online
You'll find interactive, sortable league tables of contract wins on our Barometer site:
Sort top contractors by region or sector
Find out who the top consultants and architects are
Get latest data for 10 sectors, including public housing and offices in the CPA/Barbour ABI Index
Download raw data www.building.co.uk/barometer