The later living sector must grow rapidly to support the UK's ageing population. Alex Hyams of Alinea and Assael Architecture's Félicie Krikler and Rory O'Hagan consider how to unlock the sector's potential from a design and location perspective and break down the costs of building a retirement community
01 / Introduction
Data on the supply of UK housing in the recent past tells us clearly that we need to build more. However, despite many government initiatives, the aspirational targets for new homes are being missed by quite some margin. Compounding this are barriers to affordability and accessibility for the younger generation, which have led to the boom in the build-to-rent (BTR) sector and the rise of Generation Rent.
When it comes to the somewhat maligned and misunderstood retirement and care sector, the data overwhelmingly shows a requirement for rapid growth to support the ageing UK population.
An opportunity lies in meeting this demand through the creation of better options for later living and retirement communities that offer attractive places to live, and enhance the sector's reputation – in a similar way to how BTR has invigorated the private rental sector.
There have been many acclaimed housing market saviours in the recent past, on both the demand and supply sides, including the likes of Help to Buy, stamp duty relaxation and modern methods of construction (MMC) as well as BTR. Although all of these have played a part in the overall goal of home-building targets and improved ways of living, none is a panacea, and even together they have not provided the answer.
An improved retirement and care sector cannot solve all the problems facing the UK housing market, for reasons that will be set out below, but it should have an important role to play in unlocking some of the current barriers to a more balanced UK housing stock in the longer term.
This article sets out the current state and scalability statistics of the later living sector, and considers ways of unlocking its potential, from both a design and a location perspective. Later living in an urban context is also reviewed, alongside an innovative vision for reinventing the traditional high-street scene – Assael's Rightsizer concept.
02 / Current sector offering and growth potential
To give an idea of the present scale of the sector offering and the potential shortfall, the latest figures published by the ONS make for stark reading. There are around 12.5 million people in the UK over retirement age (defined as 65 years old for the basis of statistical analysis), which equates to approximately 19% of the population. Yet, based on data gathered by Savills, there are only about 750,000 dedicated retirement dwellings in the UK, making up around 3% of the total number of all UK homes. Some of this imbalance can be explained by retirees remaining within their family homes, but this aside, the sector is significantly undersupplied.
Growth forecasts suggest that the situation will only worsen by 2030; a further 2 million people will have entered retirement age, rising to 16 million people by 2040, equating to a quarter of the total UK population at its current level.
Associated Retirement Community Operators (ARCO), which represents the retirement community, has set out clearly the definition of a retirement community – or housing with care – as an integrated approach, as opposed to pure retirement homes or care homes (see table).
Living options for older people
| Retirement housing | Retirement communities | Care homes |
| --- | --- | --- |
| Also known as sheltered housing or retirement flats | Also known as extra care, retirement villages, housing with care, assisted living or independent living | Also known as nursing homes, residential homes or old people's homes |
| Self-contained homes for sale, shared ownership or rent | Self-contained homes for sale, shared ownership or rent | Communal residential living with residents occupying individual rooms, often with en suite bathrooms |
| Part-time warden and emergency call systems | 24-hour on-site staff with optional care and domestic services available | 24-hour care and support (including meals) |
| Usually a lounge, laundry facilities, gardens and a guest room | Range of facilities including a restaurant or cafe, usually alongside leisure and wellness facilities such as gyms, hairdressers, activity rooms, residents' lounges and gardens | Range of facilities and activities, including gardens, lounges and dining rooms |
| Typically 40-60 units | Typically 60-250 units | Sizes vary considerably |
Source: based on ARCO chart
As part of its Vision 2030, ARCO aims to have 250,000 older people living in such retirement communities by 2030 – representing a considerable increase on the present figure of approximately 75,000. The population demographics clearly support this target (and beyond it), which for developers should present an attractive long-term investment opportunity.
Percentage of people living in retirement communities with care in the US, Australia and New Zealand versus the UK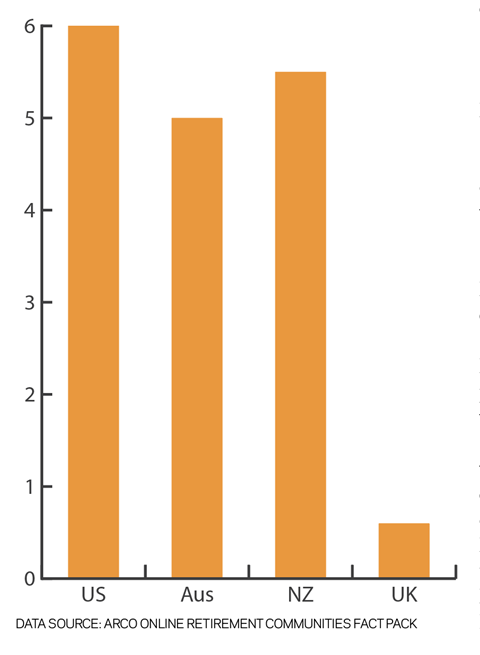 Looking overseas for comparison further supports the notion that the UK has an undersupply and a relatively immature sector. The proportion of the population living in retirement communities is less than 1% in the UK, against 4% to 6% across the US, Australia and New Zealand (see graph).
The apparent success of later living in those countries, allied to the growth potential in the UK, poses the question of why overseas developers have yet to throw their hat in the ring in a substantial way over here. Several years ago, similar fundamentals existed within the emerging build-to-rent market and this prompted developers such as Greystar to enter the UK scene, bringing their operational and design knowledge of an active and mature US rental market to the UK. Several other US multi-family home operators have followed suit, and they now supplement a healthy and growing sector, delivering homes to a discerning market of new renters.
There is an expectation that a similar movement within the later living sector could be the catalyst needed to push the industry forwards and help tackle the supply, legislative and investment barriers that challenge the sector today.
03 / Design solutions
When it comes to the locations of existing retirement living offerings, the predominant setting is in a rural or edge-of-town site where the development proposition is more straightforward. Land values are generally lower, as is competition for sites, driven by distance to amenities and public transport. With less complex massing and urban planning requirements, the viability of these sites tends to be an easier proposition.
However, these rural locations arguably lack some of the key elements required to make future later living proposals attractive. When polled, many retirees cite location – access to public transport, amenities and convenience – as a key factor in deciding on a retirement home, alongside affordability.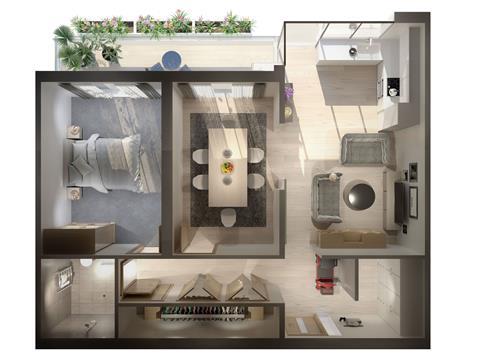 The pandemic has highlighted the harm a lack of social interaction can cause individuals. Placing later living at the heart of the community will not only help to counter this but also can provide benefits to the rest of the local community. Retirement communities require a large number of staff, from care workers to administrators and cleaners, providing much-needed employment opportunities to the area. Strain on local health provision could also be eased through either co-location or simply rationalising visits, as many patients would be housed within a single community address.
Creating a more socially integrated community also means retirees will use the local amenities, boosting the economy, while allowing the later living development itself to scale back on the amount of inward-facing amenity required, which in turn helps with the viability of such developments. Retirement communities should also be good neighbours, making low impacts in all aspects of town planning.
Recent negative planning decisions on urban-located later living have been widely reported and, while the exact reasons for the rejections are still being debated, there clearly remains, in certain areas, a question mark over senior living within an urban environment. For the reasons noted above, these misgivings seem unfair and, moreover, would frustrate the opportunity that later living in towns and cities presents for the ongoing survival of the high street.
The reinvention of the ailing high street is a hot topic, with a variety of new options being promoted, from a more "brand experience" version of retail, to owned or rented residential space, to flexible office hubs. In the post-pandemic world that will soon emerge, there must be an opportunity for decentralised city life with more emphasis on local community offerings. Later living should play its part in creating the new townscape, and Assael has been considering how this could work in its innovative solution, Rightsize to the High Street.
04 / the Rightsizer model for retirement communities on the High Street
The recent collapse of Debenhams and Arcadia has thrown into sharp relief the crisis facing our town centres. The internet retailers that have bought these venerable high-street brands have no interest in retaining the bricks and mortar shops, thus rendering 15 million ft2 of retail floorspace redundant – a blight on our high streets up and down the country. The transition to online shopping, heightened during the pandemic, is likely to become a permanent trend, posing an existential threat to town centres reliant on retail.
Prominent retailer Bill Grimsey, in his 2018 review of the sector, set out a clear vision for our future high streets: "There is a need for all towns to develop plans that are business-like and focused on transforming the place into a complete community hub incorporating health, housing, arts, education, entertainment, leisure, business/office space, as well as some shops, while developing a unique selling proposition."
Elsewhere in society, as mentioned above, we are faced with another, slower-burning crisis: housing and care for our ageing population.
Responding to these various and interconnected crises, Rightsizer by Assael is an intergenerational housing model. The vision is to locate on our high streets Rightsizer communities, principally for older people who are downsizing from under-occupied family homes in the local area and who are making a positive, life-improving decision to move, not one born of a personal health crisis or bereavement. This form of accommodation, delivered at scale, can help free up homes for families, second-steppers and first-time buyers. The opportunity is for Rightsizer communities to be intergenerational by providing homes for key workers, such as carers, and subsidised accommodation for younger people willing to offer companionship to lonely older residents.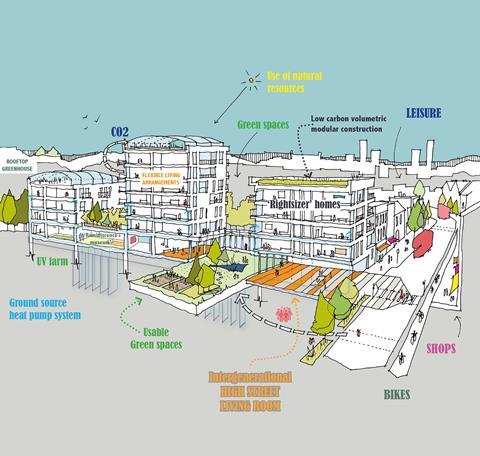 Rightsizer will plug into the existing lifestyle amenity offer found in every town centre, such as hairdressers, coffee shops, bars, restaurants, launderettes and libraries. It's not all doom and gloom on the high street; some businesses are still viable. On-site amenity provision can therefore be reduced in comparison with a more suburban or rural retirement community offering, which should improve project viability. These communities are not gated; instead they benefit and prosper from being fully integrated into the town‑centre ecosystem.
These communities will promote active living and positive engagement across a broader neighbourhood, and residents will be empowered to run aspects of their building and curate an events programme that invites in people of different ages and backgrounds from the locality. Redundant shopfronts will also be reinvigorated as intergenerational community hubs – what the Rightsizer model calls "high-street living rooms".
A care continuum will underpin residents' independence to give people a choice over the levels of care required as their health and needs change over time. Carers will be hired from the local area and trained in an on-site care academy; the communities will be desirable places to work as well as to live.
Suitable sites for the Rightsizer model can be found in every town centre in the UK, and are typically redundant department stores, supermarkets or secondary shopping centres. The communities can be developed and operated by private and public sector organisations and offer multiple tenure options. Pricing, fit-out spec and amenities will no doubt differ between Marylebone high street and Lewisham high street, but, however disparate, the locations are unified by the common thread of openness and integration with local communities.
Most apartments will be oversized by up to 10% against national space standards, with flexible internal layouts allowing multiple living configurations, and apartment entrances will be personalised and feel like a door to a home. Some apartments will also be compact and more affordable, while benefiting from easy access to an array of high-quality shared amenity spaces. There is a right size for everyone.
Residents will have the opportunity to share personal possessions and memorabilia in a "reminiscence museum", while other on-site amenities can be modest, based on need and complementary to the provision of nearby high-street amenities.
Horticulture will also be facilitated and celebrated, in shared external gardens and green spaces, and access and movement around the building will be organised on the principle of a publicly accessible storefront, becoming increasingly private deeper into the plan.
Assael is currently collaborating on plans with developers and operators for several Rightsizer communities across London. Meridian Water is one example, where the practice is working with Enfield council to create a sustainable construction system, employing circular design principles optimised for intergenerational housing.
The aim is to support a better and longer life for both residents and buildings, by creating a building system that enables flexibility to accommodate changing physical and care needs.
A flexible and sustainable construction approach is advocated, the driver for flexibility being the dynamic physical and care needs of a community of older people with a broad spectrum of individual circumstances, supported by a comprehensive care continuum. Greater adaptability enables greater longevity.
With the structural frame, layouts can be reconfigured to adjust provision over time: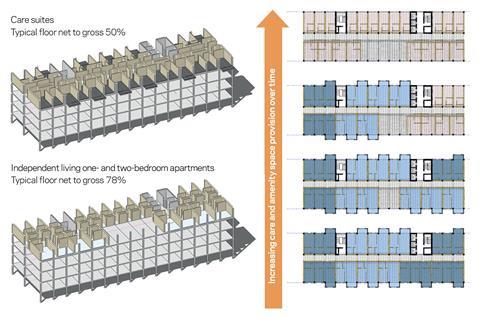 The strategy is to embed within the building structure a flexibility that underpins long-term performance and sustainability. This will be done by creating a "support layer" with a 100-year design life – the superstructure – that can be disassembled, and therefore significantly reduces end-of-life waste. This support layer includes column setting-out and soft spots in floor panels to allow layout reconfiguration and optionality in terms of ongoing service riser locations. An "infill" layer comprises non-load-bearing partitions, panels and components; this layer get refreshed, reused and reconfigured on a 10- to 20-year cycle, depending on requirements.
Rightsizer can become an essential component of our new, community-focused high streets, celebrating local place, character and people. As we slowly emerge from the covid-19 pandemic, this model aims to make a tangible social impact by addressing the simultaneous challenges in care, our local high streets and housing for older people.
05 / Unlocking the sector's investment potential
Investment to date in the UK later living sector has been at a platform trading level, with notable examples being AXA's acquisition of Retirement Villages Group (RVG) and Legal & General's (L&G) buyout of Inspired Villages, both in 2017. More recently, L&G has also launched Guild Living while Lonestar had its offer for McCarthy & Stone accepted.
Further large platform acquisition opportunities are limited, as the rest of the sector is made up of many smaller players. Further institutional investment will require the introduction of overseas developers and operators, such as those named above, or investors looking to purchase and combine smaller stock under a rebranding.
Furthermore, the viability model for later living is far more complex than some of its predecessors in residential growth areas, such as BTR and purpose-built student accommodation. The requirement to provide professional medical care in later living schemes means hiring and retaining trained staff or collaborating with existing care providers. This added layer of operational complexity adds risks to the long-term investment opportunity, and it is incumbent on developers to address this with a robust management plan that goes beyond mere asset management.
Clarity around planning and legislation are other reported barriers to entry, as the sector is not specifically and clearly represented in these respects. No retirement legislation exists in the UK in the way that it does in mature overseas markets such as the US, and in respect of planning, later living provision falls into a void between planning classes C3 (residential) and C2 (care).
Confusion surrounds the required provision of affordable housing within C2. It was previously exempt, until last year when a precedent was set in a case against Rectory Homes. While each planning application is treated on its merits, this ambiguity needs clarification for investors and developers to be confident on business cases.
To make later living more universally appealing to the investment and development markets, the issues of affordability and variety of tenures need to be tackled. Most of the private for-profit developer products are aimed at the for-sale market, with only a small minority of operators, such as Birchgrove, offering a rental alternative. Having a varied tenure choice, in the same way as the general housing market now operates with rental resurgence, gives retirees more choice and access to appropriate and affordable later living housing.
One of the potential benefits of a more attractive and desirable later living market is creating viable downsizing opportunities. Removing this blockage at the top of the UK housing market – in which Savills estimates that the over-50s hold 75% of housing wealth – could be the key to unlocking the property chain and providing access to more first-time buyers.
In a world where health and wellbeing have grown in people's consciousness over the past year, the provision of high-quality later living opportunities is something that can no longer be ignored. The later living sector has some way to go to address some of the current barriers, but its potential to enrich and improve the current UK housing market is now becoming clearer. Ultimately, the demand exists and is increasing, and the right developers will find a way to overcome these challenges in order to provide the necessary supply.
06 / About the cost model
The cost model is based on a standalone, five-storey new-build retirement community building to the south-west of London, providing about 170 apartments and associated amenity and care spaces. It should be noted that this represents a more traditional, standalone approach to a retirement community where all amenity is provided as part of the development. Assael's Rightsizer approach, by contrast, looks to use existing community amenity provision and as such could prove more cost-effective.
Assumptions
The model is based on the following assumptions:
The apartments are a combination of private for-sale residences, residences with assisted care and suites providing later life extra care.
The shell includes a piled foundation with in‑situ concrete lower and upper ground floor slabs, as well as an in-situ concrete transfer slab to the first floor. The building has reinforced concrete upper floors and roof slabs, a reinforced concrete core with precast concrete stairs and a reinforced concrete frame with blade columns.
The facade is made up of a structural framing system substrate, with mineral insulation and a hand-laid brick skin, composite windows and sliding doors to balconies. All apartments on the first floor and above are provided with a bolt-on balcony while ground-floor units have external access to a private terrace.
The MEP element is based on primary heat and power from roof-mounted air-source heat pumps, with sprinklers to all apartments and landlord areas, low-temperature hot water distribution to all apartments, low-voltage distribution, a central building management system, fire alarms, a wifi video entry system and CCTV to ground floor, lifts and amenity spaces.
Six 17-person passenger lifts at 1.6m/s are assumed, serving all floors, and including three that feature firefighting control.
The apartment fit-out ranges allow for wall, floor and ceiling finishes, as well as fixed furniture and fittings, including kitchens, built-in wardrobes and bathroom fixings. Other furniture, fittings, operating supplies and equipment are excluded. Services include fit-out of space with mechanical ventilation using heat recovery, heating via panellised radiators, TV and data outlets to primary rooms, lighting and small power.
Good-quality amenity spaces comprising health suites, a beauty salon, a restaurant and private lounges are assumed.
Exclusions include fees, VAT, demolitions, site clearance, external works, incoming utilities, section 106/278 payments, community infrastructure levy and the like.
All rates are based on prices at Q1 2021.
Key metrics
Total gross internal area: 15,626m²
Residential net internal area: 10,964² (excluding amenity spaces @ 828m²)
Number of units: 168.
Acknowledgments
The authors would like to acknowledge the contribution of colleagues at Alinea Consulting and Assael Architecture to the article.
Download the cost model using the link below