The motor industry is gradually shifting to electric vehicles, but the rate of adoption is highly dependent on the rollout of charging infrastructure. In this review, Simon Swan and Elisabeth Selk of Arcadis look at how the electric vehicle energy transition is being co-ordinated and what is needed to encourage greater uptake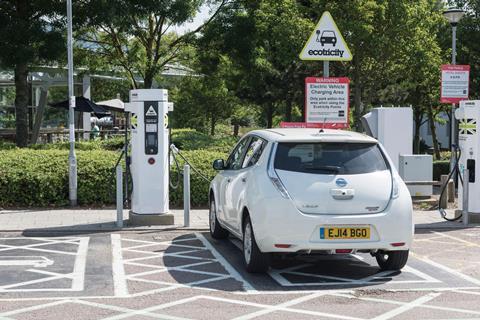 01 / Introduction
Transitioning away from the internal combustion engine (ICE) is a key plank of climate change strategy. One-fifth of UK domestic CO2 emissions can be attributed to transport – the shift to electric vehicles (EV) aims to significantly reduce emissions. This week's announcement by the Department for Transport of a consultation into requirements for mandatory EV charging points for new homes, offices and new street lamps highlights accelerating electric car transition.
Currently, the main focus for rollout in the UK is ultra-low-emission vehicles (ULEV), which require a charging infrastructure. While ULEV adoption is starting from a low base, it is accelerating – a total of 157,300 ULEVs were registered by Q1 2018, according to the DVLA – a 45% increase in registrations in 12 months.
However, there is a long way to go, as ULEVs represent only 0.4% of the total UK vehicle fleet. Creating mass adoption requires a large investment in supporting infrastructure as well as manufacturing capacity.
The charging network has a key role in supporting this rapid growth in the uptake of EVs. Although most vehicles are usually charged at home, "range anxiety" – fear of not being able to recharge while travelling – continues to influence most purchasing decisions. Unfortunately, the low levels of ULEV adoption in many areas mean use of charging points is currently too low to support a business case without public subsidy.
In Manchester for example, due to low ULEV take-up, there are more than 10 times more charging points per vehicle than in Birmingham, creating real problems for justifying additional investment at this stage – Manchester has 70 points shared between 2,500 plug-in vehicles, whereas in Birmingham there are nearly 13,000 vehicles, with access to fewer than 50 points.
Looking forward, the challenge is to get the right infrastructure in place to enable easy access for all consumers and to make best use of electricity network assets. This outcome depends on the input from many different players in the private and public sectors, including central government, city sponsors, utilities and private sector service providers.
At present, different providers are competing against one another – not only for customers, but for scarce capacity on the distribution grid. While the Automated and Electric Vehicles Bill 2017-19 should go a long way in encouraging a standardised, smart vehicle charging network, there is not a medium- or long-term plan in place to ensure universal access to chargers.
This is being left to the market to determine. Combining resources in the public, private and regulated sectors to deliver the right power in the right place at the right price is a huge opportunity as part of the ULEV transition.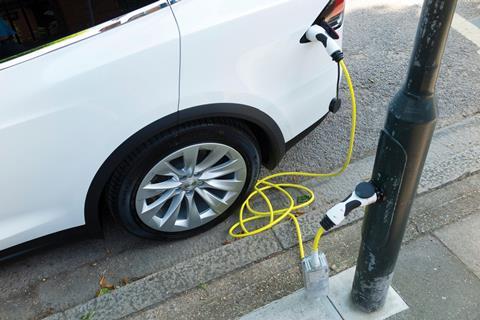 02 / The challenges of transitioning to electric
Even though the adoption of ULEVs is low at present, take-up is projected to speed up seriously. A significant inflection point in the growth rate is expected around 2025-30. By then, ULEVs are expected to represent 8%-15% of global car sales, reaching 35%-55% by 2040. The type of energy demand will depend very much on the type of vehicles that are successful in the market.
First-generation hybrids, which use two powertrains, are presently the dominant low-carbon vehicle. These do not need a charging infrastructure. However, government policy intends this technology not to be available for sale after 2040.
Alternative low-emission drive solutions that would meet government sustainability criteria include:
ULEVs, used in the UK to refer to any motor vehicle emitting extremely low levels of emissions, currently set at 75gCO2/km driven or less.
EVs are driven by an electric motor powered by a battery, which can be plugged into an electricity source to recharge. Full EVs have no combustion engine and therefore zero tailpipe emissions.
Extended range EVs (E-REVs) are plug-in hybrids for which only the electric motors drive the wheels. In most respects the vehicle behaves like an EV, but a small ICE is available to recharge the battery if required.
Plug-in hybrid electric vehicles (PHEVs) combine a plug-in battery and an electric motor with an ICE, either of which can be used to drive the wheels. The means of propulsion dictates the amount of tailpipe emissions produced.
There are now more than 50 ULEV models on sale in the UK, with Mitsubishi, Nissan, BMW and Mercedes together selling more than 20,000 units in 2017. As the range of models increases, highlighted by the arrival of Tesla, requirements for different types of charger have emerged.
EV recharging infrastructure is evolving rapidly. Six years ago, the available equipment was made up predominantly of single-outlet 3kW charge points. With the development of vehicles with larger chargers came fast 7kW single-phase charge points, with three-phase 22kW alternatives, multiple outlets and power-sharing capabilities.
This was followed by the development of rapid chargers rated at 50kW or more. Fast charging from empty typically takes three to four hours, while a rapid charge can be completed in 30 minutes or less.
At present, there are just over 7,000 vehicle chargers dotted around the UK, providing the infrastructure ULEV owners need to top up their batteries away from the charge points that most owners have installed at home. However, these points are distributed unevenly and a recent report by the independent Committee on Climate Change estimates that an additional 25,000 charging points will be required to meet the needs of the market by 2030.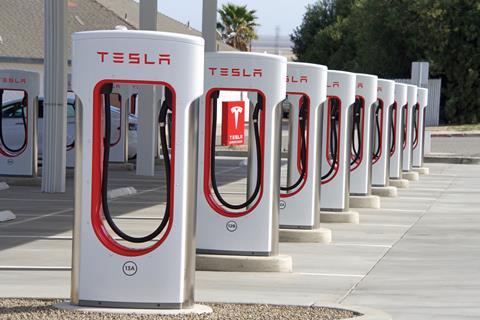 Of the 7,000, there are currently more than 1,400 rapid chargers near major roads, providing coverage for about 55% of long-distance journeys. The pace of rollout is accelerating rapidly, with the Greater London Authority aiming to install 1,500 rapid chargers across London by 2020.
With the introduction of high-performance ULEVs by manufacturers such as Jaguar Land Rover, which has just released the Jaguar I-Pace, and Porsche, which will launch a model in 2019, requirements for even faster charging are set to emerge. This will require an increasingly large and powerful network to provide reliable and convenient charging.
Accordingly, as the ULEV fleet becomes more varied, rapidly changing demand will create a number of challenges for charging network operators that are deciding what market they want to serve and what solutions they will use.
Key variables include:
Location – this determines what type of user will access the charge point and how quick turnover will be. For example, locations on motorways or at service stations are aimed at longer-distance in-transit customers who want a rapid, high-power charge.
Market segment – city dwellers using off-street parking have different charging requirements from taxi drivers or long-distance in-transit customers.
Charge speed – charge points ranging from 7kW to 50kW + enable vehicles to be charged at different speeds – meeting the needs of different market segments.
Technology type – variables in technology include AC or DC charging and single- or three-phase power supply. In many cases, different ULEVs use different plug and charging protocol configurations, creating even more variation in charge point selection.
Access to network capacity – access to capacity in the transmission network is another important variable, determining not only how many charge points can be provided at a location, but also whether additional network reinforcement investment will be needed as part of an installation.
Figure 1: Levels of autonomy
| Charger type | Connectors |
| --- | --- |
| Rapid 50kW+ DC | 928 |
| Rapid 43kW AC | 459 |
| Fast 22kW AC | 642 |
| Fast 7kW AC | 3,878 |
| Standard 3kW AC | 1,170 |
| Total | 7,077 |
Source: National Charge Point Registry – January 2018
In summary, the decision-making associated with designing an ULEV charging network is complex and financially very sensitive. Furthermore, the rapid pace of technological innovation is improving the range and charging speed of ULEVs.
Currently, around 27% of electrically driven long-distance trips require a charge en route. However, it is possible that in the future, advances in inductive and dynamic charging could make current technology and infrastructure investments redundant. Qualcomm, a chipmaker, has already demonstrated induction technology for recharging a moving vehicle off any road surface. So perhaps the charging challenges to be faced will be different from those predicted.
03 / The challenges of transitioning to electric
Most vehicle charging takes place at home, with the majority of vehicles connected to the domestic power supply using a standard 7kW connection. Vehicle charging away from the home is supported by infrastructure collectively known as electric vehicle supply equipment (EVSE). EVSE includes plugs, sockets, conductors, power outlets and devices that allow communication between the charging apparatus and the EV.
Ensuring that EVSE is interoperable across the 50 or so ULEVs for sale in the UK is quite a challenge. While some standardisation has been achieved around the type two fast-charging socket standard, there are at least four rapid charging socket types in use in the UK. This means that owners have to navigate to the right charge points to suit their vehicle. This is facilitated by websites such as zapmap.com.
In the early stages of EV rollout, town centre charging points were made available at no charge in order to incentivise early adoption. This made the management of charging points very simple. However, as take-up has accelerated, networks have attracted a greater amount of private investment and government support has become more selective. This means a more complex charging infrastructure is needed so that investors can generate an income stream.
Two key players
There are two key players in the vehicle charging market. Charging station operators (CSOs) manage the physical charge points, providing installation and maintenance services. E-mobility providers (EMPs) provide the recharging services using pay-as-you-go, membership or subscription schemes to manage power consumption and payment.
EMPs also manage interoperability across networks, enabling drivers to access a wide range of charge points without having to hold lots of different network memberships.
Some businesses combine these two functions. BP has just acquired Chargemaster for £130m, which is a business that installs and maintains charge points at all scales from local authority to domestic, and that also operates a network of 6,500 charge points on petrol station forecourts.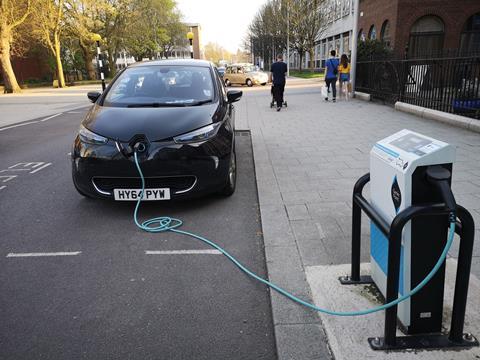 04 / Business models for vehicle charging
Future investment in charging infrastructure needs to be closely aligned to consumer behaviour. The average daily distance a car covers in Britain is less than 40km, and RAC Foundation research (2017) highlights that 80% of owners prefer to charge at home. The implications for the public charging network are that most owners use public points for "opportunity charging" to top up their battery while parking. Due to subsidy arrangements, this is often at little or no cost
While charging at home will continue to be the most convenient option for many owners, there is also a need to supplement this with charging facilities at destination points such as workplaces or shopping centres, as well as a network of rapid and high-powered chargers to support in-transit users, service vehicles such as taxis and high-performance vehicles.
Residential charging can use either fast or slow chargers, given that vehicles are usually parked for some time. A key constraint, however, is that 34% of homes in England have no off-street parking. The proportion increases in line with urban density, so in markets best suited to ULEV, such as inner London, investment in public facilities such as lamppost charging points is needed.
Ubitricity, a Berlin-based tech company, has developed a charge point that can be retrofitted into existing lampposts. The system, which feeds off the lighting power feed, costs £1,000 per point, providing a 3kW slow charging on a subscription or PAYG basis.
Current consumer behaviour has three implications for future charging networks. First, the market for recharging is acutely price-sensitive because most consumers use the domestic cost of energy as their benchmark – not the cost of a journey powered by an ICE.
The second issue is dwell time – when users plug their vehicles into a charger for longer than is necessary to recharge their battery, this has an implication for network capacity.
The third is that access to rapid chargers is essential for the wider promotion of EV. A total of 90% of respondents to a survey by the Rapid Charge Network stated that access to rapid charge facilities was a critical influence on ULEV purchase decisions.
This mismatch underpins the current subsidy model, which recognises that in addition to incentives aimed at vehicle purchase, support to the infrastructure network is also required.
This started with the Plugged-in Places programme from 2010, moving on to the £200m Fund for Charging Infrastructure announced in the 2017 Budget, providing match-funded support to private sector investors. Grant funding is also being provided to local authorities to install charging points in residential areas.
The in-transit market, characterised by the need for rapid chargers in strategic locations, has a different dynamic from the residential model.
Original equipment manufacturers (OEM) such as Nissan and BMW participated in developing the rapid charge network with 50% EU funding as part of their market development strategies. Tesla, in contrast, has developed its own unique solutions based on 145kW supercharger technology.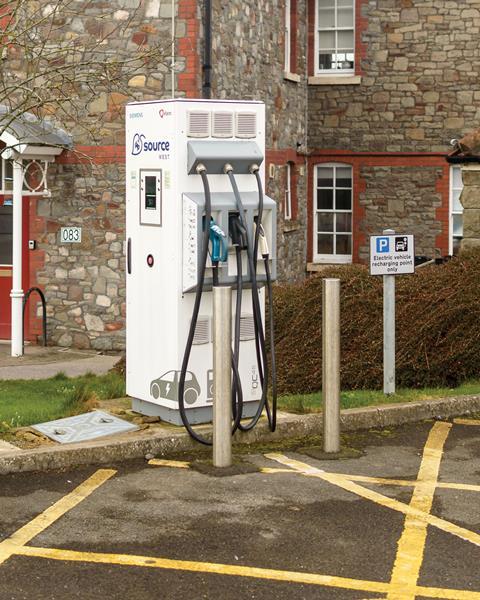 05 / Do power networks have enough capacity?
As use of EVs grows, challenges around the capacity of electricity networks will also increase. Currently, with most charging being done at home using low-powered chargers, the impact has not been great. However, the My Electric Avenue pilot project, funded by Ofgem, has identified the potential for voltage issues if five 3.5kW chargers are running simultaneously on a network cluster. It concluded that 30% of low-voltage distribution circuits totalling more than 310,000 installations will need reinforcement once 40% to 70% of vehicle owners have switched to EVs.
Slow charging at home will continue to be necessary because domestic power installations cannot support charging above 7kW due to limits on the main switchboard fuse capacity in the home. Tesla has developed its Powerwall technology as a workaround for this constraint – storing power sourced from PVs and the grid to be discharged at 13.5 kW. Another workaround involves lamppost conversion into charge points, currently being led in the UK by Ubitricity.
Network constraints
At present, the greatest constraints are associated with installing fast and rapid chargers into city centre locations. Network capacity in city centre locations is often in short supply, meaning that new charge point installations will also need to bear the cost of network reinforcement, purchased from the distribution network operator (DNO).
New grid connections can add significant cost, complexity and delay to the rollout of recharging facilities (see cost table, above right).
Grid connection costs range from about £20,000 for an AC/DC rapid charger of 20kW to 50kW to more than £50,000 for a 100kW DC high-powered charger. Given customer price sensitivity with respect to the price of power, these costs represent a real challenge to the business case, because domestic electricity, distribution network costs are spread over a large group of consumers.
In contrast, new charge points have to recover the cost of the power, the distribution and transmission network charge and the capital cost of the grid connection. For home charging, all that is paid is the cost of energy and the network charges.
DNOs can play a significant role in minimising connection costs by helping charge point operators to identify locations that share optimum characteristics of proximity to demand for charging and network capacity.
Figure 2: Indicative costs of installation
| Charging type | Fast | Rapid | High power |
| --- | --- | --- | --- |
| Power output | 7-22kW | 43-50kW | 100kW+ |
| Electricity supply | AC | AC/DC | DC |
| Charging duration | Four to six hours | 30 mins to 80% | 10 mins to 80% |
| Use case | Destination charging | In-transit charging | In-transit charging |
| Equipment cost (excluding grid connection) | £5,000-£8,000 | £20,000-£50,000 | £70,000+ |
| Installation cost (per unit) | £1,000-£5,000 | £13,000-£20,000 | £35,000+ |
| Installation programme (including planning and grid connection) | One month | Three months | Six to 12 months |
| Grid connection works (based on four chargers) | Minor – increased capacity | Moderate – potential for transformer swap-out | Major – transformer sub-station unit |
| Grid connection costs | £5,000 | £20,000 | £50,000+ |
| Planning consent needed? | No | In most cases | Yes |
Costs are current in Q2 2018 and exclude land acquisition costs, professional fees and VAT
Motorway service areas and petrol stations are the obvious location for fast charging. For an average-sized forecourt, nine recharging "pumps" of 700kW capabilities would require an infrastructure capable of handling 6.3MW, which is enough power to supply 2,000 average households.
Sites like this represent significant loads, which justify a direct connection to the network. The National Grid has already announced plans for its own rollout, designed to ensure 90% of EV owners are no more than 50 miles from a charger, although it has not committed to a fixed timetable.
The high-rated 350kW chargers, capable of providing a charge in five to 12 minutes, would be connected to the high-voltage electricity transmission network rather than local grids. Cost estimates range from £500m to £1bn.
In another initiative aimed at transport fleets such as buses, energy start-up Pivot Power aims to launch a £1.6bn battery storage and vehicle-charging network across the UK. The first site is due to launch in Southampton next year.
06 / EV network rollout
Many stakeholders and variables are associated with the rollout of an EV recharging network, so it is essential the programme is effectively managed to ensure that schedule-critical gateways including planning permissions and network connections are in place. Other key players in a rollout include:
Network sponsor This might be a city authority, a large employer such as a university or hospital, or a site owner such as a petrol forecourt owner. Its role is to bring together other participants into a consortium as well as providing sites and potentially finance.
Network operator The EMP that will operate the network, linking the charge point and the customer.
Energy provider
DNO – controls and delivers new connections to the distribution network. The DNO (distribution network operator) needs to be involved early as it can help optimise site selection. It also needs to manage peak loading levels on the network, which requires early consultation during the design phase.
OEMs Information on developments in charging standards is needed to align the charging network to customer needs. OEMs (original equipment manufacturers) may also participate in the marketing and funding of a network.
Equipment suppliers Charge point suppliers provide the technical installation that will run to specific charging protocols. Some equipment suppliers offer a turnkey service, which simplifies the delivery process. Some network operators may want more than one equipment supplier on a site so that they can maximise vehicle coverage, offering chargers that support different charging protocols.
Site owners have a critical role in facilitating long-term access for operation and maintenance. Local authority and public sector participation in charging schemes helps to reduce the costs associated with land acquisition.
While the technological aspects of rollout are not very complex and can be wrapped into a turnkey contract, the potential for complexity associated with network reinforcement, site acquisition and negotiation of wayleaves means management requirements are extensive, given the relatively low capital cost of installation.
The participation of public sector landowners in a joint venture can simplify many of the issues associated with site acquisition.
08 / Conclusion
The rollout of charging infrastructure requires careful and co-ordinated ramping up in advance of the wider adoption of EVs by consumers. EV expansion would benefit from a multi-pronged approach. There is a role for co-ordination at national or international level, for example in relation to the standardisation of the charging connection.
There is also a role for government-funded infrastructure in urban areas, extending networks not only in city centres but also in residential areas too. Ultimately, most investment will come from the private sector, betting on the speed and scale of the energy transition as drivers move away from the ICE and the petrol station to the ULEV and the charging station.
Investment is available, but the viability of many investments depends on long-term support for transition, either from governments, vehicle manufacturers or energy companies such as BP and Shell, which need to prepare for a fossil-fuel free future. Effective rollout of all of these programmes – aimed at securing the best outcomes for investors – is the next link in the chain.
Being clear on the role of all parties will enable the allocation of investment to provide a comprehensive network of charging points to accelerate the UK's journey to an EV-dominated future.